Disclosure: I was not compensated in any way for this post. I am merely hosting the giveway on my site.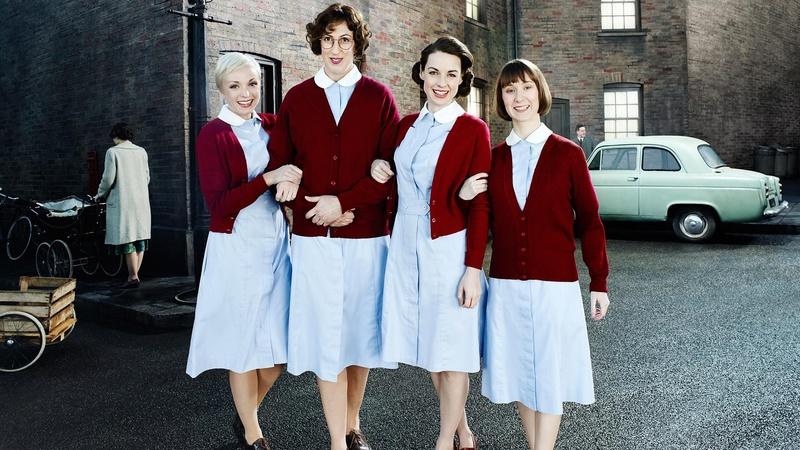 – BAFTA® Award-Winning Drama from Neal Street Productions Cements PBS as Destination for Drama; Season 2 Reaches Top 10 in PBS Ratings –
"PBS transports viewers back to East London on the eve of the Swinging Sixties when the British drama CALL THE MIDWIFE returns to PBS for a third season on

March 30, 2014

, at

8:00 p.m. ET

. Also debuting that night is the second season of MASTERPIECE CLASSIC "Mr. Selfridge," starring Jeremy Piven, at

9:00 p.m.

Joining the lineup on

April 13

is the second season premiere of British murder mystery THE BLETCHLEY CIRCLE at

10:00 p.m.
The third season of CALL THE MIDWIFE, which premiered to a record-breaking audience of 9.6 million viewers in the UK, opens in

1959 a

s

the winds of change are sweeping through the country.

Throughout the season, viewers will follow the joys and heartbreak of the midwives as they continue to care for members of the Poplar community and face management changes at Nonnatus House.
Episode 1 (Premieres

Sunday, March 30, 2014, 8:00-9:00 p.m. ET

)
The nuns and midwives of Nonnatus House move into their new premises and welcome Sister Winifred, a warm-hearted, innocent young woman. Sister Monica Joan's increasingly eccentric behavior causes concern, and Chummy decides she wants to return to midwifery.
Episode 2 (Premieres

Sunday, April 6, 2014, 8:00-9:00 p.m. ET

)
Trixie and Jenny's relationship falters, but is eventually restored. Cynthia, inspired by a lecture on the art of natural childbirth, helps a patient experience a peaceful, calm birth. Alec and his friends try to persuade Jenny to go on a nuclear disarmament march.
Episode 3 (Premieres

Sunday, April 13, 2014, 8:00-9:00 p.m. ET

)
Sister Julienne and Trixie assist a pregnant prison inmate who's worried that social services will take her baby. Sister Julienne puts her reputation on the line to help mother and child stay together. Shelagh suffers heartbreak when a routine pregnancy check turns out to be something far more serious. For Chummy's birthday, Fred gets tickets for the gang to see My Fair Lady, but they're turned away at the box office.
Episode 4 (Premieres

Sunday, April 20, 2014, 8:00-9:00 p.m. ET

)
Jenny's patient Leah is struggling to cope with her mother's agoraphobia. When her husband is offered a new job and home, Leah can't leave her mother after all they experienced in the Holocaust. With help from Sister Winifred, Mrs. Rubin steps outside for the first time in 12 years. Alec asks Jenny to go to Brighton for the weekend, but she questions his intentions. Shelagh takes over the local choir and helps bring it back to life.
Episode 5 (Premieres

Sunday, April 27, 2014, 8:00-9:00 p.m. ET

)
The midwives discover that a young Down Syndrome woman is six months pregnant, leading to difficult confessions and decisions. Dr. Turner suggests that Shelagh take over the running of Nonnatus House to allow an exhausted Sister Julienne to recuperate. Patsy, a new nurse, arrives. With her no-nonsense, hard-working attitude and sense of humor, she's an immediate hit with the nuns and midwives.
Episode 6 (Premieres

Sunday, May 4, 2014, 8:00-9:00 p.m. ET

)
Tom, the local curate, asks Trixie to join him for a day of cricket. She accepts, but the date is disastrous. Shelagh decides to talk to Dr. Turner about adopting a baby. Patsy, struggling to adapt to the unpredictable and chaotic life that midwifery brings, upsets a young mother in the clinic.
Episode 7 (Premieres

Sunday, May 11, 2014, 8:00-9:00 p.m. ET

)
Sister Julienne calms an anxious new mother who has put her baby in danger. Jenny, seconded to The London, is impressed with the facilities, but soon begins to see cracks in the establishment. Chummy is upset to learn that her mother has walked out on her father, leaving Lady Browne penniless. As Dr. Turner and Shelagh continue the adoption process, they uncover a devastating secret.
Episode 8 (Premieres

Sunday, May 18, 2014, 8:00-9:00 p.m. ET

)
Based on the best-selling memoirs of Jennifer Worth, CALL THE MIDWIFE was created and written by Heidi Thomas ("Cranford

,

" "Upstairs Downstairs") and directed by a line-up of female directors including Thea Sharrock ("The Hollow Crown: Henry V") and Juliet May ("Miranda," "Scott and Bailey," "Stella"). The first season was the biggest new drama on BBC One in more than a decade, and the second season averaged a consolidated viewership of more than 10 million in the U.K. CALL THE MIDWIFE completed its second season run in the U.S. in May 2013, and audiences and critics in the U.S. were equally effusive, with Season 2 breaking the top ten spot in ratings on PBS, scoring 58 percent above the 2012-2013 season-to-date primetime average, and claiming the title of Top Rated Drama on Amazon.com.
CALL THE MIDWIFE stars Jessica Raine as Jenny Lee, along with Jenny Agutter ("The Railway Children," "Spooks") as Sister Julienne, Pam Ferris ("Little Dorrit," "Darling Buds of May") as Sister Evangelina, Miranda Hart ("Miranda") as Chummy, Judy Parfitt ("Little Dorrit," Girl With a Pearl Earring), who was nominated for a 2013 Satellite Award for her work as Sister Monica Joan, Helen George ("Hollyoaks," "Doctors") as Trixie Franklin, Bryony Hannah (Cemetery Junction) as Cynthia Miller, Laura Main ("Monarch of the Glen") as Shelagh and Cliff Parisi ("EastEnders") as Fred. Vanessa Redgrave provides the voice of the mature Jenny.
CALL THE MIDWIFE (Season 3) full episodes will be available for viewing on the PBS Video Portal for a limited time after each national broadcast.
CALL THE MIDWIFE contains mature content that may not be suitable for all audiences. Viewer discretion is advised. Rated TV-14.
Tune into the third season of "CALL THE MIDWIFE" when it airs on PBS on March 30th
Thanks to the kind folks at PBS, one lucky reader will win a "CALL THE MIDWIFE" swag bag, valued at $60.
The PBS "Call the Midwife" swag bag includes:
· Large size foldable tote bag
· Computer sleeve
· T-shirt
· Call the Midwife lipstick pen
· Call the Midwife book
· Call the Midwife DVD set
About BBC Worldwide Americas Sales & Distribution
BBC Worldwide Americas Sales & Distribution is one of five core businesses operating in the U.S. under BBC Worldwide, the commercial arm and wholly-owned subsidiary of the UK public service broadcaster, BBC (British Broadcasting Corporation). BBC Worldwide exists to maximize the value of the BBC's assets for the benefit of the UK license payer, and invests in programming in return for rights. The Sales & Distribution business negotiates, sells and distributes television programs to networks and secures co-production partners in the region.
About PBS
PBS
, with its over 350 member stations, offers all Americans the opportunity to explore new ideas and new worlds through television and online content. Each month, PBS reaches nearly 109 million people through television and over 28 million people online, inviting them to experience the worlds of science, history, nature and public affairs; to hear diverse viewpoints; and to take front row seats to world-class drama and performances. PBS' broad array of programs has been consistently honored by the industry's most coveted award competitions. Teachers of children from pre-K through 12th grade turn to PBS for digital content and services that help bring classroom lessons to life. PBS' premier children's TV programming and its website,
pbskids.org
, are parents' and teachers' most trusted partners in inspiring and nurturing curiosity and love of learning in children. More information about PBS is available at
www.pbs.org
, one of the leading dot-org websites on the Internet, or by following
PBS on Twitter
,
Facebook
or through our
apps for mobile devices
.
About Neal Street Productions
Neal Street Productions was formed in 2003 by Sam Mendes, Pippa Harris and Caro Newling. The company has been successful in film, theatre and television with hit movies including Revolutionary Road, Jarhead and Starter for 10. Their diverse television slate includes the award-winning "Stuart A Life Backwards," with Tom Hardy and Benedict Cumberbatch, and the hugely successful "Call the Midwife", a ratings smash hit which, after two extremely successful series and Christmas Specials, has just returned to screens in the UK with series 3 - gaining some of the highest ever viewing figures for the show. They are currently filming "Penny Dreadful," a psychosexual TV horror series written by John Logan, starring Josh Hartnett, Eva Green, Timothy Dalton and Rory Kinnear. Neal Street also produced the critically acclaimed and award-winning "The Hollow Crown" - a series of Shakespeare films for the BBC/PBS - starring Ben Whishaw, Tom Hiddleston and Jeremy Irons. Nicolas Brown joined Neal Street as a Company Director in 2013, to work across the film and TV portfolio. On the theatre side, they have produced The Bridge Project, Shrek the Musical and the West End musical of Charlie and the Chocolate Factory, directed by Sam Mendes.
Disclosure: I was not compensated in any way for this post. I am merely hosting the giveway on my site.