Disclosure: I was sent a review copy from the vendor in order to write up an honest review. The views shared are mine and mine alone.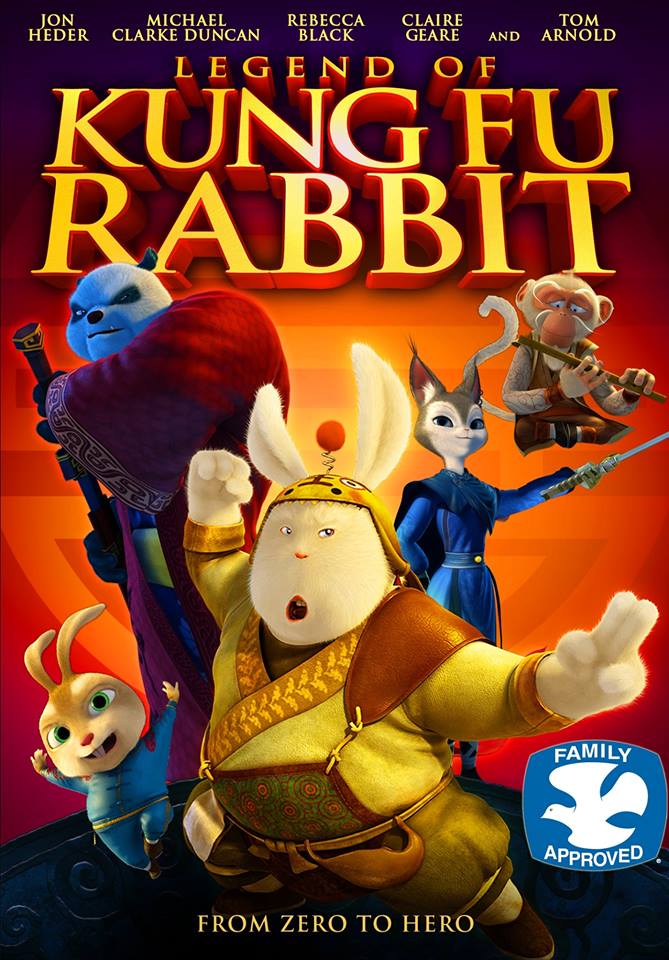 Synopsis:
"Experience the adventure in the all-new animated feature Legend of

Kung

Fu

Rabbit

arriving on DVD, Digital Download and Video on Demand September 24 from Lionsgate Home Entertainment. With a cast headlined by Jon Heder (Napoleon Dynamite), Tom Arnold (Hit and Run) and Academy Award® nominee Michael Clarke Duncan (Best Actor in a Supporting Role, The Green Mile, 1999) along with pop singing sensation (the smash hit "Friday") Rebecca Black in her feature film debut, the Legend of

Kung

Fu

Rabbit

follows

Fu

as he embarks on a journey to become a

kung

fu

master. Awarded the DOVE Foundation Seal of Approval, the Legend of

Kung

Fu

Rabbit

DVD, including a behind the scenes featurette and a sneak peak at "Miniscule," with four award-winning animated shorts, will be available for the suggested retail price of $19.98."
DVD BASICS
Price: $19.98
Street Date: September 24, 2013
Language: English


Running time: 89 minutes
Rating: PG for Martial Arts Action and Brief Mild Language
My Thoughts:
Because of the mild violence (use of weapons, martial arts fighting, etc.), I ended up watching this new release with my 10 and 12 yr. old nieces only, as I didn't think it would be appropriate for the younger kids. At first glance, the girls thought this was a sequel to the popular Kung Fu Panda movie. But, when they looked at the DVD and read the back cover, they realized it was a movie in and of itself. Intrigued by the storyline, they asked to watch it the other day after the girls went down for their nap.

I am not going to spoil the movie or the ending for you, but will say that this movie, liked by both of nieces, deals with great themes like loyalty and teamwork. The animation is bright and eye catching, and the storyline is easy to understand. As a parent, who likes to listen to the animated characters voices and see if any popular name actors are voicing for them, I was able to detect Jon Heder, Tom Arnold, Rebecca Black and the late Michael Clarke Duncan.

If you are looking for a movie on the same level of Kung Fu Panda, you will disappointed with this movie. But, if you are looking for a movie that will entertain your kids, especially those who like martial arts, this new release will fit the bill. I hope you will give this movie a chance, as you will find it entertaining.
One lucky reader will win a copy DVD copy of "Legend of Kung Fu Rabbit," thanks to the folks at Lionsgate Home Entertainment. To enter, please complete the entries on the Rafflecopter form below. Good luck!