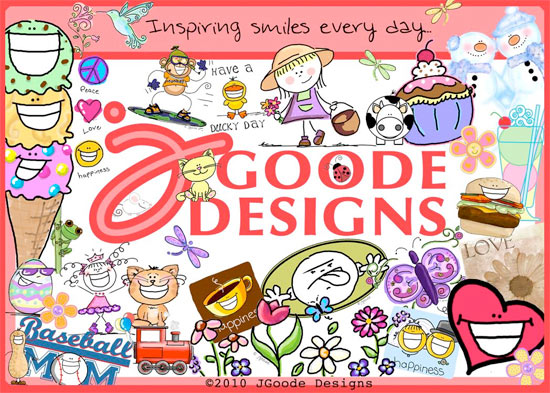 "Jen Goode is the owner and "doodler in charge" at JGoode Designs, a Denver based studio specializing in smile inspiring art and design for customer products and art licensing. Shop for the perfect gift, License art for your next project or see what's new in the world of JGoode"
Thanks to Netflix, my daughter Savannah stumbled across the animated children's series, Pingu, and has been in love with Penguins ever since. Whenever we are out and out shopping and she sees a penguin of any kind, she immediately thinks it is Pingu. And, the same goes for when we see a penguin on television. So, with Easter right around the corner, I thought it would be fun to surprise her and Arabella with a penguin toddler t-shirt. Yes, Arabella loves Pingu and penguins, too, thanks to her big sister. This is another word she had added to her growing vocabulary, and gets just as excited as Savannah does when they watch Pingu on television.
So, I recently took to the Internet to find cute penguin t-shirts that were geared towards children. This is when I stumbled across JGoode Designs, an online shop that offers cute graphic tees and gifts for both children and adults, with a specialty in penguins. And, the owner and artist is also a mother -- which is great, as you know I love supporting fellow mom entrepreneurs, by showcasing their products. Upon reaching out to Jen and sharing my love for her penguin shirts, I was surprised and happy to find that she would be sending along the following two penguin shirts (both in pink) from her CafePress shop.
Within a week of corresponding with Jen, I received the two toddler Penguin shirts in the mail to review. Jen is such an amazing artist, and the penguin t-shirts looked even better in person. What did the two penguin loving fans think of these t-shirts? They were in love. :-) As soon as they saw the t-shirts, their eyes lit up, and they had a big smile on their faces. Seconds later, Savannah began taking off her shirt and then assisting Arabella with taking off her shirt, as they were eager to try them on. Once on, they kept pointing at each other penguin shirts, designed by JGoode Designs, letting the other know that Pingu was on their shirt. I ended up giving Savannah the penguin t-shirt with the Easter eggs, and Arabella the penguin with princess tiara. But, because they are both wearing a size 2T t-shirt, they have been sharing the shirts. :-)
Even though I have only had these penguin t-shirts for a couple of weeks, the girls have already worn them half a dozen times. I usually ask Savannah what she wants to wear each morning. And, when I do, she begin looking through her stack of t-shirts looking for her penguin t-shirt. You should see her cute pout when she can't find it, and then asks me to wash it, so she can wear it. The first day she wore the t-shirt, she fought my husband and I tooth and nail to wear it to bed. My husband ending up giving in, and let her wear it to bed.
I can't wait to pick up a few more penguin t-shirts and gifts from Jen's online shops (list of online sites she sells her designs in are listed below), and surprise Savannah for her upcoming third birthday. These are the cute penguin shirts I am eying right now --
Like I said, the girls have worn these shirts I was sent to review half a dozen times each, and after continued washing, they still look brand new. The design hasn't faded at all, which I love. :-)
Here are some other Jen Goode Design t-shirts which you can order from her websites, to add to your child's Easter basket:
So, if you are looking for a fun gift to give your child this Easter, why not pick up one of the cute penguin t-shirts, which you can personalize (for boys and girls), or one of her other t-shirt designs or gifts? And, while you are at it, why not order a fun Jen Goode Design t-shirt for yourself, and help support a fellow mom entrepreneur. :-) The few times I have taken the girls out with their Jen Goode Penguin t-shirts on, they always received compliments and people asked where they could get a t-shirt, and if they came in adult sizes. I guess a lot of people love penguins. :-)
Where to Buy JGoode Designs:
The Official JGoode Designs Shop Shop for great gifts featuring all of my designs, photography or illustration art.
JGoode Penguins Just my penguins, that's it… But what more do you need? Shop for fun gifts and t-shirts for everyone on your list, all featuring my cute penguin characters.
About Jen Goode:
"Jen Goode is a mother, wife, artist, designer, illustrator, programmer, Internet marketer and Entrepreneur. She is JGoode Designs. Jen is the founder and illustrator behind the whimsical art the studio offers. She has been a professional in the design industry since 1996, changing direction from client focused Graphic Design to becoming a self-promoted artist offering "doodles on t-shirts" in 2006. She has taken hold of the excitement surrounding new media, combining the fast paced worlds of print on demand, social media and performance marketing as a means to promote herself and her work. In 2010, Jen again embraced change to expand her business to include art licensing and product design."
Disclosure: I was sent samples from the vendor in order to write up an honest review. The views above are mine and mine alone.