OcuFresh eye wash helps relieve eyes from itching, burning, and other discomfort, whether it be from spending time in the backyard or a day at the beach. OcuFresh is safe for children and is perfect for irritated eyes after swimming in the pool or playing in the sand! Kids can get things in their eyes at any moment so OcuFresh is wonderful for parents to have on hand. Also great for Dad to get rid of smoke in his eyes after barbequing or Mom to freshen up on pollen-filled summer days. Preparing for any family outing is not complete until OcuFresh is packed!
Do you suffer from dry eye? Well, I do, and it sure does become a pain in the butt once the warmer weather sets in (and even in the winter when the heat is on), as my eyes feel so dried out and gritty. I make a point to keep eye drops in the car, in my diaper bag, and in the bathrooms, so that when I need to lubricate my eyes, I am not searching high and low for drops.
Has your child ever come over to you and told you that they got something in their eyes. When they finally stop rubbing them, you quickly give a few puffs of breath into them -- you know you do this. Sometimes it works, while other times you need to wash your child's eye out to get that foreign particle out. So, what do you use?
As a sufferer of dry eye, I also have to pay particular attention to dirt and debris that can get into my eyes while out in the backyard gardening or playing with the girls. At times, I have to come inside and use an eye wash to help relieve burning and discomfort from irritants that couldn't be washed away by natural tears.
Thanks to Optics Labs, the maker of OcuFresh, they offer products both parents and children can use with ease, to remove debris from eyes and bring relief to burning, itching eyes. I was recently sent a tote of their products, and loved trying them out. I had seen this brand in stores when I would be shopping for my go-to eye wash and drops, but never thought to try their products out. And, the samples couldn't have come at a better time, as I had ran out of my eye wash, and needed to get something out of Savannah's eye. Within seconds I was able to bring relief to her irritated eye, and she was back out having fun with her friends, like nothing happened.
Look how easy this eye wash is to use indoors and out and about:
Without Cup
Hold OcuFresh® Eye Wash container a few inches above the eye

Control rate of flow of the solution by pressure on bottle

Flush affected eye as needed
With Cup
Rinse cup with clean water immediately before each use. Avoid contamination of rim and inside surface of the cup.

Fill cup half full with OcuFresh® Eye Wash and apply the cup to the affected eye, pressing tightly to prevent the escape of the liquid, as you tilt your head backward.

Open eyelids wide and rotate eyeball to ensure thorough bathing with the wash.

Rinse cup with clean water after each use and let it completely dry before reuse.
When you are out and about, we recommend that you carry LensGiene® Sterile Saline Solution to rinse the cup before each use. Eye-Cept® Sterile Saline comes in easy-to-use vials. Each vial has with two teaspoons (10 milliliters) of saline – just the right amount to rinse the cup.
Look at all the goodies I was sent in a resusable tote, that have come in handy in my house, thanks to the folks at Optics Lab -- Read on as I am giving one lucky reader a chance to win this tote and products (valued at $50) below.
OcuSave™ ensures vitality and health for your eyes with one soft gel per day.
OcuSave™ may help prevent or slow progression of the natural degeneration of your eyes and reduces the risk of cataracts. OcuSave™ contains essential minerals and vitamins that support ocular nutrition*.
Healthy Eyes
One soft gel per day for healthy eyes.
May help prevent or slow the progression of macular degeneration

May help reduce the risk of cataracts

Contains essential minerals to support ocular nutrition

Powerful antioxidants for healthy eye vision

With 50mg lutein and 10mg zeaxanthin
* These statements have not been evaluated by Food and Drug Administration. This product is not intended to diagnose, treat, cure or prevent any disease.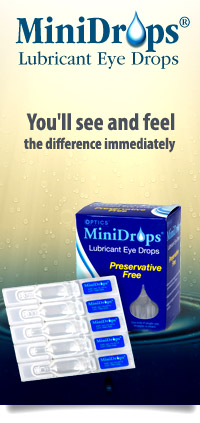 MiniDrops® Lubricant Eye Drops provides moisture for:
To relieve dryness of the eye.

To use as a lubricant to prevent further irritation.

To use as a protectant against further irritation.

For temporary relief of burning and irritation due to dryness of the eye.

For temporary relief of discomfort due to the minor irritations of the eye.

For temporary relief of discomfort due to exposure to wind or sun.
Comforts and Moisturizes. Just use a drop or two give you temporary relief from burning and minor irritation due to dry eyes. Protect your eyes from more irritation.
Safe for the whole family, even those with sensitive eyes.

Easy to use; use as often as needed.
MiniDrops® May be the Last Eye Drops for Dry Eyes You'll Ever Buy!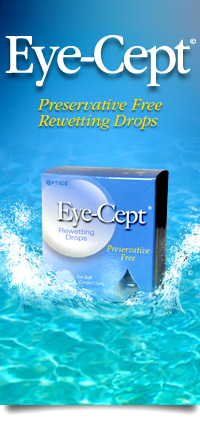 Moisten and clears your soft contact lenses with Eye-Cept® Rewetting Drops
Eye-Cept® Rewetting Drops are for use with daily wear and extended wear soft (hydrophilic) contact lenses. It refreshes eyes, moistens lenses and helps remove particles which can cause irritation and discomfort.
Use Eye-Cept® Rewetting Drops throughout the day as needed to hydrate your lenses or relieve minor irritation or discomfort.

Ensures daily comfort to users of soft contact lenses,
Projects against irritation and infection
Preservative Free formula to avoid possible irritation

Safe to use daily to rehydrate dry lenses

Relieves minor irritation or discomfort associated with lens wear

Single-use dropper for convenient carry and use at home, play or at work
Eye care is so important, as we are only born with one set of eyes. So, why not take care of them, and wash them properly if you ever do get something in them. OcuFresh eye wash is so easy to use, and great for the entire family.
--BUY NOW--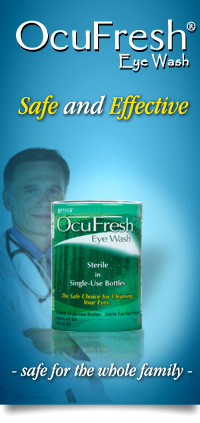 You can buy OcuFresh Eye Wash and other Optics Lab eye care products at your favorite pharmacy or local retailer, as well as online at Amazon.com.
--GIVEAWAY--
Want to win the above tote filled with all these Optics Lab eye care products (a $50 value)? Then, complete the entries on the Rafflecopter form below to enter. Good luck!
a Rafflecopter giveaway
Disclosure: I was sent samples from the vendor in order to write up an honest review. The views above are mine and mine alone.