Disclosure: I was sent a screener from the vendor in exchange for an honest review. All views shared are mine and mine alone.
GET TO KNOW THE FAMILIA OF THE
EMMY-AWARD WINNING ANIMATED SERIES
My girls can thank the pandemic for getting back into watching shows on Nickelodeon, as we have been home more than usual, and they are with more free time to watch shows. Before Covid began, we would be out and about for homeschool classes four days out of the week. So, the girls would only watch a few shows or movies come Friday and over the weekends. But, now being home 24/7, they have caught up on shows they have missed, and found new shows to watch, including the hit animated series, The Casagrandes, which airs on Nickelodeon. Below is more information about the new DVD collection release from Warner Bros. Home Entertainment, that arrived in stores and at online retailers today, for fans of The Casagrandes series...
More about today's release:
"There's plenty of love, laughter, food, and adventures in The Casagrandes: The Complete First Season DVD! This spin-off from the award-winning animated series The Loud House follows Ronnie Anne, a free-spirited and skateboard-loving 11-year-old who moves to the big city to live with her large and lovable Mexican-American family, the Casagrandes. Featuring all 20 episodes from the critically acclaimed debut season, this DVD release sees Ronnie Anne adjust to big family life in the city as she pitches in at the family Mercado, explores the neighborhood with her best friend Sid, and has fun with her abuelos, tíos, and primos.

The Casagrandes: The Complete First Season will be available on DVD from Paramount Home Entertainment and Nickelodeon Home Entertainment on February 2, 2021, for the suggested retail price of $13.99.


The Casagrandes: The Complete First Season episodes:

Disc One:
Going Overboard / Walk Don't Run

The Two of Clubs / Vacation Daze

New Haunts / Croaked

Snack Pact / The Horror-Scope

Arr in the Family / Finders Weepers

Stress Test / How to Train Your Carl

Operation Dad

Flee Market / Copy Can't

Away Game / Monster Cash

Trend Game / This Bird Has Flown

Disc Two:
V.I.Peeved / Señor Class

Fast Feud / Never Friending Story

Grandparent Trap / Miss Step

Slink or Swim / The Big Chill

Karma Chameleon / Team Effort

Guess Who's Shopping for Dinner? / New Roomie

Mexican Makeover / Uptown Funk

Bo Bo Business / Blunder Party

Cursed!

What's Love Gato Do With It? / Dial M. for Mustard
---
My youngest daughter got hooked on this show right away, as it is a spin-off of the popular series, The Loud House, which also aired on Nickelodeon. As soon as the girls sat and watched the first episode of The Casagrandes, they found themselves laughing non-stop, from the beginning of the episode, right up until the end. Both of my girls love Ronnie Anne, and they loved how there was finally a girl lead for an animated series like this. Yes, it does have the Loud House feel, but it also stands on its own and really is a fun series, which also includes a
multi-generational Mexican-American family
and diverse cast of characters, which as a parent, I love.
I have sat for a handful of the episodes that make up the first season of this hit animated series, and have to say, it really is a fun laugh out loud show, that kids and adults will enjoy watching together. And, once we were sent the complete first season on DVD, thanks to the folks at Warner Bros. Home Entertainment, I was able to catch up on missed episodes, and enjoy snuggle time with my girls, as we laughed along to Ronnie Anne and and all the silly adventures and predicaments she got herself into.
If your kids love The Casagrandes series on Nickelodeon like my girls do, why not consider picking up this new complete first season on DVD for them to enjoy their favorite episodes from this series, over and over again. I tried getting my girls to narrow down their favorite episodes from the first season, but they said they were all good, and wouldn't be able to choose. :-) Maybe your kid will be able to choose a favorite!
---GIVEAWAY---
Thanks to the kind folks at Warner Bros. Home Entertainment, one lucky Inspired by Savannah reader will have a chance to win a copy of this new first season collection.
To enter, please complete the entries on the Rafflecopter form below. Good luck!

The Casagrandes: The Complete First Season synopsis:

Ronnie Anne is an independent, skateboard loving 11-year-old who moved to the big city with her mom and brother to live with their extended family, the Casagrandes. Her new life promises to be an adventure, now that she's living under one roof with her grandparents, aunt, uncle, cousins, and a sass-talking parrot. As if that weren't enough excitement, her bedroom is directly below the bedroom of her best friend, Sid. And on the ground floor is the family run market (the Mercado), which is a gathering place for all their quirky neighbors. While her brother Bobby helps run the Mercado with their gossip-loving Abuelo, Ronnie Anne and Sid explore the city, making fun new friendships along the way. She's also getting to know everyone in her bustling multigenerational Mexican-American family. Her new life is full of new discoveries, love, laughter and plenty of food!"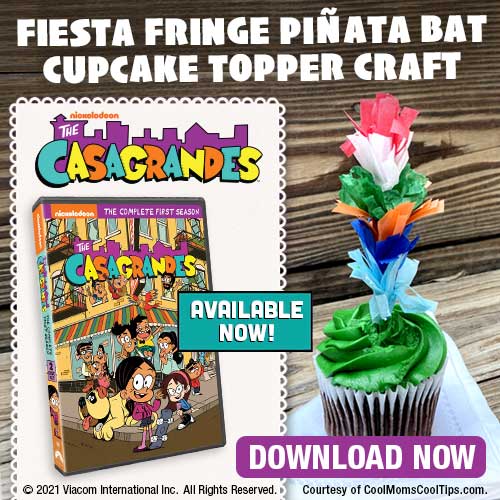 The

Casagrandes

: The Complete First Season
fast facts:
Street Date: February 2, 2021
Catalog: 59214088000 (US), 59214089000
Running Time: 7 hrs 31 min
Audio: Dolby Digital English 5.1, French Stereo, Spanish Stereo
(Episodes 113 and 116-120 available in
English 5.1 and Spanish 2.0 only)
US Rating: Not Rated
US M.S.R.P.: $13.99
CAN M.S.R.P: $15.99
About Nickelodeon
Nickelodeon, now in its 41
st
year, is the number-one entertainment brand for kids. It has built a diverse, global business by putting kids first in everything it does. The brand includes television programming and production in the United States and around the world, plus consumer products, digital, location based experiences, publishing and feature films. For more information or artwork, visit
http://www.nickpress.com
. Nickelodeon and all related titles, characters and logos are trademarks of ViacomCBS Inc. (Nasdaq: VIACA, VIAC).
About Paramount Home Entertainment
Paramount Home Entertainment (PHE) is part of Paramount Pictures Corporation (PPC), a global producer and distributor of filmed entertainment. PPC is a unit of ViacomCBS (NASDAQ: VIAC; VIACA), a leading content company with prominent and respected film, television and digital entertainment brands. The PHE division oversees PPC's home entertainment and transactional digital distribution activities worldwide. The division is responsible for the sales, marketing and distribution of home entertainment content on behalf of Paramount Pictures, Paramount Animation, Paramount Television Studios, Paramount Players, MTV, Nickelodeon, Comedy Central and CBS and applicable licensing and servicing of certain DreamWorks Animation titles. PHE additionally manages global licensing of studio content and transactional distribution across worldwide digital distribution platforms including online, mobile and portable devices and emerging technologies.
Disclosure: I was sent a screener from the vendor in exchange for an honest review. All views shared are mine and mine alone.