Welcome Back Campers...
This Week is All About Steven Universe!!!
If you and your kids love Steven Universe, then you are in for a treat this week as we kick off Camp Warner Bros. Week 2.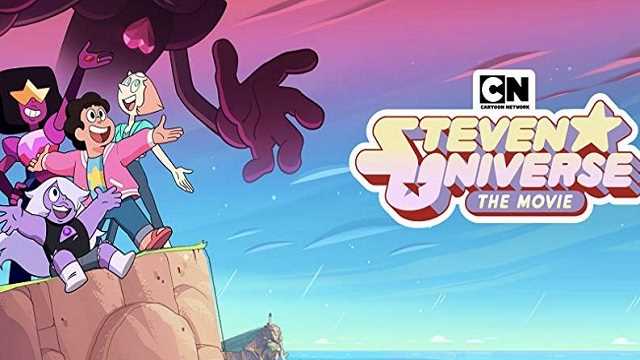 This week's family movie night movie is the recent Steven Universe movie, Steven Universe The Movie Sing-A-Long, which released back on May 4th. Even though this movie is not rated, I would recommend watching with tweens and teens, ages 9+ for its content. The movie itself has a run time of 1 hr. and 23 minutes and is available on DVD and Digital. The kind folks at Warner Bros. Home Entertainment sent me a code to access the Digital version of this movie, and we watched it last night...and LOVED it!
Like the title suggests, this Steven Universe movie is a sing-a-long. Now, I am not usually a fan of sing-a-long movies, especially when they are made for animated television shows. But, I am glad I gave this movie a chance and sat and watched it, as it was really good. Not only was the story line fun and kept everyone engaged from start to finish, but the music and sing-a-long was also really good. There were a lot of catchy tunes being sung that we all found ourselves tapping our feet and either humming along or singing along to the songs as we watched the movie.
About Steven Universe: The Movie:
"After so many harrowing adventures, Steven and the Gems are ready to celebrate how far they've come with a movie musical! Little do they know they're about to face their worst enemy yet."
You can check out a preview of Steven Universe: The Movie here:
Genre: Family, Action, Sci-Fi
Release Date: May 4, 2020
My girls started watching Steven Universe with my husband last year, after stumbling upon it on the Cartoon Network. And, since then, they have been playing catch up watching all the previously released episodes, as well as buying up and watching all the Steven Universe movies that have been released. My girls first learned about this sing-a-long movie release a few months ago, and were quick to add it to their calendars in their rooms, to remind them to buy it when it released on May 4th. But, with the Covid 19 virus, the girls have not been in the stores since everything closed down in early March. And, I forgot to buy it on Digital. So, when the folks at Warner Bros. Home Entertainment told me that this movie would be part of their Camp Warner Bros., my girls were super excited as they would finally get to see it, and also do a fun "Grow your own sugar candy" science experiment/craft to go along with the movie. And, now that the girls saw the movie, they said it was worth the wait, as it was amazing. They can't wait to watch it again this week, and all summer long.
Like I mentioned a moment ago, in addition to Steven Universe The Movie Sing-A-Long being the family movie of the week for the second week of Camp Warner Bros, the activity this week is Steven Universe's "Crystal Gem" Candy. Your family can help Steven and his friends bring peace to the galaxy which enjoying this tasty treat, which is not only easy to make, but a super fun science experiment that kids of all ages will enjoy doing before you sit down to watch Steven Universe The Movie Sing-a-long or after. Below is the recipe to make these super tasty Steven Universe Crystal Gem Candy, as well as the science behind it -- so that you can incorporate a little education in your Steven Universe Camp Week. :-) Don't worry, the kids will love learning how the candy crystals are formed, as they watch them grow over the course of a couple days. :-)
The Science Behind The Fun:
As time passes (and the solution cools), the water will slowly evaporate from the solution. As the water evaporates, the solution will become more saturated with sugar. The sugar molecules will collect on the string, and the candy crystals will grow molecule by molecule!
Extra Science Fun:
Try making two jars of candy. In the first jar - seed your "Crystal Gem" Candy by rolling your string in water and sugar. In the second jar do not seed your string with sugar before growing. Determine if using seed sugar crystals changes the growth rate of your "Crystal Gem" Candy!
Here is how our Crystal Gem candy came out....
My girls loved the Steven Universe Crystal Gem Candy they made and sing-a-long movie. And, they can't wait until next week's Camp Warner Bros. Week 3, when they will be making Gummy Bear slime to go along with our week long fun celebrating the release of the new We Bare Bears: The Movie. This is one movie We Bare Bears of all ages have been waiting for, including our family. So, come back next week to learn how to make your very own Gummy Bear Slime, and learn all about the We Bare Bears: The Movie, and hear what my family thought of the movie.
I hope you and your family enjoy this week (Week 2) of Camp Warner Bros. camp featuring Steven Universe fun. I can't wait to hear what your family thinks of the Crystal Gem candy and the movie, so be sure to share in the comments section below. :-)
See you next week campers! :-)