Disclosure: I was sent a screener from the vendor in exchange for an honest review. All views shared are mine and mine alone.
4-Time Annie Award Nominated
on Digital now and 4K, Blu-ray December 17!
"
ABOMINABLE
is a movie for all ages with laughter and life lessons and a little bit of wonder thrown in" (Allison Rose, Flick Direct).
My family has been eagerly awaiting the release of ABOMINABLE onto Blu-ray and DVD from Universal Pictures Home Entertainment. After seeing this movie in theaters, it went straight to the top of our must own movies to we keep an eye out for and pick up, once they arrive to Blu-ray and DVD. This new release, which is now available to own on Digital, will arrive on Blu-ray and DVD on Dec. 17th. In addition to a great family-friendly movie, this new release also has over an hour of bonus content, including two original shorts, deleted scenes, cast interview, and so much more!
About this movie and its bonus content:
"From the studio that brought you How to Train Your Dragon, this heartwarming and humorous story follows teenage Yi (Bennet) as she encounters a young Yeti on the roof of her apartment building in China, she and her mischievous friends, Jin (Trainor) and Peng (Tsai), name him "Everest" and embark on an epic quest to reunite the magical creature with his family at the highest point on Earth. But the trio of friends will have to stay one-step ahead of Burnish (Izzard), a wealthy man intent on capturing a Yeti, and zoologist Dr. Zara (Paulson) to help Everest get home.
This magical journey is brought to life with the voice talents of
Chloe Bennet
("Marvel's Agents of S.H.I.E.L.D"), Golden Globe
®
and Emmy
®
Award winner
Sarah Paulson
("American Horror Story"),
Eddie Izzard
(
Cars 2
),
Tenzing Norgay Trainor
("Liv and Maddie"),
Albert Tsai
("Fresh Off the Boat"),
Tsai Chin
(
The Joy Luck Club
) and
Michelle Wong
("Scandal"). It is written and directed by
Jill Culton
(
Open Season
,
Toy Story 2
,
Monsters, Inc.
) and co-directed by
Todd Wilderman
(
Open Season 2
). The film is produced by
Suzanne Buirgy
and
Peilin Chou
."
Website:
http://uni.pictures/

Abominable
Trailer:
http://uni.pictures/AbominableTrailer
Facebook:
https://www.facebook.com/AbominableTheMovie/
Twitter:
https://twitter.com/dwanimation
Instagram:
https://www.instagram.com/abominablemovie/
·

"

DREAMWORKS SHORT – MAROONED - Marooned, tells the story of a cantankerous and selfish robot named C-0R13. Stranded on an abandoned lunar outpost, C-0R13 longs to return to Earth. With a partially built ship and his last power source, this determined robot will stop at nothing to achieve his goal.
·

SHOW AND TELL - Back home in the Himalayan Mountains, Everest puts on a magical show-and-tell for his fellow yetis after he receives a special care package from Yin, Jing and Peng.
·

DELETED SCENES with Intros by Writer/Director Jill Culton and Co-Director Todd Wilderman
·

MAKING A MYTH (MOVIE) - In this entertaining 'making of' we learn from the filmmakers and stars how they brought the heartfelt and whimsical story of Abominable to life - from the use of magic, music and humor, to the themes of family and nature.
·

ANIMATING ABOMINABLE - From production design to storyboarding and animating, the creative team behind Abominable will take us through the design and animation of the film.
·

MEET THE CAST - This fun featurette introduces the audience to the cast of Abominable and the characters they play. Learn first-hand from the actors what their personal inspiration was for the role and how they went about performing the voicework.
§

Tenzing Norgay Trainor as Jin
•

YOUR YETI CARE GUIDE - Chloe, Albert and Tenzing provide tips and tricks to caring for your newly adopted "Yeti". In this case YETI stands for pet - dog, kitten and bird.
·

COURAGE TO DREAM - This featurette explores the character Yi, the strong, independent and untraditional female lead at the center of Abominable. Actor Chloe Bennet and the filmmakers discuss what makes Yi special and why she is the ultimate role model for young girls and boys today!
·

AN ABOMINABLE TOUR WITH CHLOE BENNET - Like her father before her, Yi dreams of travelling across China to see the many beautiful, natural and culturally significant locations featured in Abominable. Chloe Bennet, the voice of Yi, will take viewers on their own magical journey.
·

EVEREST'S TALK BOX - Shooting on the DreamWorks Animation campus, we bring in some real kids to meet the man behind the voice of Everest, Joe Izzo, and the audio team from Abominable to learn about all the cool tech that went into Everest's voice.
·

COOKING WITH NAI NAI - Can Tsai Chin, the voice of Nai Nai, learn to make Nai Nai's famous pork buns in real life? Let's find out!
·

HOW TO ABOMINABLE - Bring Everest, Yi and Nai Nai to life in your home with this How-to-Draw with a difference. Not only will we show you how to recreate your favorite characters from Abominable, but also how to magically bring them to life through a homemade Chinese style lantern!
§

How to Make a Chinese Lantern
·

YOU CAN SPEAK YETI-ESE - Inspired by foreign language courses, viewers can learn how to speak Yeti-ese with these easy teaching guides hosted by Chloe Bennet.
·

NAI NAI SAYS - Narrated by Nai Nai, Yi's wise grandma gives us life lessons on how to be a strong, independent, modern woman.
·

FEATURE COMMENTARY - Writer/Director Jill Culton, Co-Director Todd Wilderman, Producer Suzanne Buirgy, Producer Peilin Chou, Production Designer Max Boas, Visual Effects Supervisor Mark Edwards, and Head of Character Animation John Hill
ABOMINABLE will
be available on 4K Ultra HD, Blu-rayTM, DVD and Digital.
4K Ultra HD

is the ultimate movie watching experience. 4K Ultra HD features the combination of 4K resolution for four times sharper picture than HD, the color brilliance of High Dynamic Range (HDR) with immersive audio delivering a multidimensional sound experience.

Blu-rayTM

unleashes the power of your HDTV and is the best way to watch movies at home, featuring 6X the picture resolution of DVD, exclusive extras and theater-quality surround sound.

Digital

lets fans watch movies anywhere on their favorite devices. Users can instantly stream or download.

MOVIES ANYWHERE

is the digital app that simplifies and enhances the digital movie collection and viewing experience by allowing consumers to access their favorite digital movies in one place when purchased or redeemed through participating digital retailers. Consumers can also redeem digital copy codes found in eligible Blu-rayTM and DVD disc packages from participating studios and stream or download them through Movies Anywhere. MOVIES ANYWHERE is only available in the United States. For more information, visit

https://moviesanywhere.com

."
---
My girls were so excited when an advanced copy of ABOMINABLE arrived at our door Friday night. They had been waiting for Dec. 17th to arrive to grab at the store, and I didn't tell them it was coming, as I wanted it to be a surprise. And, boy was it!...they let our a big scream of excitement and were on their best behavior since it arrived in the mail, so that they could watch, and do the fun movie night party kit I printed out and showed them, which included a couple recipes, crafts, coloring sheets, etc.
Like I mentioned above, we saw this movie in theaters and loved it. After seeing the trailer for this movie earlier in the year, we could couldn't wait to see it in theaters. This clip from the movie, which was also in the trailer, had everyone in the theater laughing out loud, as it was so funny...
I don't want to give too much away with the movie in case you haven't seen it yet, so I will end here. I just wanted to make sure you were aware that ABOMINABLE was releasing to DVD and Blu-ray on Dec. 17th. We loved watching it last night and can't wait to watch it time and time again. And, be sure to check out the bonus content, as the shorts, deleted scenes, cast interviews, etc. are really fun and fascinating to watch. We watched all the bonus content this afternoon, and LOVED them, especially the deleted scenes, which we felt a few of them should have made it into the movie.
---FREE Downloadable Movie Night Party Kit---
Make your upcoming ABOMINABLE family night extra fun with these fun downloadable activity sheets...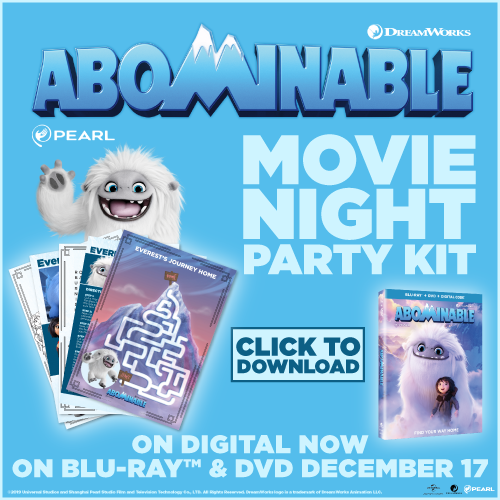 My girls loved the maze, coloring sheets, learning how to draw Everest, and helping me make the two recipes for the cake pops and cookies, that we enjoyed during our movie night last night. If you love doing a fun movie-themed night with your family, then you will want to print about the party kit that is FREE to download and print above. It really does make for a more fun movie night, as kids will get into all the fun activities like coloring and doing the activities and crafts.
With the holidays fast approaching, now is the time to pick up a few new family-friendly movies to share with your family during snow days, family movie nights, etc. We saw this movie in theaters and then again last night. And, as soon as the credits started to roll, my oldest was quick to ask when we could watch it again. My girls are hoping that after they do their homeschool work tomorrow or Tuesday that they will be able to watch, as rain is in the forecast. I am up for watching this cute animated movie again, as it has become one of my favorites with its amazing story line and messages of the importance of family and finding where you truly belong.
If you cry easily at heartwarming movies, then you will want to make sure you have a box of tissues handy. My youngest daughter and I cry at everything, and found ourselves reaching for tissues and wiping our noses and eyes all throughout the movie. It really is a heartwarming film that is filled with magic, catchy music and hilarious parts like the blueberries clip I shared above. This movie, if you haven't seen it already with your family, will have you talking about for days after seeing it, and have you all wanting to watch it again, time and time again.
So, why not head on over to Amazon and pre-order ABOMINABLE on Blu-ray and DVD, and plan a fun family movie night, complete with the FREE downloaded movie night party kit I shared above. This movie would also make for a great stocking stuffer idea, too, for the grandkids.
Disclosure: I was sent a screener from the vendor in exchange for an honest review. All views shared are mine and mine alone.