Disclosure: I was sent a sample from the vendor in exchange for an honest review. All views shared are mine and mine alone.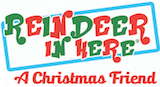 I love starting new holiday traditions with my girls. If you follow my blog, then you know a couple years ago I started doing a book advent calendar, where I wrap Christmas-themed books and number them 1-24, and the girls take turns each night unwrapping a book and we read it together. In addition to this recently started holiday tradition, we also do a holiday movie advent, similar to the book one, where I wrap holiday movies -- some of our family's favorites, as well as handful of new ones I pick up before the holidays, and then we end our nights snuggled up on the couch, and watch a holiday movie, as we count down the days until Santa's arrival.
While I have tried the popular elf visiting tradition, it turned into a lot of work, having to find new ways each night to pose and hide the elf, that it wasn't fun anymore. Yes, the girls liked waking each morning to find their elf, but for me it became a chore, and just wasn't something that stood out as a memorable holiday tradition. Each year I scoured the Internet looking for new products that offer up a new holiday tradition for me to share with my girls. My girls have loved the book and plush holiday sets in the past, so I am always on the lookout for something along those lines. This year, I stumbled upon Reindeer in Here, and reached out to creator, who is a dad, to see about reviewing and featuring his Reindeer in Here book and plush gift set, as part of my holiday gift guide. Within a few days of placing my request, this oh so cute and cuddly reindeer arrived in a cute holiday box, along with an extra book, so each of my girls would have a copy.
Reindeer in Here is currently available on Amazon and Bed, Bath & Beyond, among several other retailers, which can be found - by location - here
Before introducing this new holiday tradition to my girls, I took time to read through the book, so that I knew how to share the Reindeer in Here with them. Here is a little bit more about this cute new holiday tradition, that is unlike anything I have seen...
"Reindeer In Here Book and Plush set is a Christmas friend sent by Santa as an early first gift of the holiday season to get to know each individual child and celebrate that being
different is normal.
As daily adventures unfold between child and Reindeer, the Reindeer learn about each child and help Santa deliver their true Christmas wishes, creating a magical yearly tradition.
More than just a children's book, and so much more than a plush toy, the story is a reflection of our diversity, a celebration of our differences and an experience that affects children for the better in the weeks leading up to Christmas.
Simply put, Reindeer In Here is doing what very few brands have been able to:
The start of a new holiday tradition that could last for generations, with a message that is timeless.
More about how Reindeer in Here Came About:
Three years ago, Adam Reed was perusing stores looking for a holiday tradition he could begin
with his young daughter. Being a lover of the holiday season,
he wanted her to feel the magic
like he did as a child.
But what he found was exactly the opposite...spying eyes, tedious nightly
pranks...where was the magic in that? So,
he decided to start his own tradition, a positive
one that celebrated the joy the season radiates.
This joy became the thread that stitched a
little Reindeer with big blue eyes and a welcoming smile, who would be the first gift from Santa
in early December.
The Reindeer would be named by the child and become their
companion on adventures, all in a pursuit to learn more about what makes him/her
different.
In this way, Santa could learn more about the child and deliver on his/her true
Christmas wishes.
But Adam realized
this little Reindeer could be more.
As he watched his daughter play with
her stuffed animals, he saw a freedom from inhibitions that only comes when you feel comfortable
to be yourself. A comfort that is hard to come by in this world of omnipresent judgment.
He
believed this Reindeer could be a beacon of unconditional friendship,
not just during the
holidays, but all year round. And with that, this cute little Reindeer,
now complete with one
antler shorter than the other and the mantra that "different is normal," was born.
Thanks to other parents, grandparents, teachers, and caregivers who have embraced this
tradition for their own families,
Reindeer In Here®, has become the Most Awarded
Christmas Tradition Brand ever, winning 12 major awards
including the prestigious
National Parenting Center seal of approval, a gold Mom's Choice award, and Creative Child
Magazine's Best Book of the Year. Reindeer in Here® is the flagship brand under Reed's
BrandTM whose core mission is to create BIG stories for TINY people through characters,
content, community and consumer products. Stories that deeply resonate, robust characters
relatable to children, and the ability to integrate those characters and stories within engaged
communities.
How does Reindeer in Here work?:
A Christmas Friend:
Reindeer In Here (book and plush set) is a Christmas friend sent by Santa
as an EARLY FIRST GIFT of the holiday season to get to know each individual child and
celebrate that being different is normal. As daily adventures unfold between child and Reindeer,
the Reindeer learn about each child and help Santa deliver their true Christmas wishes, creating
a magical yearly tradition.
Make Family Memories:
Each child names their Reindeer and decides if it is a boy or a girl,
making it equally as unique as they are.
Kids get to cuddle their Reindeer day and night during
the countdown to Christmas!
On Christmas Eve Santa delivers Christmas wishes and picks up
the Reindeer to head back to the North Pole where it lives the rest of the year with Santa until returning next December!
A Positive Christmas Tradition:
Reindeer In Here was created by a dad who wanted a magical
positive Christmas tradition for his children, instead of spying eyes or tedious nightly pranks...
where is the magic in that!?
This unmistakable bond between the child and their Reindeer will
be the beginning of a yearly Christmas tradition that children look forward to every December!
Being Different is Normal:
Every one of us in the world is different in our own special way.
Different on the inside, different on the outside. Different in our hopes, dreams, and desires.
Reindeer In Here celebrates the differences in each and every one of us, whether human or
Reindeer!
No Holiday Stress:
No need for parents to move it every day around the house or come up with
ridiculous scenarios (unless they want to of course)!
Most Awarded Christmas Tradition!
12 MAJOR awards including a gold Mom's Choice,
Creative Child Magazine's best Book of the Year, and the prestigious National Parenting Center
seal of approval!
The Story:
In December the Reindeer In Here book and plush set "magically" arrive for your child,
setting the stage for a new yearly Christmas tradition. It's their FIRST gift of the holiday season
from Santa — and it came early! As the parent surprises their child with this unexpected early
Christmas present, they introduce them to the special "untold" story of the Reindeer.
The Adventure:
As the story unfolds, the child learns that many years ago Santa asked his
Reindeer for some help in learning about each child's true Christmas wishes. Santa told his
Reindeer that while he knew children all over the world, only some wrote him letters — so he
wanted a way to KNOW EACH CHILD EVEN BETTER! One different little Reindeer who was
born with one antler smaller than the other quickly suggested a different way to solve Santa's
conundrum. The little Reindeer told Santa he should send his Reindeer EARLY in the month of
December to stay with the children so Santa could learn as much as possible about each child,
and what their TRUE Christmas wishes are. Then every night while the child sleeps with the
Reindeer next to him or her, the Reindeer 'writes notes' to Santa detailing their daily adventures.
The Bond:
From that moment on, the bond begins with the child and their magical Reindeer.
After naming their own Reindeer, the child is encouraged to show it around, taking it on different
adventures each day so that when Santa comes on Christmas Eve, he knows as much as
possible about the child and can deliver their true Christmas wishes.
Christmas Eve:
On Christmas Eve, the child puts their Reindeer under the tree so it can greet
Santa. After Santa finds the Reindeer, it will go with him to guide his sleigh back to the North
Pole until next year — when the child's Christmas friend will return again!"
When I first heard about Reindeer in Here, i was excited to introduce it to my girls, as it wasn't
a plush I would have to move around each night. But, when I received the book and plush set
in the mail and read the story, I was so glad I requested a sample and was introducing Reindeer
in here to my girls, as it was so much more than a cute plush and book to read to them.
Instead, it had a powerful message of accepting others differences and our own, and how we
should be celebrating these differences, as that is what makes us all special and unique. With
all the bullying happening in schools, and peer pressure seen in schools, out at recess and on
the sports fields, as well as through online social media platforms, kids especially are forgetting
that our differences should be celebrated and not scrutinized or put on display for others to poke
fun at or leave hurtful comments that only lower a person's self esteem and self worth. I hate
seeing all the suicide posts on Facebook and stories in the news about young children feeling
that because they are different, they shouldn't have a reason to live. Kids, for one, should be kids
and having fun...not thinking all these negative thoughts as they are planted in their heads by
bullies and so called friends who talk behind their backs to other about them. Just reading this
book, I felt a powerful feeling come over me, knowing that my girls would pick up on the message
of celebrating our differences, and that it would open up lines of communication to talk about
this further, and share ways that together we can celebrate these differences in our own house,
as well as out in the community, and our day to day lives and interactions with others.
I was so excited to share the Reindeer in Here with my girls, and waited until we had the
Christmas tree put up a couple weeks ago. I hid the box under the tree for the girls to find,
and then wait to see their reaction. The next morning when they were watching television, my
youngest daughter noticed the box under the tree. She quickly went to get a closer look and then
called her older sister over to investigate further with her. That is when I introduced Reindeer in
Here with the girls.
I started by sharing the special "untold story of the Reindeer with my girls, before asking the girls to name their new reindeer friend. It took a little while throwing names around, but together the girls agreed on "Clarence" for their reindeer. My girls really enjoyed the Reindeer in Here story, and the illustrations really helped bring the story to life. But, I think their favorite part, next to the powerful message of diversity and celebrating our differences, was the cute Reindeer. My girls have been taking turns sleeping with "Clarence" the reindeer, and showing him off to family and friends. While the whole Reindeer in Here tradition should be introduced at the start of December, we got a jump start on it, as I wanted to see how it worked out with my girls, before sharing it with you. The last thing I would want to do is share a holiday tradition idea that wasn't well received by my family. But, after seeing just how excited my girls were to welcome this cute Reindeer into our home, and how much they enjoyed the story, and ask me to read it to them each night at bed, I knew I had to share Reindeer in Here with you, so that you could pick up and share this new holiday tradition with your kids/grandkids.
My girls can't wait until Christmas Eve so that they can leave their reindeer under the tree for Santa, to greet Santa, and help guide him and his sleigh back to the North Pole. While they know it will be hard to say goodbye to their reindeer, both of my girls agree it will make looking forward to December that much more special next year, as they know "Clarence" will return to spend time with them during the month of December.
I could go on and on about how much my girls are loving Reindeer in here, and how great of a holiday tradition this plush and book set is, to introduce your family to, but instead, why not pick up Reindeer in Here and check it out for yourself. Once you read the story and see the cute and cuddly reindeer plush, you will see why my girls and I love it so much, and why this product has won so many awards since it came to market.

For more information on the full line of Reindeer In Here products, please visit:
reindeerinhere.com
.
About The Creator, Adam Reed:
Having always had a passion for writing, Adam created this story bringing a magical friend into
their lives once a year. Today, Reindeer In Here is the most awarded Christmas tradition with
12 awards, one being Creative Child Magazine's "Book of the Year".
When Adam Reed is not being a dad, he is the CEO of Emmy Nominated Los Angeles-based
production company, Thinkfactory Media. He has produced over 500 hours of premium, reality
content television, and was the youngest producer ever to be listed in the Hollywood Reporter's
Reality Power List.
A Bakersfield, CA native, Adam currently lives in Playa Del Rey, CA with his wife Jennifer and
their two children Peyton and Weston whom Reindeer In Here is dedicated to.
Creator and Author of Reindeer In Here, Adam Reed, was looking for a positive new holiday
tradition to incorporate in his household. He wanted something that was inclusive and
celebrated uniqueness and so Reindeer In Here was born.
THE MOST
AWARDED CHRISTMAS TRADITION BRAND!
FOLLOW US:
Disclosure: I was sent a sample from the vendor in exchange for an honest review. All views shared are mine and mine alone.