Disclosure: I was sent a screener from the vendor in exchange for an honest review. All views shared are mine and mine alone.
I hate when the DVR fills with the kids' shows, as that means all the shows I have been meaning to catch up on are erased to make room for all their stuff. And, by the time to realize this, I have already missed a few episodes, and feel like I have to give up on a show, or wait until a complete season arrives to DVD. This is what happened with Jamestown, Season 3 from PBS. After getting hooked on Downton Abbey and binge watching all the episodes to this British drama, I found myself looking for a new show to watch. A friend recommended Jamestown, and after the first few minutes of the first episode, I was hooked.
I was able to keep up with the first two seasons, but then life got busy and I found myself missing an episode here and there from season 3. And, by the time I went to sit and play catch up they were gone from the DVR. So, I headed to Amazon to see when the complete 3rd season would be available to own on DVD. I found that it would release on August 6th, so I marked my calendar, as a reminder to buy it when it became available. But, before my reminder was sent to me, the folks at PBS Distribution reached out to see if I wanted to review it. I jumped at the opportunity, and for the past couple weeks I have been playing catch up with this hit British drama from PBS, watching each and every episode -- yes, all 345 minutes of it. :-) Last night I watched the final episode, and am glad I waited to see all the episodes, and didn't give up on this show, as it got really good the last few episodes of season 3. I found myself thinking back at the previous two seasons, to compare to season 3. I have to say that the third season is by far my favorite so far. I can't wait to see what happens in Season 4, and can't wait to add this complete season to my growing Jamestown DVD collection from PBS Distribution.
If you are a fan of Jamestown, or love British drama and have been looking for a new series to get hooked on, you should really check out this show. You can stream all three seasons online, or purchase each season's complete DVD collection online. I know that once you start watching this series, you will get hooked, and love it, like I do!
More about this recent DVD release:
"From the producers of Downton Abbey, this exciting and dramatic series follows the lives of three courageous, dynamic women who decide to leave their dark pasts behind in England and make the journey of a lifetime across the ocean for a new life in 17th century America. In Season 3, it's boom time in Jamestown but success brings the scrutiny of the Crown and there are few in the settlement who have nothing to hide.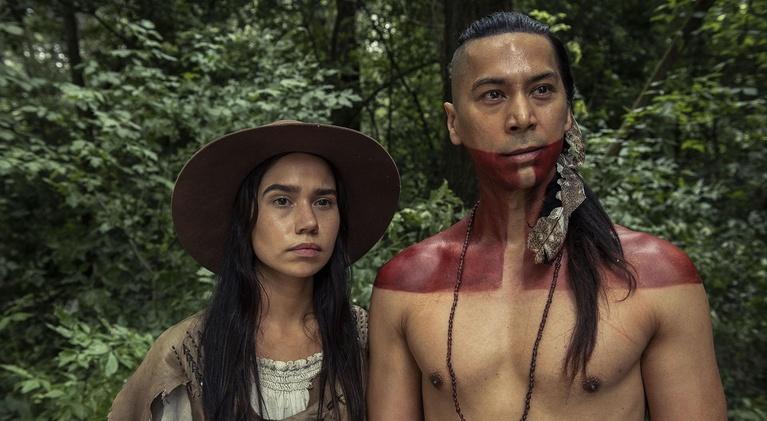 Relations with the Native Americans offer hope and advancement for the settlers until greed for land and want of power corrupts those with influence. What ensues is devastating conflict; the fallout of which will shape the New World for centuries to come.
The ensemble cast includes: Naomi Battrick, Sophie Rundle, and Niamh Walsh as the leading female roles. The male leading roles include Max Beesley, Jason Flemyng, Stuart Martin, Kalani Queypo, Abubakar Salim, and Raoul Trujillo. The series is written and created by Bill Gallagher (Lark Rise to Candleford, The Paradise)."
Street Date: August 6, 2019
Run Time: 360 Minutes on 2 discs
SRP: DVD, $39.99
Format: DVD, Digital
Genre: Arts: British Drama
About PBS Distribution:
PBS Distribution is a leading distributor of public media content around the world, reaching audiences through multiple platforms
and formats including direct-to-consumer subscription video-on-demand (DTC-SVOD), transactional video-on-demand (TVOD),
subscription video-on-demand (SVOD) licensing, and physical products on DVD and Blu-ray. In
addition, the company operates
three streaming channels — PBS MASTERPIECE, PBS KIDS, and PBS LIVING — all on Amazon Prime Video Channels, with PBS
LIVING also available on the Apple TV App. Other divisions of the company include: theatrical releasing, educational, non-
theatrical, in flight and international licensing businesses.
PBS Distribution offers consumers and educators the highest quality factual, scripted and children's programming, including films
from producer Ken Burns, hit dramas from MASTERPIECE, entertaining and educational children's series and award winning
documentaries from NOVA, FRONTLINE, AMERICAN MASTERS, NATURE, AMERICAN EXPERIENCE and many independent
producers. For over 20 years, the company has extended the reach of programming beyond broadcast while generating revenue
for the public television system, stations and producers.
Disclosure: I was sent a screener from the vendor in exchange for an honest review. All views shared are mine and mine alone.