Disclosure: I was sent a sample from the vendor in exchange for an honest review. All views shared are mine and mine alone.
One thing I wanted to do more of this summer was spending time outdoors with the whole family, without our phone or other tech gadgets. It seems that whenever family and friends come to visit or we get together, everyone is stopping to look down at their phones, or gets caught up in their phone or other electronic devices. While it is great to have all of these advancements in technology, it really does put a damper on things, especially quality time spent with those you love. So, to kick off summer, we had friends and family over for Father's Day weekend, and set the whole backyard up as a fun outdoor oasis (as my youngest called it). There were kiddie toys for the young children, the play set and climbing toys for the older kids, sprinklers and water toys, and even some fun games for the older kids and adults to enjoy. One game that took me by surprise and had everyone, both kids adults, playing was cornhole.
Are you familiar with cornhole? I had heard of it before and seen people playing at work outings, but I never played it myself. That was until last weekend, and now like my family and friends who were in attendance at our gathering, I am hooked!
As I looked online for more information about cornhole, as I was was intrigues and wanted to learn more, I was surprised to find that cornhole is really popular. There are even local cornhole leagues in my area, as well as cornhole tournaments. Crazy, huh? Here is more about cornhole, in case you aren't familiar....
GAME INCLUDES:
Carry bag for easy storage and transportation
Grip handles for easy handling
Complete rules and instructions
Features:
Sturdy with scratch-resistant surface

Includes 2 targets, heavy-duty travel bag for easy storage and transportation and eight canvas bean bags

Easy transport with folding legs and woven handles

Optimal surface slide

Eight (8) Premium cloth canvas bags with durable all-weather play

Great for the beach, tail gating, parties, or just backyard fun!
Scoring:
There are 2 ways to score, throw your bean bags into the hole for 3 points or onto the board for 1 point. First team to 21 points wins.
The folks at Bolaball made my introduction to cornhole possible, as they sent along their high quality, solid cornhole set, for me to review recently.
What I loved most about their cornhole set was, next to its durability and great quality, was that it came with a storage bag, to make storing the boards and bean bags easily, as well as allow you to transport it with ease.
After friends had the opportunity to play cornhole at our house the other day, that is all they talk about whenever we are chatting. And, they are already asking where they can buy this cornhole set from Bolaball, as well as asking me to bring my cornhole set when I come to visit for a summer BBQ/gathering, so that we can practice more and even have little cornhole tournaments. :-)
My husband was surprised to find that there is even a cornhole league at his work, and that they meet during lunchtime to practice, and then have tournaments with neighboring companies after work. After having played cornhole last weekend and liking it, he is hoping to get better and join his company's league, as a way to get more exercise, as well as have another stress relieving from a crazy day at the office, knowing that he will be heading outdoors to play a game that he enjoys.
In addition to the cornhole game we were sent, the folks at Bolaball also have a wonderful selection of other outdoor games, that are worth checking out, including a new Giant 4 in a Row game that I showed my girls, and that they want, so that they can play with friends, as well as my husband and I.
I think that this game, along with the cornhole game will have us be the place to be during the summer months. Just this weekend, the backyard was filled with neighborhood kids swinging on the swings, and hanging out, waiting for their turn to play cornhole. :-) Cornhole is not an adult game that you play at a bar or pub, or at your grandparents house. Instead, it is turning into a popular outdoor game for all ages. And, I am happy that I was able to finally try it out, and see why so many people love cornhole.
Now whenever friends or family ask what are summer must haves, I am quick to tell them to pick up the cornhole set from Bolaball. Even if you have a small yard, you can still enjoy this game! And, best of all, when you play this game, you will find yourself forgetting about your phone, or needing to check in with your social channels. You are too busy having fun and truly connecting and having fun with those in your company. That is what spending quality time is all about, and what summer should be about. We only have a few months before the kids return back to school, so why not make the most of it, especially being outdoors enjoying the nice weather, and making fun summer memories as a family. And, this year, you can say that one of your memories will be learning how to play cornhole and having tournaments with family and friends, thanks to Bolaball and their amazing selection of outdoors games like cornhole, that the whole family will love. They are made so well, that they will last a long time, making them outdoor games your family will enjoy for years to come.
To learn more about cornhole and other fun outdoor wooden games available from Bolaball, many of which you can purchase through Amazon and other online retailers including Wayfair, Walmart, Home Depot, Bed Bath and Beyond, , head on over to http://www.bolaball.com/ .
This afternoon, I received the

6 Piece Dice Giant Board Game Set I ordered the other day from Wayfair, and can't wait to introduce Yahtzee to the girls, as another fun outdoor game, that will also have them practicing their adding. Who says you can't learn while having fun?! :-)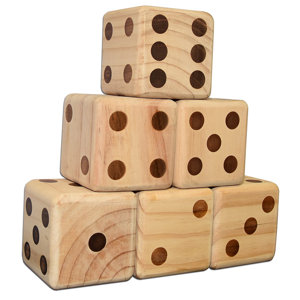 I can't wait to hear about what game(s) you purchase to enjoy with your family and friends this summer, and for years to come, so be sure to share what you purchased in the comments section below.
Bolaball is a company based on deep family values and strives to provide the highest quality product at an affordable price so everyone can enjoy their games. Bolaball also offers games like whirling bola's, spinning bean bags, sinking washers, flying discs, and much more. Bolaball provides high quality, solid wood games that your family and ours can enjoy for years to come.
Follow Bolaball on their social channels below:
Disclosure: I was sent a sample from the vendor in exchange for an honest review. All views shared are mine and mine alone.