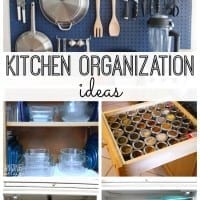 We all want a functional and attractive kitchen, and this means that we have to plan the space carefully. The kitchen is still the heart of the home, and this is the place where you chat with your kids in the morning while they are having their breakfast or cook together. You might have a showroom kitchen, and you want to personalize it, or a cluttered one you would like to improve. Below you will find a few ideas for both situations.
Make It Easy to Clean
The first task you will have to tackle is making your kitchen easy to clean. You can tile all the walls and get floor tiles, but if you have wooden cabinets, it will be hard to keep them clean. If you change your doors and drawer faces to high gloss units, you can simply use a
soft scrub cleanser
and wipe all the surfaces clean. Be careful when selecting your worktop, as well. Marble lasts much longer than wood and is harder to scratch.
Make It Bright
You might consider special lighting or even adding more windows to your kitchen, so you can make it bright. A dull and dark kitchen is never a good idea when you have kids or want to see what you are cooking. Spotlights over the cooker will help you see better, while natural light will improve your mood while preparing family meals.
Add Special Ornaments
You can also think about adding special ornaments, so you can improve your space. Look for handmade decoration and gift
wooden barrels for sale
to decorate your kitchen surfaces and create a sophisticated look. You can also add various decor elements, such as your kids' hand crafted and painted plates and mugs.
Display Photos
From a simple design to a pin board style album, or a digital frame, there are plenty of options to choose from, depending on the style of your home and your individual taste. Make sure that you don't cover all the wall surfaces, though, or your kitchen will look cluttered.
Personalized Placemats
If you would like to show your appreciation you can order a personalized placemat for every family member.
This can feature their favorite animal, their name, or a photo of the last vacation you had together. You might even get them to paint or decorate their own mugs and plates, or order custom gifts, so everyone feels at home. You might even
personalize the seat cushions
at your dining table, adding quotes, figures, or using different colors for kids to find their space easier.
Improving your kitchen is not a one-off task. You will need to ensure that you are focusing on design, functionality, and appearance as well. Choose your color schemes, your lighting fixtures and natural light sources, decorate and personalize your space, and you will feel more at home in the kitchen without spending a fortune.