Disclosure: I was sent samples from the publisher in exchange for an honest review. All views shared are mine and mine alone.

While some kids check out of school when the last school bell rings, studies have shown that learning should continue through the summer to help reduce the chances of summer learning loss. Yes, that is such a thing and since the early 1900's, studies have been conducted to see just how much information children forget during the summer before returning to school in the fall.
Because of these studies, many states require summer reading as it has shown to have a positive impact. One recent study done by Oxford Learning has shown that 2-3 hours per week is needed for a child to prevent learning loss, starting in grade one. Another shocking statistic showed that "by the end of grade 6, students who have experienced summer learning loss over the years are an average of 2 years behind their peers (Source: www.oxfordlearning.com)." When I read this, I was shocked at just how my knowledge a child can lose during the 2-3 months they are off during the summer.
As you may know, I homeschool my girls, and we do school year round, so I don't have to worry much about summer learning loss, as they are always doing something like reading or doing a couple of hours of schoolwork a day. But, I do have many friends and family who have children in public and private schools and have to worry about it. They are always asking me for recommendations for fun workbooks and activities that they can do with their kids to make learning over the summer fun.
When I comes to giving recommendations, I usually gravitate towards FlashKids workbooks, as they are not only chock fun of activities that are both engaging and fun, but also that they will not break the bank. Most workbooks are usually $4.99-$9.99 each, so they are a perfect price if you have more than one child like I do.
Here are some of my favorite recent releases from FlashKids that I wanted to share with you. My girls have been working their way through the pages of these puzzle and activity books, and are having so much fun. When they work on these books they think they are getting a break from our daily school, as they are having so much fun with the activities and challenging puzzles. If only they knew that this was helping to strengthen skills they have learned, as well as keep their mind working.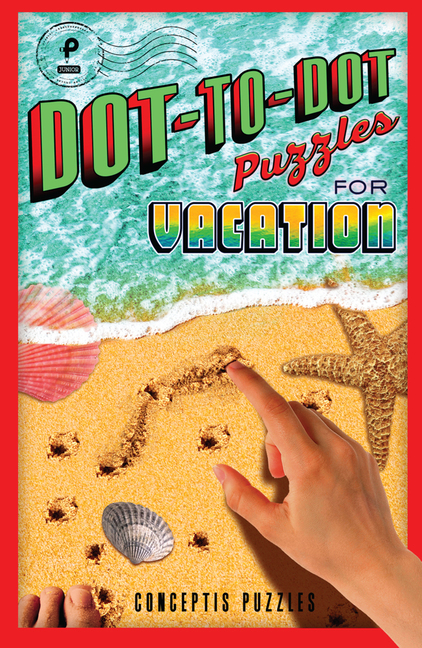 Trim

: 5.375 x 8.25 Inches
Category

: Juvenile / Dot-to-Dot
Publisher

: Puzzlewright Junior
"Connect the dots . . . and have some vacation-time fun!
Kids will enjoy these 70 entertaining dot-to-dot puzzles, with cool images that feature skateboarding, video game playing, animals, holiday themes, and more. Each puzzle has between 100–120 dots, and while most are consecutive, a few have a multi-line style that offers a more challenging experience."
Next to mazes, dot-to-dots are my girls' next favorite thing to do. When they first flipped through this book and saw that the puzzles were between 100-120 dots each, they thought the puzzles would be hard to do. But, they were up for the challenge and curious to see what cool images they would be able to make. I loved listening to the girls counting out loud over 100, and then getting excited when they completed the image. Not only does this puzzle book keep them busy especially in the car on the go, but it is all helping them with their counting.
If you have a dot-to-dot fan in your house who can count or is learning to count over 100, then you consider picking this puzzle book up for them. It is small enough to through in you summer tote or leave in the backseat for your kids to pick up and do when they find themselves getting bored in the car.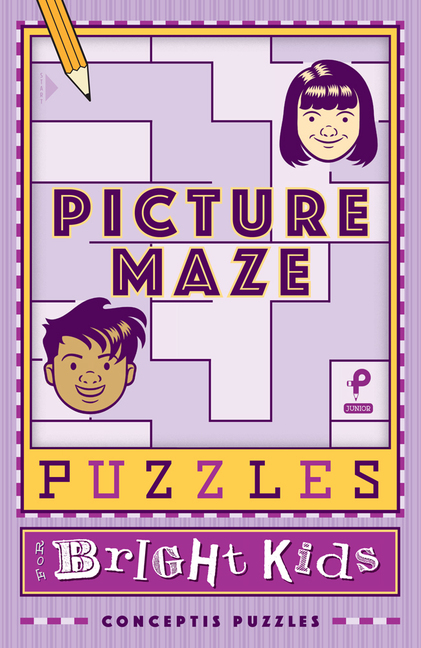 Trim

: 5.375 x 8.25 Inches
Category

: Juvenile / Mazes
Publisher

: Puzzlewright Junior
Synopsis:
"

Great for trips, rainy days, or downtime, these expertly crafted picture mazes from Puzzlewright Junior are just right for bright kids!
These 74 puzzles have a cool twist! First, kids get to complete a maze. Then, when they've successfully mastered that challenge, they can enjoy coloring in the path and watching a picture emerge as they draw."
My Thoughts:
Like I said, my girls love mazes, but haven't done mazes quite like this maze book. Instead of just drawing lines from start to finish, your lines end up making a cool picture when done -- think animals, people and places.
I forget to tell my girls this when I gave them the puzzle book to try, but after completing the first maze, they looked at it and realized the lines connected to form a skunk. They thought this was the coolest thing, and from then on, this book got them hooked on mazes. Within a couple days the girls had this picture maze book complete, and were asking for another.

I will definitely be picking up more of these types of picture mazes as they are not just fun for kids, but adults will get into them, too. I found myself sneaking this puzzle book at night when the girls went to bed, to try it out for myself. Shh, don't tell the girls. :-)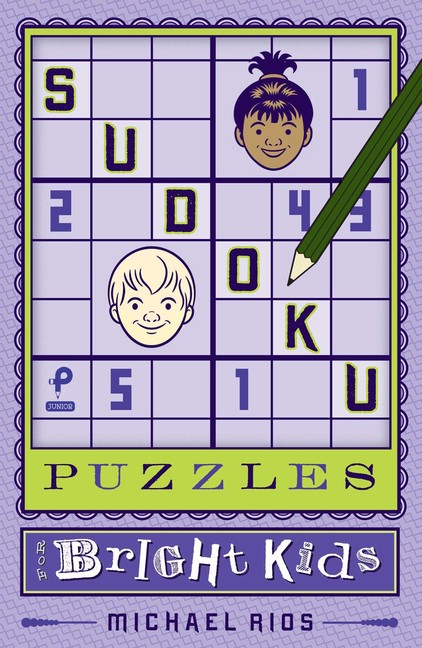 Trim

: 5.375 x 8.25 Inches
Category

: Juvenile / Games & Activities
Publisher

: Puzzlewright Junior
Synopsis:
"

Sudoku is smart fun for kids! They'll enjoy exercising their brain and building their logic skills as they solve these 77 rewarding puzzles."
My Thoughts:
As part of our homeschooling, I use Sudoku as part of our morning work to get the girls ready for our school work for the day. I love doing Sudoku and this is how the girls got interested in these types of puzzles as they saw me doing it and wanted to try. So, I found puzzles for their age range, and they were hooked. They are having fun while also exercising their brain.
This book would be perfect for kids during the summer to keep their brains working and to help them build their logic skills.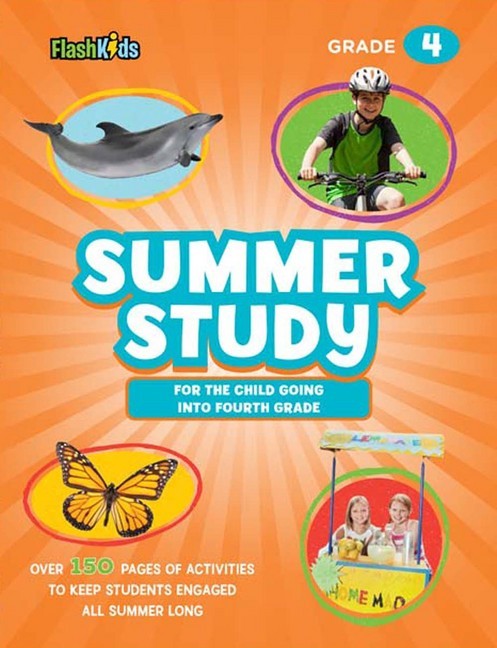 Price

: $9.95 / $11.95 CAN
Pages

: 160 pages, all in color
Trim

: 8.375 x 10.875 Inches
Category

: Juvenile / Flash Kids
Synopsis:
For fun. For learning. For keeping skills sharp all summer long.
It's important for kids to relax during the summer. But it's just as crucial that they don't forget key skills during the break. How can parents make time for fun and also set the stage for future success? Summer Study workbooks solve the problem! The 180 pages of enjoyable activities in each book review last year's lessons in math and reading—and prepare them for the year to come."
My Thoughts:
My girls have started grade 4 work, so I have been looking for workbooks to use with our summer learning, to help get them ready for September when we will be go back to doing 5-6 hours of school a day. But, in the meantime, this book is a great review of things they learned in our grade 3 learning, and introduction to what we will be covering this year in school.
I have been using "Summer Study" books from FlashKids for a few years now, and love them. I have tried other summer bridge books, but the content is either not challenging enough, or you don't get quality activities for the price you pay. This book has over 150 pages filled with full-color activities that will make reviewing what they learned in grade 3 fun. You will find math (adding, subtracting, fractions, multiplication and division, and graphing to name a few), reading comprehension, grammar, science and even social studies content in the pages of this summer study book.
We are halfway through this book, as I have the girls do a few pages a day, and they are loving it. They have asked for more workbooks like this for school in the fall, as they are fun and they are realizing repetition is helping them reinforce what they have learned, making it easier and quicker to do.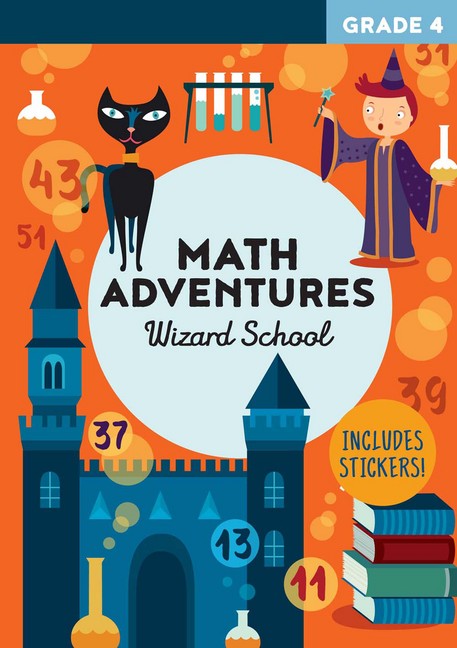 Price

: $9.95 / $13.50 CAN
Pages

: 72 pages, all in color
Trim

: 8.25 x 11.75 Inches
Territories

: US/Can/Philippines
Category

: Juvenile / Flash Kids
"Every kid can go on a fun math adventure!
Come along with the wizard's apprentice as he guides you through a very special castle. There you'll discover powerful potions, secret passages, mazes, and more. But it seems the apprentice needs a little help remembering his magic formulas. Using a little addition, subtraction, multiplication, division, and other math skills, fourth-graders can save the day!
Through this combination of storytelling and entertaining activities, even reluctant learners can grasp basic mathematical principles and begin to love the world of numbers. Each book has colorful stickers to place on the pages.
An addition to the bestselling Flash Kids line of books."
Math is my girls' favorite subject, next to reading, so I love sharing math adventure type books with them. I first saw this book at the bookstore and fell in love with it. I made a note to pick up this and other titles in the "Math Adventures" series from FlashKids for use this summer. But, thanks to the kind folks at Sterling Publishing they sent me this, along with the previous summer fun books I shared with you. I ended up picking up an additional copy so that both of my girls had their own workbooks to use.
If you have a child who is not a fan of math or struggles with math, why not consider picking up this workbook to do with them during the summer months. They will have fun completing the different adventure activities, while exploring the world of numbers and building confidence while learning basic math concepts. Instead of throwing formal math definitions or terminology at a reluctant learning, this book gradually and naturally introduces them through simple activities that will build confidence in math, and make wanting to learn math concepts fun.
The following skills and concepts are covered in this workbook:
Understanding place value of numbers up to 1,000.

Adding, subtracting, multiplying and dividing

Performing number sequences and patterns

Comprehending coordinate points, grids, and maps

Solving logic puzzles
At only $9.99 you can't go wrong with their math workbook. I can't wait to pick up the others in this series to share with my girls. And, once you see this book up close you will see why my girls and I can't get enough of this Math Adventures book from FlashKids, and want more.
I could go on and on about how great FlashKids activity and puzzle books, but instead, I will let you see for yourself why this has become a go to publisher for parents to pick up to help prevent summer learning loss with their kids during the summer months. Don't let your child become part of the statistic, but instead thrive during this down time. These books let them explore and have fun, without feeling required to get a particular assignment done, or sitting at a desk all day. Learning can happen on the couch, in their bedroom, or in the car.
Disclosure: I was sent samples from the publisher in exchange for an honest review. All views shared are mine and mine alone.