Want to get your mouth watering? Be warned, the following picture will get you hungry and have you craving chocolate, brownies, pretzels and more...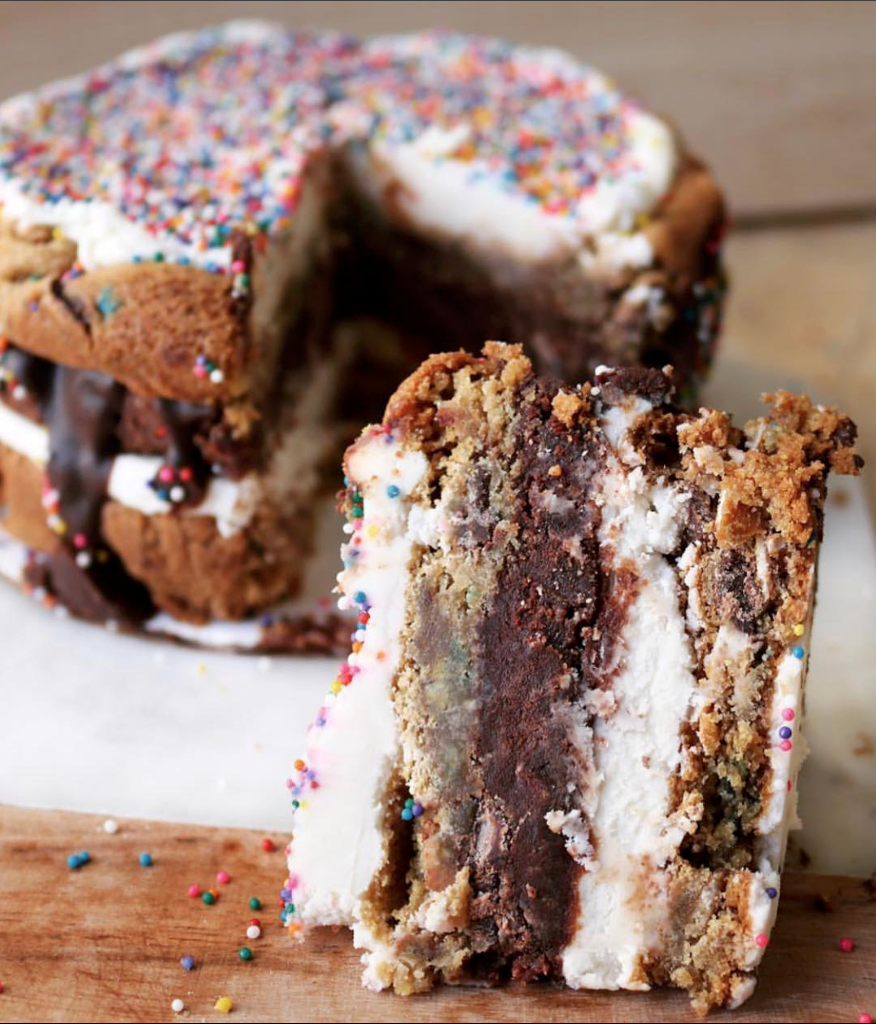 OMG...what is this, you are asking? It is none other than THE BIG POPPA from Fatty Cakes NY. Just take a moment to really look at the picture above. What do you see? Let me help you...first, take a moment to wipe the drool from your mouth...yes, I will wait a minute while you grab a napkin and compose yourself. :-)
What you are seeing, and secretly hoping to sink your teeth into is an "M&M & pretzel cookie cake sandwiching a triple chocolate brownie with layers of salted vanilla buttercream, chocolate ganache, and finished with rainbow sprinkles!"
Again, take a moment to take this information in. Yes, I am with you with the "OMG, this is heaven!" thought. This definitely lives up to THE BIG POPPA name. It has anything and everything you can think of to satisfy your sweet tooth. Come on, who doesn't love M&M, chocolate, pretzel vanilla buttercream and chocolate ganache.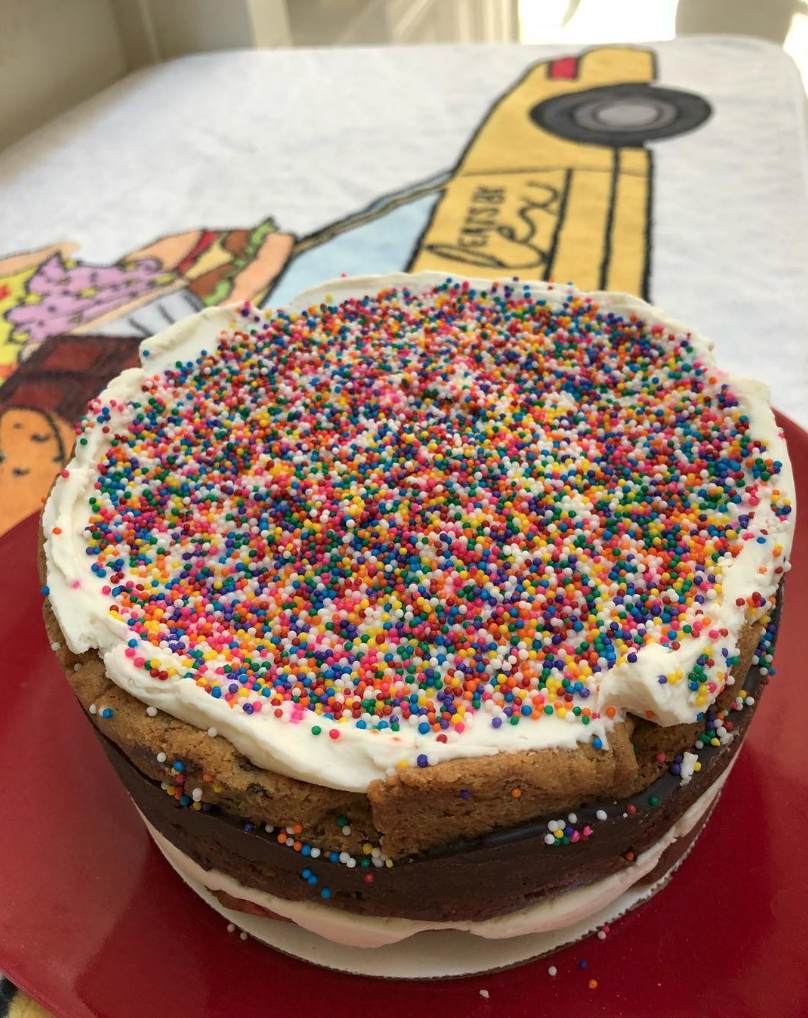 For a chocolate lover like myself this is chocolate overload in a good way. Oh, how I wish I had a slice of THE BIG POPPA right now to sink my teeth into. Even though it is 2 in the morning, I would definitely grab a tall cold glass of milk and devour a piece of this cookie cake if I had it right in front of me, and not feel guilty. Well, maybe I would feel a little guilty...not really! :-)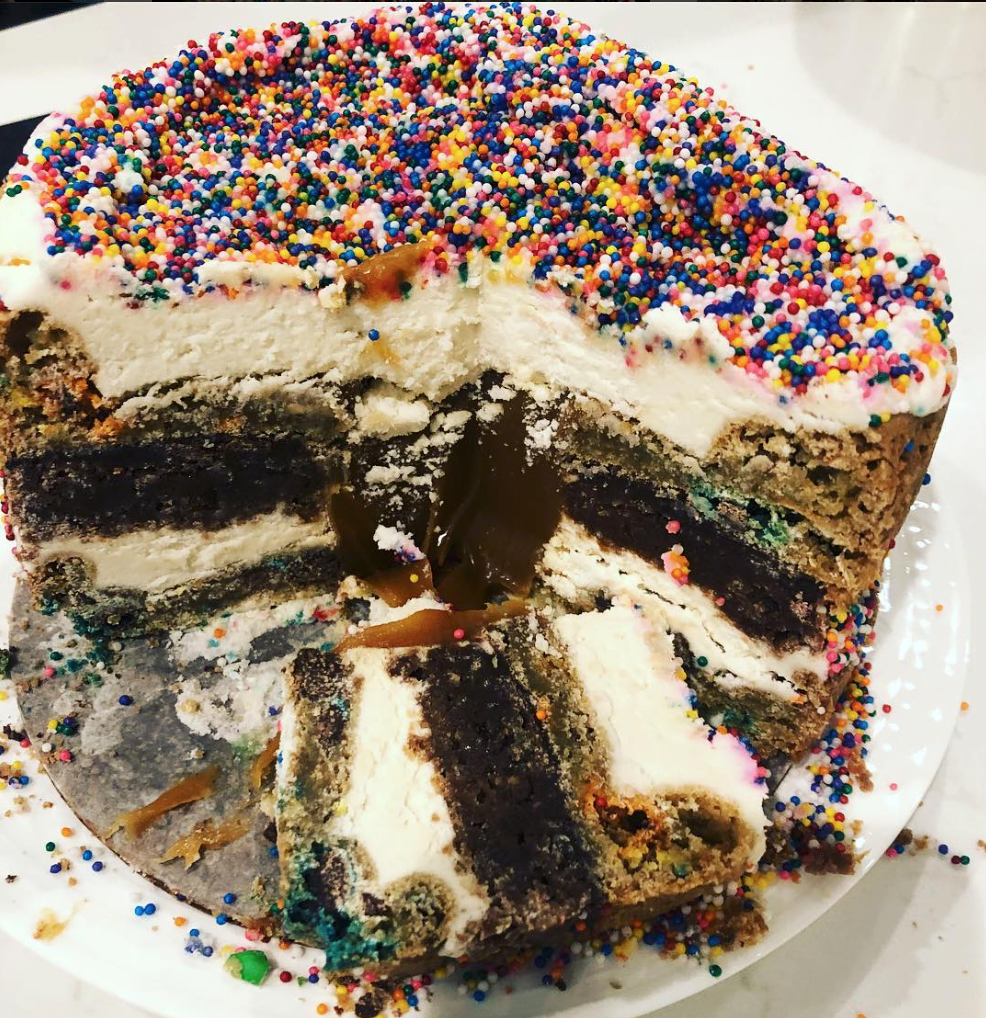 I am not alone in thinking that this is a true masterpiece in the world of cookie cakes. I have never seen anything like it. And, neither has my husband, who I had to wake up a few hours ago to show him. I know that he is probably dreaming of THE BIG POPPA right now, as I write this post, and secretly hoping that I get him one for Father's Day. Shh, don't tell him, but I am having a sample sent for us to enjoy and celebrate him being a great dad, and my partner in crime when it comes to enjoying all things tasty and chocolately like this cookie cake. It will be hard sharing with my family when THE BIG POPPA arrives on our doorstep...but, I would also feel bad knowing that my husband and girls wouldn't be able to savor this tasty and oh so delicious treat with me. So, I will resist my temptation to say "No, hands off" and share...just this once!
If you can't get THE BIG POPPA Cookie Cake out of your head...I don't blame you...why not place your order for this one of a kind edible gift that every Dad would love to receive for Father's Day, and share it with that special Dad in your life. They say a way to a man's heart is through his stomach, and this cookie cake will surely take the "cake" (hahaha, see what I did there! :-) ) I can't wait to see my husband's face when he lays his eyes on THE BIG POPPA in person, and gets to sink his teeth into the different layers of this chocolate lover's paradise for Father's Day. Stay tuned, as I will be sharing photos on my social media channels to show our love for Fatty Cakes NY and THE BIG POPPA Cookie Cake. :-) But, before I do, make sure you get your order in for this or other cookie cakes available from Fatty Cakes NY. The cut off for ordering to receive in time for Father's day is June 9th, so don't delay! Or, you'll be sorry, and that special Dad in your life will be disappointed. :-)
Order your Fatty Cake NY Cookie Cakes here....https://www.fattycakesny.com/. And, you're welcome for me introducing you to this amazing cookie cake.