Disclosure: I was sent a review copy from the vendor in exchange for an honest review. All views shared are mine and mine alone.
WITNESS NEVER BEFORE SEEN
Available on DVD April 24th from PBS Distribution
Available Now on Digital HD
Ever wished for a real close up of animals in their natural habitats like chimps, stingrays and meerkats? I have always had a fascination with animals and love all the NATURE programs that PBS Distribution puts out. So, when I hear about the new "NATURE:

ANIMALS

WITH

CAMERAS

,

" DVD

and saw the preview of this upcoming DVD release, I had to reach out and request a review copy to enjoy with my girls. Being a homeschooling family, I love finding interesting and fun programs like this one to share with my girls, as we delve deeper into animal studies. My oldest daughter, Savannah loves stingrays, and recently had the opportunity to feed some at a nearby aquarium. She said that day was the best day ever! :-) Bella, my youngest is all about cheetahs and seeing them move lightning fast as she says. So, when I heard about this release, I knew the girls would have a blast sitting and watching this DVD with me.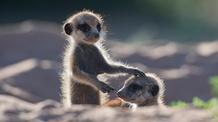 Thanks to the kind folks at PBS Distribution, I was sent a screener copy of NATURE: Animals With Cameras on DVD to share with the girls, and we watched it today as part of our school. Now we have seen some of the animals in this special up close at the zoo and aquarium, but never have we seen them like this. Thanks to cameras strapped to the animals (don't worry they weren't hurt in any), footage was captured of them interacting with other animals in their own environments, showing just how they move and live -- things you don't see when they are behind a glass or off in a field at the zoo. The footage that was captured and shared of these animals is truly amazing and fascinating to watch. Our eyes were glued to the screen from beginning to end, and when it was over, the girls couldn't stop talking about what they saw and how much they enjoyed NATURE: Animals With Cameras. They were quick to ask when we could watch it again. I had planned to let them bring in the car this week when we head to some of our outside classes, but before they could do that, they had to sit this evening after dinner and watch it again...this time with my husband. And, as the DVD was playing, I heard them talking my husband's ear off about how great the camera footage was and how they never things about the animals, but now do based on this DVD. I love hearing the girls get excited about watching shows like this, and seeing them ask questions or want to learn more about animals. Shows like this one peak their interest and make them want to learn and explore more, which is so wonderful.
If you and your family love animal movies and Nature programming from PBS Distribution, then you will want to pick up the new NATURE: Animals with Cameras, when it arrives on DVD on April 24th. If you can't wait until then, you can buy and enjoy on Digital HD right now!
Here is more about this upcoming DVD release:
"PBS Distribution recently announced the release of "NATURE:

ANIMALS

WITH

CAMERAS

,

"

on DVD and Digital HD. Go where no human cameraman can go to witness a new perspective of the

animal

kingdom. This program journeys into

animals

' worlds using custom, state-of-the-art

cameras

worn by the

animals

themselves. Capturing never-before-seen behavior, these

animal

cinematographers help expand human understanding of their habitats and solve mysteries that have eluded scientists until now.
"NATURE:

ANIMALS

WITH

CAMERAS

" will be available on DVD April 24th. The run time of the program is approximately 180 minutes on 1 disc and the SRP is $24.99. The program will be also available for digital download.
Wildlife cameraman Gordon Buchanan (Nature: Snowbound:

Animals

of Winter) and a team of pioneering

animal

behaviorists join forces to explore stories of

animal

lives "told" by the

animals

themselves. The

cameras

are custom-built by camera design expert Chris Watts to fit on the

animals

unobtrusively and to be easily removed at a later point. From this unique vantage point, experience the secret lives of nine different

animal

species. Sprint across the savanna with a cheetah, plunge into the ocean with a seal and swing through the trees with a chimpanzee.
The one-of-a-kind sequences captured by the

animals

include several on-camera firsts. The

cameras

allowed for newborn meerkats to be shown in their burrow for the first time ever, as meerkat pups don't emerge from the burrow until they reach three weeks of age. In the Atlantic Ocean, an unborn devil ray is shown kicking inside its mother's stomach — a phenomenon never before captured on film.
The program visits eight countries and features three different species per episode.
"

ANIMALS

WITH

CAMERAS

" is a BBC Studios Production for PBS and BBC with THIRTEEN Productions LLC. For Nature, Fred Kaufman is executive producer, and Bill Murphy is series producer. For BBC, Tim Martin is executive producer and Dan Rees is series producer.
About Nature
Now in its 36th season on PBS, Nature pioneered a television genre that is now widely emulated in the broadcast industry, bringing the natural world to millions of viewers. The series has won more than 700 honors from the television industry, the international wildlife film communities and environmental organizations, including 17 Emmys, three Peabodys, the Christopher Parsons Outstanding Achievement Award given by the Wildscreen Festival and the Grand Teton Award given by the Jackson Hole Wildlife Film Festival.
Support for this Nature program was made possible in part by the Arnhold Family in memory of Clarisse Arnhold, the Halmi Family in memory of Robert Halmi, Sr., Sue and Edgar Wachenheim III, the Kate W. Cassidy Foundation, the Lillian Goldman Charitable Trust, the Filomen M. D'Agostino Foundation, Rosalind P. Walter, Sandra Atlas Bass, by the Corporation for Public Broadcasting, and by the nation's public television stations.
About PBS Distribution
PBS Distribution is the leading distributor for the public media content around the world, reaching audiences through multiple platforms including digital distribution of OTT branded channels, TVOD, SVOD and VOD, as well as through theatrical licensing, DVD and Blu-Ray sales, inflight entertainment and international licensing.
PBS Distribution offers consumers and educators over 4,000 programming hours of the highest quality factual, scripted and children's programming, including films from producer Ken Burns, hit dramas from MASTERPIECE, entertaining and educational children's series and award-winning documentaries from NOVA, FRONTLINE, AMERICAN MASTERS, NATURE, AMERICAN EXPERIENCE and many independent producers. For over 20 years, the company has extended the reach of programming beyond broadcast while generating revenue for the public television system, stations and producers.
NATURE:

ANIMALS

WITH

CAMERAS
Street Date: 4/24/2018
Genre: Documentary
Run Time: Approximately 180 minutes on 1 disc
SRP: DVD, $24.99
Format: DVD and Digital HD
Disclosure: I was sent a review copy from the vendor in exchange for an honest review. All views shared are mine and mine alone.