Disclosure: I was sent review copies from the publisher in exchange for an honest review. All views shared are mine and mine alone.
I am excited to kick off my annual "Welcome in Spring with a Good Book" feature, where over the next few weeks I will be sharing some great new and recent releases from some of my favorite children's book publishers. Part of our homeschooling is to focus on reading, and the girls read at least an hour a day. They have developed a love of reading, which has sparked their creativity and imagination when at play, thanks to publishers like Penguin Random House. The books they release are always fun and keep the girls engaged from the beginning right up until the last page. I am excited to share five great books from Penguin Random House that I know your kids will love, as my girls can't get enough of them. I even included a chapter book that is perfect for beginner readers, as well as young children who love to listen to a good story. I began sharing chapter books with my girls a few years ago when they started to read on their own, to get them excited about the wonderful books that were in store for them, as they grew and expanded their vocabulary and reading ability.
First, I wanted to share four wonderful picture books that not only have beautiful illustrations that bring the easy to follow stories to life, but will also have you and your lingering on each page to admire all the details of the illustrations on each.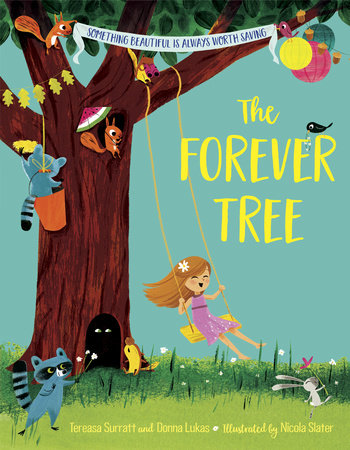 "A fresh twist on Shel Silverstein's The Giving Tree based on a real tree in Wisconsin that became something more, this is a timeless story about loss and renewal at home and in nature.
"This is a true story about a Tree that grew from something more than water and sunshine. It grew from love."
The animals and humans always knew their tree was special. The trunk was the best place to host championship bingo tournaments, and the branches were perfect for swinging in the shade!
But when the tree gets sick, neighbors new and old will have to join forces if they have any chance of saving their treetop home.
A touching tale based on the true story of one special tree, and the community that brought it back to life."
Age Range:

3 - 7 years

Grade Level:

Preschool - 2

Hardcover:

40 pages

Publisher:

Crown Books for Young Readers (January 23, 2018)

Language:

English

ISBN-10:

0553523929

ISBN-13:

978-0553523928

Product Dimensions:

8.8 x 0.4 x 11.3 inches
Are you one to tear up when you read a heartwarming children's book? If you are, then you will definitely need a tissue or two when you sit down to read "The Forever Tree" by Tereasa Surratt and Donna Lukas. This story, which is easy to understand and follow along touches on the themes of community and love. It starts off with a grandfather adding a swing to a tree for his granddaughter to swing on. And, as the years go by, the girl gets older, as does the tree. Then, one day the tree gets sick and is about to be cut down. But, because the tree means so much to the people in the community and the animals who call it home, they all come together to form a plan to hopefully save the tree. This is where the waterworks start flowing.
So, what happens to the old tree? I will say that there is a happily ever after. Even though the entire tree can't be saved, a part of it was including the swing, and can now be enjoyed with the animals and community for years to come. When you get to the end of the book, you will see that this is based off a story and that you can visit Camp Wandawega in Wisconsin to see Tom's treehouse with the rope swing attached to the elm tree. Again, waterworks when you read about how this story brought to together a community to save a tree. Stories like this really move you and remind you that there is still good in this world, and people that care. I hope that one day I can visit Tom's Treehouse and share it with my girls.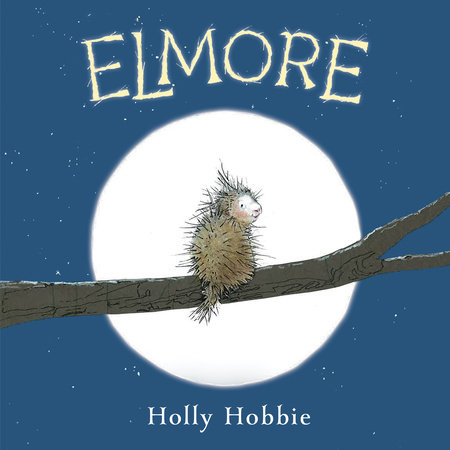 "
The creator of the Toot & Puddle series brings us Elmore–the warmhearted porcupine sure to steal the hearts of a new generation of Holly Hobbie fans!
Elmore is a porcupine desperate to make friends. But it is hard to seek closeness with others when you're covered with spikes that shoot off your back every so often. Elmore suffers rejection and heartbreak, but the goodness of his forest community ultimately shines through as the animals find a way to connect with this prickly bundle of love.
Holly Hobbie is the creator of the beloved Toot & Puddle series and now brings us a character for the next generation. Just as charming, funny, and good-hearted as her little pigs, Elmore the porcupine will snuggle and prickle his way securely into the picture-book canon."
Age Range:

3 - 7 years

Grade Level:

Preschool - 2

Hardcover:

40 pages

Publisher:

Random House Books for Young Readers (January 30, 2018)

Language:

English

ISBN-10:

1524718637

ISBN-13:

978-1524718633

Product Dimensions:

9.3 x 0.3 x 9.5 inches
This was another book that had me tearing up as I felt bad for Elmore. All he wanted was friends, and it looked like he would be alone forever. But, then as the story progresses, you can't help but root for this little porcupine as he tries his hardest to win over animals in the woods. They are afraid of him because of his prickly exterior, and don't want to get hurt playing with his as he oftentimes shoots out his quills when he gets excited. The forest critters think of ways that they can be friends with Elmore that will not put them in harms way of getting hurt by his spikes. Will they find a way to come together and be friends? And, will Elmore finally have a friend in the forest he can play with and enjoy their company? You will just have to pick up this wonderfully illustrated children's book to find out. This book has become a staple at bedtime with my girls and they always smile at the end and say that if they ran into Elmore they would definitely want to be his friend. :-)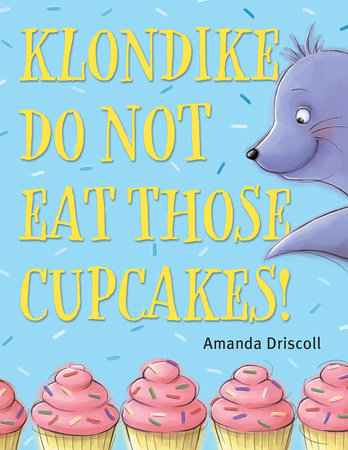 "Join a hungry seal as he attempts the impossible task of waiting until his sister's party to eat a delicious birthday cupcake in this hilarious picture book that's perfect for fans of The Bear Ate Your Sandwich.
What's the one thing you could say to make birthday cupcakes even more delicious to Klondike? Tell Klondike not to eat them!
Klondike's sister is having a birthday party, and everything is ready–the only thing that's left to do is wait until it's time to eat the birthday cupcakes.
But Klondike REALLY loves cupcakes. And waiting is SO hard. The narrator tries everything to keep him from eating the treats, from distracting him with a magician to visualizing tubeworm tacos instead of cupcakes (unfortunately, seals like Klondike are big fans of tubeworm tacos).
Alas, these tactics are no match for Klondike's love of cupcakes. It isn't long before he caves to his cravings, and it looks like the party will be cupcakeless! Will he be able to whip up a new batch in time?"
Age Range:

3 - 5 years

Grade Level:

Preschool - Kindergarten

Hardcover:

32 pages

Publisher:

Knopf Books for Young Readers (January 9, 2018)

Language:

English

ISBN-10:

1524713163

ISBN-13:

978-1524713164

Product Dimensions:

8.9 x 0.3 x 11.2 inches
This is one book that will have your little ones laughing and saying "Stop Klondike" as you read through the pages. The story is easy to follow along and understand. It is Klondike's little sister's birthday and everyone is getting ready for her birthday party. But, Klondike is distracted by the tasty cupcakes sitting on the counter. He wonders if he can sneak just one, or maybe the whole plate. Klondike's Mom tells him he has to resist and wait, but he can't. As he hovers over the plate of cupcakes he can't help but want to dive right in. Does he sneak a cupcake, or even worse eat the whole plate of cupcakes leaving none for the party and ruining his sister's birthday? He can't resist and does eat them all up, and makes his little sister cry. But, then he has an idea on how to fix things. Will Klondike make things right and not ruin his sister's birthday? You will just have to pick up this cute children's book to find out. And, get ready to say, "No, Klondike" as you flip through the pages, trying to make sure he leaves the cupcakes alone. :-)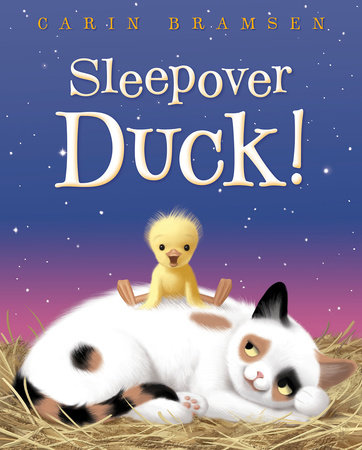 "Join Duck and Cat – from

Hey, Duck!

and

Just a Duck?

– for an adventurous barn sleepover in their third picture book together! Perfect for fans of Mo Willems' Elephant and Piggie series.
It's Duck's very first sleepover . . . and it's in Cat's barn! But a "Hooot, Hooot" is keeping Duck from getting any sleep. So Duck and Cat set off to search high and low to find out just who is doing all that hooting. Full of your favorite barnyard animals and their memorable sounds, young readers will love this delightfully funny and endearing story."
Age Range:

3 - 7 years

Grade Level:

Preschool - 2

Hardcover:

40 pages

Publisher:

Random House Books for Young Readers (January 2, 2018)

Language:

English

ISBN-10:

0385384173

ISBN-13:

978-0385384179

Product Dimensions:

8.3 x 0.3 x 10.3 inches
This is the third in a series featuring the cute and cuddly cat and duck. In this book, duck is excited about having a sleepover in the barn with cat. He imagines what a sleepover is like and how much is had. When it duck arrives at the barn and is ready to start his long night of fun, he sees that the other barn animals are ready to turn in and call it a night. That is, until he a noise. Who could be making the "Hooot, Hooot" sound, and will the sleepover be as must fun as duck has imagined. The story follows duck and cat as they play detectives and try and figure out who is making that sound. They visit with the different barn animals and are told it wasn't them. And, near the end of the book, a little owl greets duck and owl and says "hello." But, by that time duck and cat are tired from the long night of searching. And, before long they are asleep like the rest of the barn animals, dreaming about the fun sleepover, and waking excited to have another soon.
And, as mentioned above, I wanted to include a cute chapter book for beginner chapter book readers, which would make for a great summer read, as kids gear up for summer camp.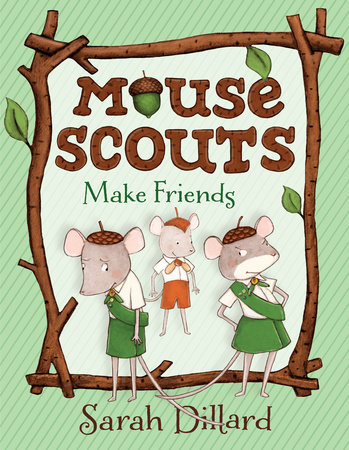 "Badges are better when you earn them together! The Mouse Scouts think their newest badge should be a cinch. But can old friends and new friends work side by side?
When Miss Poppy assigns the troop a new badge–Making Friends–the girls think it will easy. They're already friends, so what more is there to do?! But when the Acorn Scouts learn they will need to team up with the boys in the Maple Scouts as part of the badge, everything changes. Suddenly, Tigerlily seems more interested in hanging out with her Maple Scout pal than in being friends with Violet. Friendships will be tested and opposites will find they have more in common than they thought as the Acorn Scouts figure out what it takes to be true friends.
Brimming with lively black-and-white illustrations–including pages from the official Mouse Scout Handbook, plus diagrams, games, activities, and more–this darling series is just right for chapter book readers."
Jan 09, 2018
| 160 Pages
| 7-10 years
When I was younger, my Mom put me in Girls Scouts, and I loved it. It was so much fun hanging out and making new friends, as well as learning new things. One of my favorite things to do was earn badges completing different things. As I read this book with my girls, I couldn't help but think back to my childhood and my fond memories of the Girl Scouts. I shared stories of the different badges I earned and the different field trips we went on. My girls got excited about the idea and asked me to sign them up. Guess I will be looking for a local troop near us, so that the girls can try out and experience the same fun I had as a child. But, in the meantime, we are enjoying reading a few chapters a night of this cute book, that is part of the "Mouse Scouts" series. My oldest daughter, Savannah is already asking if we can pick up more "Mouse Scouts" books as she really likes the story line and characters.
This particular book in the series is all about friendship and making friends. The Mouse troop has to work together with the boys in the Maple Scouts troop to earn the making friends badge. But, earning this badge is not that easy. The friends will have their friendship tested, as they learn what true friendship is all about.
We are almost done with this book, and have been having a blast reading it. This is the type of chapter book you can really get into and read in one sitting. But, I love to split up chapters so that we can discuss what has happened and try and figure out what it going to happen next. I also have added in fun badge type projects as part of our homeschooling to weave this popular chapter book series into. Just yesterday we made friendship bracelets for the girls to surprise their friends with. And, a few days before the girls make pictures to send in the mail to their pen pals, which they are building new relationships with.
Shh, don't tell the girls, but I picked up a couple more of the "Mouse Scouts" books to add to my girls' Easter baskets. I can't wait to snuggle up with the on the couch and read with them. If you have a child who is reading chapter books or loves the idea of earning badges or being apart of troops like the Girls Scouts, then you will want to check out the "Mouse Scouts" book series from Sarah Dillard.
These are just a handful of children's books now available from Penguin Random House. Like I said, my girls have been loving these books, and they have become a staple at bedtime. I have also found my girls pulling these books from the book shelf to read on their own. They really get into each and every story, and can't wait for us to snuggle up and read them again (and again!). So, if you are looking for some great children's books to add to your child's growing library, or like to welcome in spring with a good book like my family does, then you will want to check out these wonderful books from Penguin Random House. You can learn more about these and other new and upcoming releases from one of my favorite children's publishers by visiting their website https://www.penguinrandomhouse.com/ today. I can't wait to hear what book titles you and your child pick up from this publisher and fall in love with. And, be sure to follow my blog to learn more about some other amazing children's books that are sure put a smile on your child's face when you sit down and read them together.
Disclosure: I was sent review copies from the publisher in exchange for an honest review. All views shared are mine and mine alone.