Disclosure: I was sent a sample from the vendor in exchange for sharing an honest review. All views shared are mine and mine alone.
This summer my youngest daughter, Bella will be doing a week of British soccer camp and is also adding basketball to her summer sports. We have a hoop in the driveway, but she has never been to a basketball training camp or been on a team. She has been asking to learn more about basketball and the game and the right way to hold a basketball and shoot. Her Daddy and I are not into basketball, so I told her we would look for a summer camp to sign her up for, so she can learn more and practice.
Thanks to the new ESP Future Pro line, she will not be going into the basketball and soccer camps without a little practice of the sport under her belt. This new line ESPN Future Pro series, which has been designed by professional athletes, was made to help budding athletes master basic skills to a particular sport. ESPN Future Pro has strategically designed custom balls that are just the right size for young athletes that are easier to hold and have instructional elements that foster sports skills like how to hold a basketball if you are left or right handed.
In addition to the ESPN Future Pro basketball, there is also a football, baseball, softball and soccer ball, that all have instructional directions printed on each custom ball so kids can learn the exact finger and hand placements, as well as striking areas. "Practicing curve balls, three-pointers or chips have never been easier!"
We were recently sent the ESPN Future Pro basketball for the girls to try out.
Bella was all smiles when she saw the basketball and asked why the ball had hand prints on it.
I told her that this basketball would help teach her how to hold the ball and shoot, all by following the instructional hand-print guide. As a parent who has girls interested in sports but that wasn't into sports growing up (only watching on television), I love that there is a line of instructional balls out there to help budding athletes learn and grow into the sports they love and want to get better at.
Bella is left-handed, so she was happy to see that the ESPN Future Pro basketball had hand prints for both left and right-handed people. Even though we have snow in our driveway from a recent storm, the girls had their Daddy shovel a square area so that they could practice their dribbling and shooting. After a few shoots, Bella was landing baskets, and all smiles. She wondered if she needed to go to basketball camp now that she mastered things. I had to tell her that this ball is just to help her learn the basics and that she will have to learn from skilled trainers and coaches and practice, practice, practice. And, the best part about these camps is that she will make new friends who love sports like basketball and soccer with her.
I really like how well-made these custom instructional balls are and how you don't have to be skilled in a sport to help young athletes learn the basic finger and hand holding of each ball.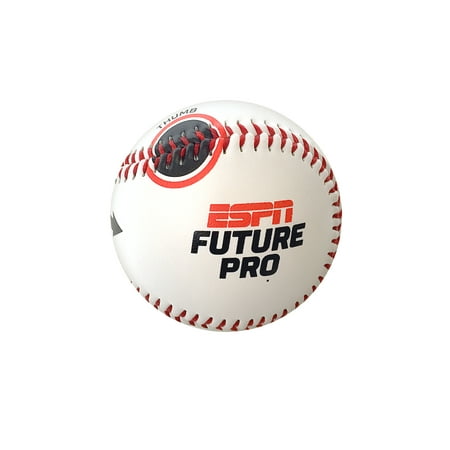 After seeing this new ESP Future Pro line up close, and seeing how quickly my girls caught on to proper hand placement with the basketball and how they got excited about shooting and trying to score a basket, I will definitely be picking up more custom balls from this new line.
The soccer ball will come in handy once the snow goes away and the girls can run around the backyard.
If you have a budding athlete, or are just looking for a fun gift to add to your child's Easter basket this year that will have them putting down the electronics and video controls and getting outside, then you will want to check out the new ESPN Future Pro line.
These balls are made with young children ages 5-10 years of age in mind, and retail from $4.99 to $14.99 (depending on sports ball purchased), and are available now at Walmart stores and online at www.walmart.com. You can learn more about the ESPN Future Pro line by visiting http://espnfuturepro.com
Disclosure: I was sent a sample from the vendor in exchange for sharing an honest review. All views shared are mine and mine alone.