Disclosure: I was sent a screener copy from the vendor in exchange for an honest review. All views shared are mine and mine alone.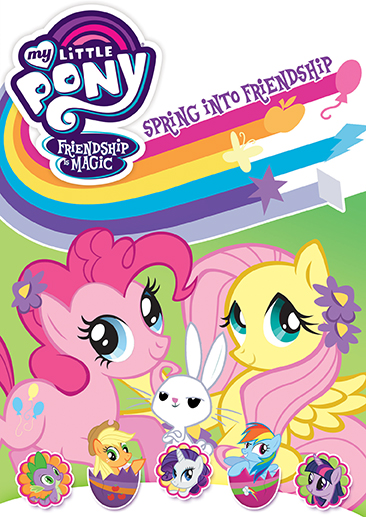 My girls are looking forward to tomorrow as it is Groundhog's Day. They are hoping Phil wakes and doesn't see his shadow, so that spring will arrive soon. They are all done with the snow and cold weather...shh, I didn't want to tell them that overnight we are getting another 2-4 inches of snow here in New England. But, hey, maybe this snow will prevent Phil from seeing his shadow. :-)
As the girls wish for spring to arrive soon, they are getting themselves all ready for all that the season brings -- the ground thawing and flowers starting to pop up from the ground, warmer weather, more sun, and holidays like St. Patrick's Day and Easter. Thanks to an upcoming My Little Pony DVD release from the folks at Shout! Factory, they have been enjoying the idea of Spring with this fun-filled DVD, which contains five full-length episodes, as well as fun stickers to decorate your Easter eggs, as the holiday approaching. When my girls saw the stickers, they had to rush to the calendar to see how many days until Easter there were. I am surprised they didn't ask me to boil eggs so that they could decorate and use the stickers. Instead, they paper clipped them to the March calendar page, and said it will be nice to see us switch up the pages and know that Easter is fast approaching. They said they didn't want to rush Valentine's Day, which they have already started crafting for, and then Leprechaun day. :-)
If you have a MLP: Friendship is Magic fan, then you will definitely want to pick up a copy of this DVD. It would make for a great Valentine's day gift, or to pick up when it releases on 2/13 and put away for their Easter basket. We received the DVD the other day, and the girls have already watched it a few times. Their favorite episode is the Sisterhooves Social, with The Ticket Master a close second. And, the bonus sing-along was a fun addition to the DVD, and one that the girls loved to sing and dance along to.
My girls both gave this DVD two thumbs up, and said don't delay in pre-ordering as this is one DVD not to miss. :-)
More about this upcoming DVD release:
"Los Angeles, CA – New adventures are blooming!

My

Little

Pony

–

Friendship

Is Magic:

Spring

Into

Friendship

is coming to DVD on Feb. 13th in the U.S. and Canada from Shout! Kids in collaboration with Hasbro Studios.
Big trouble is on the horizon when Twilight Sparkle is given only two coveted tickets to the most anticipated event in town! How will she decide which of her best friends gets to go with her? Discover the answer, and see four more amazing

pony

tales, as Twilight Sparkle, Spike, Pinkie Pie, Applejack, Rainbow Dash, Rarity and Fluttershy help usher Springtime

into

Equestria!
My

Little

Pony

–

Friendship

Is Magic:

Spring

Into

Friendship

carries a suggested list price of $14.98 and is now available for pre-order at amazon.com and shoutkids.com."
Princess Twilight Sparkle, Part 1
Princess Twilight Sparkle, Part 2
--GIVEAWAY--
Thanks to the kind folks at Shout! Factory, one lucky Inspired by Savannah reader will win a copy of this new MLP: Friendship is Magic DVD to share with that special child in their life. To enter, please complete the entries on the Rafflecopter form below. Good luck!
a Rafflecopter giveaway
---
Hasbro (NASDAQ: HAS) is a global company committed to

Creating the World's Best Play Experiences

by leveraging its beloved brands, including LITTLEST PET SHOP, MAGIC: THE GATHERING, MONOPOLY,

MY

LITTLE

PONY

, NERF, PLAY-DOH and TRANSFORMERS, and premier partner brands. From toys and games, television programming, motion pictures, digital gaming and consumer product licensing, Hasbro fulfills the fundamental need for play and connection with children and families around the world. The Company's Hasbro Studios and its film label, Allspark Pictures, create entertainment brand-driven storytelling across mediums, including television, film, digital and more. Through the company's commitment to corporate social responsibility, including philanthropy, Hasbro is helping to build a safe and sustainable world and to positively impact the lives of millions of children and families. Learn more at www.hasbro.com, and follow us on Twitter (@Hasbro & @HasbroNews) and Instagram (@Hasbro).
Shout! Factory, LLC is a diversified multi-platform media company devoted to producing, uncovering, preserving and revitalizing the very best of pop culture. Founders Richard Foos, Bob Emmer and Garson Foos have spent their entire careers sharing their music, television and film favorites with discerning consumers the world over. Shout! Factory's entertainment offerings serve up feature films, classic and contemporary TV series, animation, live music and comedy specials. In addition, Shout! Factory maintains a vast digital distribution network which delivers video and audio content to all the leading digital service providers in North America. Shout! Factory also owns and operates Shout! Studios, Scream Factory, Timeless Media Group, Westchester Films, Biograph Records, and Video Time Machine. These riches are the result of a creative acquisition mandate that has established the company as a hotbed of cultural preservation and commercial reinvention. Shout! Factory is based in Santa Monica, California. For more on Shout! Factory, visit shoutfactory.com.
Disclosure: I was sent a screener copy from the vendor in exchange for an honest review. All views shared are mine and mine alone.