Disclosure: I was provided with promotional products and samples from the folks at

G.H. Cretors in exchange for an honest review. All views shared are mine and mine alone.
Game Day is Almost Here...Are You Ready?
What are you plans this Sunday? If you are like most households in America, then you will probably be crowded around the living room to watch the football game on television. If you are, will you be hosting a party for family and friends? It is tradition in our house that if our hometown team makes it into the big game, then I host a party at my house. If they don't, they we will still watch the game, only wishing our favorite team was playing to win.
Hosting a big game party can be a lot of fun. Yes, party-planning does take time and effort, but if you follow my "5 P's to Party Planning" you will find yourself hosting an amazing game day party that friends and family will be talking about for some time to come.
So what are the 5 P's?...well, they aren't penalties...we never want to see the flag thrown on the ground for a bad party. :-) Just kidding. Was trying to throw in a little football humor to relieve the stress we are all feeling before the big game. You would think that we were the ones playing in the game, as we sit here with jitters and crossing our fingers for another championship to our belts.
1. Prepare in advance -- While there are only a few more days left until the big game, don't wait until Saturday night or even Sunday morning to head to the market to buy food. Just like with the holidays, this Sunday's football will make markets a mad house with people shopping for last minute snacks and drinks. So, tomorrow after work, head to the market and stock up on snacks, drinks and any paper products you will need. Then, head home and confirm everyone's attendance and see what they will be bringing so you don't have too much food come game day.
2. Photo Props and Party Supplies -- This is a two-for, as you can get both accomplished by hitting up your favorite local party supplies store to pick up football-themed table covers, decorations to hang, balloons and even fun photo props.
Whenever I host a party at my house - no matter if it is a holiday, birthday or even cookout in the summer, I make a point to have a table designated with fun photo props for every to grab and take silly selfies with.
We are all guilty of posting non-stop what we are up to and photos of ourselves on our social media...so why not make the photos we share fun. Look at my husband and daughters playing with fun football-themed photo props I will have out for friends and family to use this upcoming Sunday.
I can't wait to see them sharing the photos they take to their social media pages, and it is a great way for them to look back and remember what a great time they had. :-)
3. Popcorn, Popcorn and More Popcorn -- Yes, chips and salsa, fruit and other snack foods are nice to have out for guests to munch on while watching the big game...but, I, for one find that popcorn is the snack food that I run out of first. Many people love popcorn, especially ones who are watching their waistlines or looking for a healthy snack to enjoy, as they stress eat especially. And, when it comes to filling bowls at our party this Sunday, I will be reaching for bags of popcorn from G. H. Cretors for everyone to enjoy.
This is my go-to popcorn whenever I stock up on popcorn for family movie nights, on-the-go snacking and just to have in the pantry, as you never know when you will be craving flavored popped corn.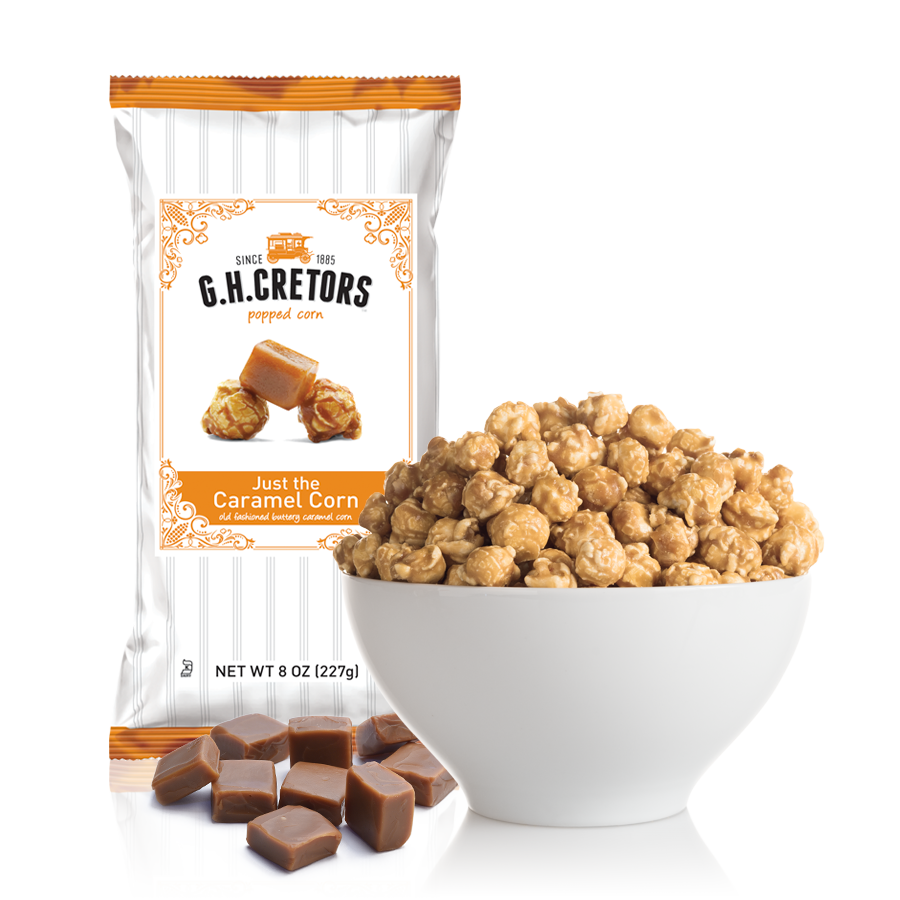 Check out these great flavors that would be perfect for the big game snack table...Just the Caramel Corn, Just the Cheese Corn, Cheese Lovers Mix, The Mix, and Buffalo & Ranch Mix.
Not sure about the Buffalo & Ranch mix popcorn? I wasn't at first, but after trying it, I have to say I now have a new favorite flavored popcorn.
It really does taste like you are eating a spicy buffalo chicken wing, followed by the cool yet tangy ranch flavor. All I can say is "Yum!"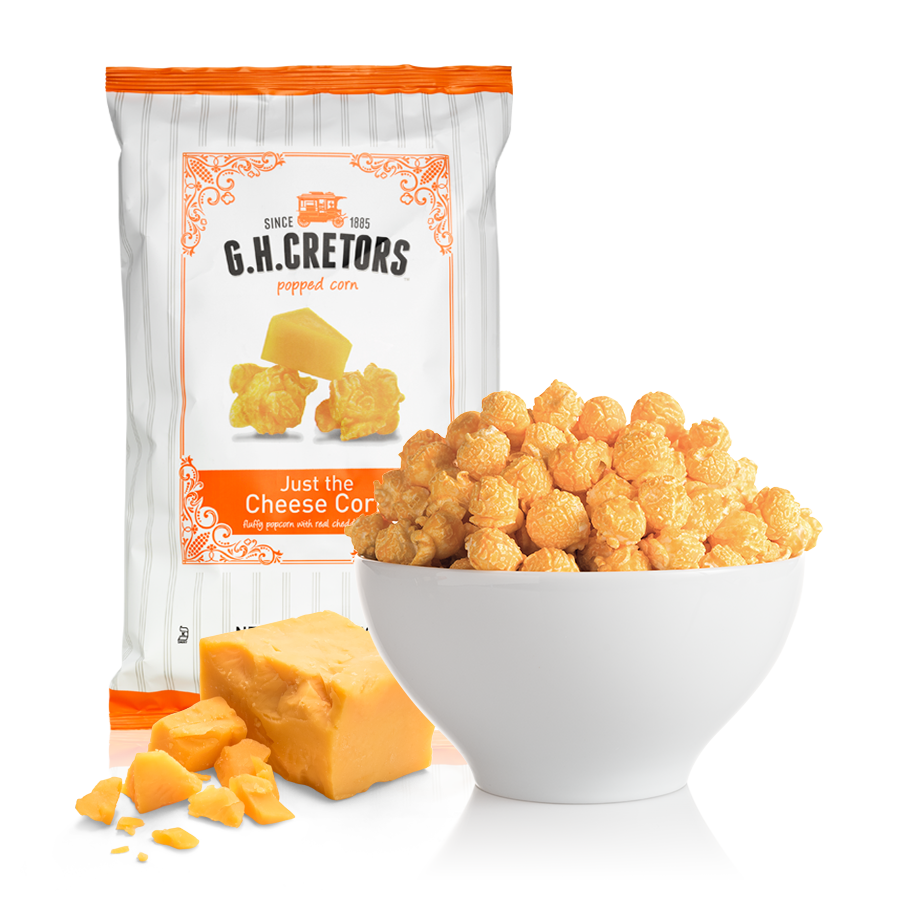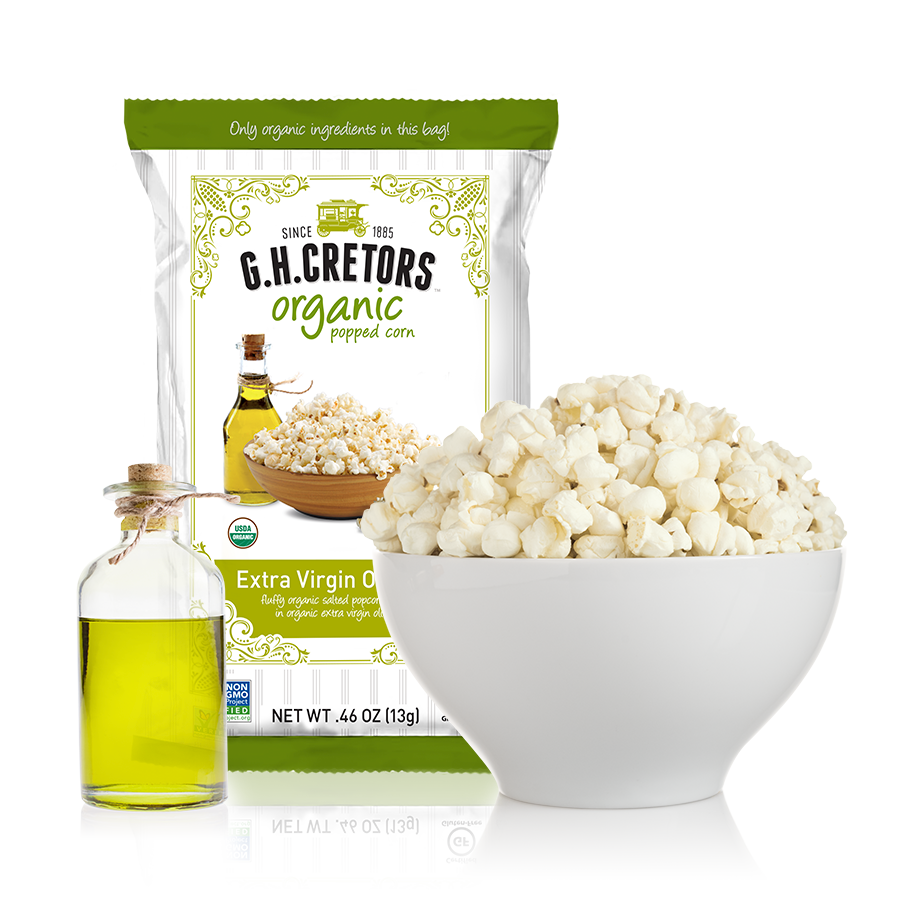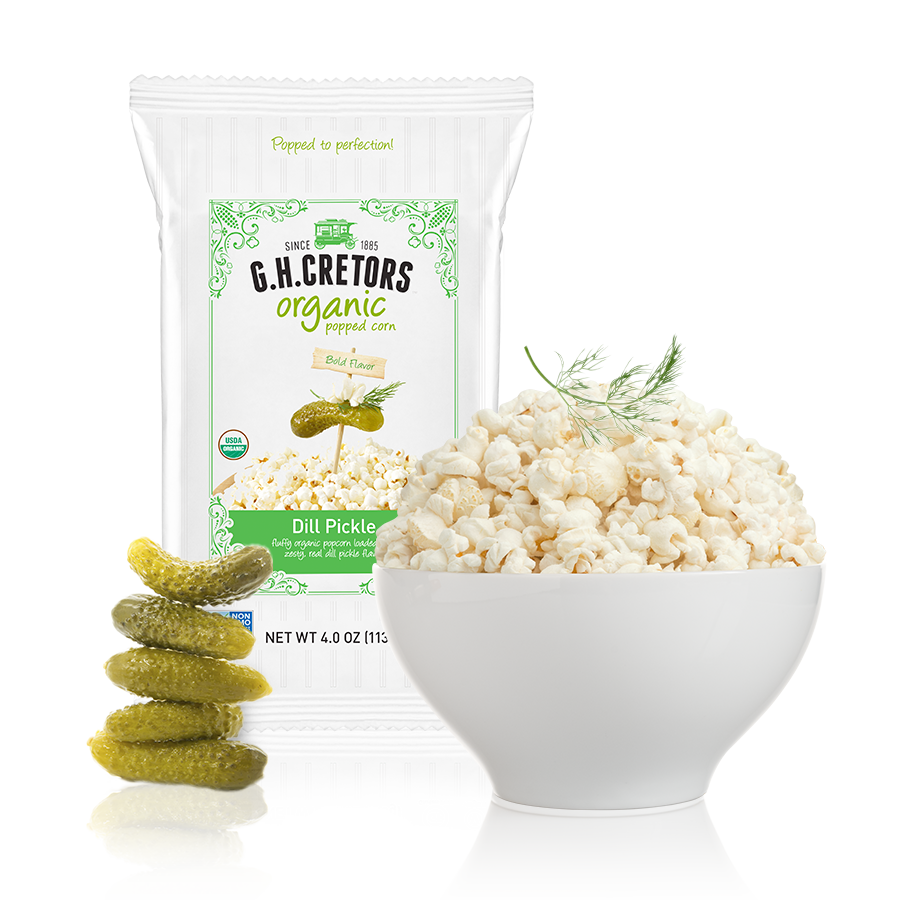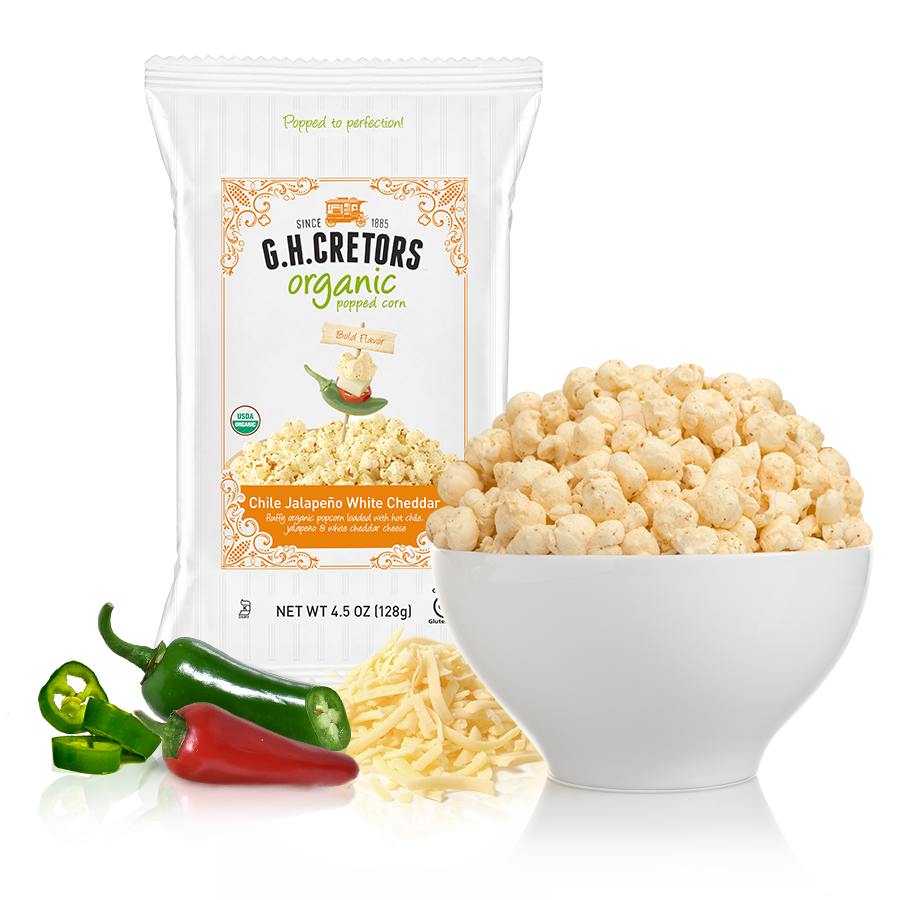 You can learn more about the many different flavored popcorn from G.H. Cretors seen above by visiting their website here: https://www.ghcretors.com/.
4. Potluck or Pizza -- Depending on your schedule and who will be coming to your party, you can choose to have guests bring a favorite dish or appetizer to enjoy, or simply order pizzas to be delivered. In addition to ordering a few party cheese pizzas, which will arrive at half-time, a handful of my guests are bringing some of their favorite dishes --- sweet and sour meatballs, chicken wings (3 different styles), homemade dips with vegetables on the side, and even an ice-cream football cake that my girls are looking forward to enjoying. Don't get crazy with the food, as many people will be too engrossed in the game to pay attention the food. You will find them reaching for snack foods -- my husband has been known to grab a full bag of G.H Cretors The Mix popcorn and eat on his own, as he watches the game.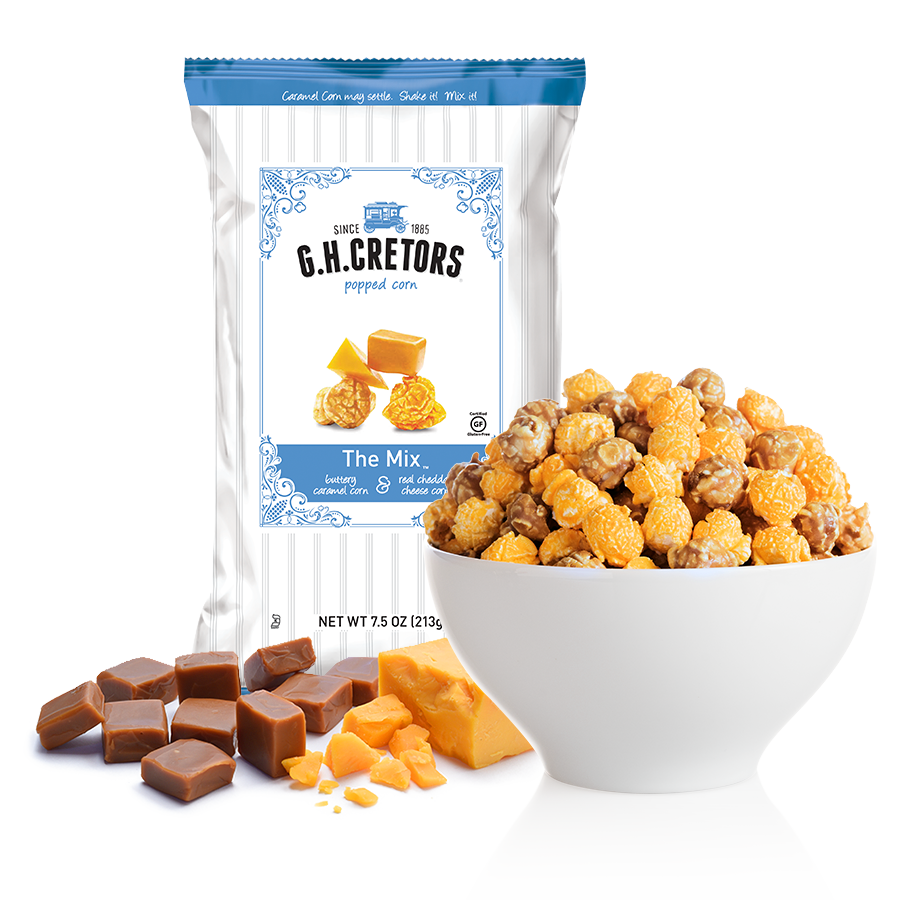 He doesn't want to lose his seat near the television or miss a play. And, like he says, popcorn is less messy than sticky chicken wings or saucy meatballs. :-)
5. Pick up/Pack Up-- Be ready for leftovers once the game ends. I usually have a stack of to-go plastic containers next to the food tables for everyone to make one last walk through at the end before leaving.
That way I don't have to worry about finding space in the fridge to store all the leftover food, or throwing it out...and friends and family can go home and do some late night snacking if they are upset about the results of the game...which I hope will not be happening. I find there is less clean up when I let everyone take home the leftovers. And, I don't have to feel obligated to eat all the leftover pizza the next day. :-)
Using paper plates and disposable products are key to less cleanup in the kitchen at the end of the game. And, for those who brought potluck, they will probably bring their dishes and containers home and wash out, leaving you more time to unwind after saying the last goodbye's to family and friends, as you look back at another successful big game party hosted...and count down until next Feb. when your team will hopefully be in the finals again. :-)
I hope the above 5 P's for Party Planning will help make your upcoming Big Day Game a breeze. Parties are supposed to be fun, and simplifying them with make them less stressful and more enjoyable by all in attendance.
Go Team Go!
Disclosure: I was provided with promotional products and samples from the folks at

G.H. Cretors in exchange for an honest review. All views shared are mine and mine alone.