Disclosure: I was sent a review copy from the publisher in exchange for an honest review. All views shared are mine and mine alone.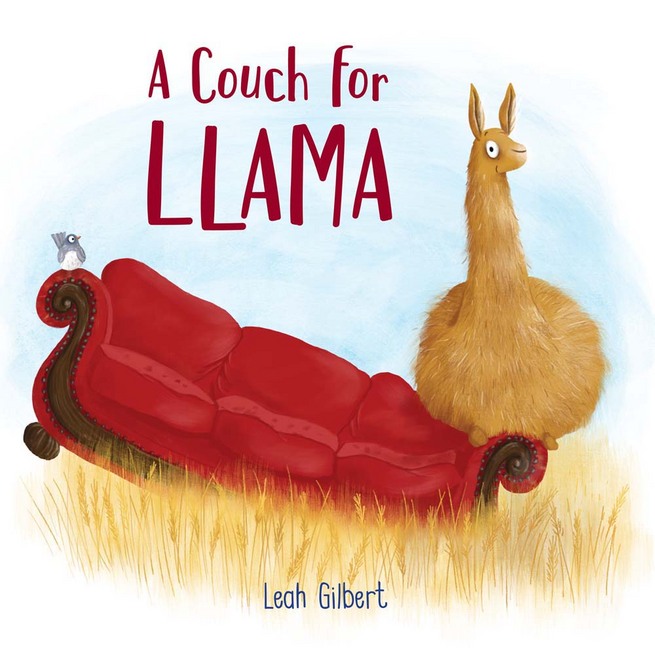 The other night I surprised the girls with a new book at bedtime, called "A Couch for Llama." At first the girls were like, "Come on, Mom, we want another book." But, I told them to give it a chance as I had read it earlier in the day, and it was funny and cute. So, they did, and after the first page they were hooked. Not only is the story full and easy to understand, but the illustrations really do bring the story to life.
This book is about a family who is in need of a new couch, but something goes wrong when they drive it back home, on the roof of their car...it falls off and lands in the field on the side of the road, where a curious llama lives. The llama stumbles across the couch and has no idea what it is. But, after inspection and trying it out, he finds he loves the couch. When the family realizes the couch is missing, they retrace their steps and find the couch with the llama sitting on it. Now, I would have left the couch, but the family in the book had another idea...swap their old couch with the red one they just bought. So, they drove home, got their old couch and made the swap. The llama got to keep a comfy couch to sit on, and the family had their bright new (well almost new) couch they had purchased. So, it was a win-win for all. :-)
Like I said, my girls really enjoyed this story and have since asked me to read it again. They laugh when I get to the page where the llama makes itself comfortable on the couch. They both said they would have loved to have seen the llama sitting on a couch and wondered if animals would prefer our furniture over their bedding.
If you are looking for a cute story to read to your child that will have the laugh and smile, then you will want to check out "A Couch for Llama" when it arrives on bookshelves on February 6th.
More about this new children's book release:
Leah Gilbert's A COUCH FOR LLAMA is a warm picture book that touches both the heart and the funny bone! The Lago family really loves their couch. But all good things must come to an end, and, one day, the family realizes the time has come to replace it.
As they drive home with their new couch, it gets knocked off the top of their car into a field . . . where an intrigued llama discovers it. At first confused, the llama soon realizes how comfy the couch is and settles right in. Can the family get its furniture back—and keep llama happy, too?
Leah Gilbert is a greeting card designer from Denver, CO. This is her debut book. You can see more of Leah's work at leah-gilbert.com.
Price

: $16.95 / $22.95 CAN
Format

: Hardcover Picture Book
Pages

: 40 pages, all in color
Category

: Juvenile / Picture Books
---GIVEAWAY---
Thanks to the folks at Sterling Publishing, one lucky Inspired by Savannah reader will win this cute new children's book to share with that special child in their life. To enter, please complete the entries on the Rafflecopter form below. Good luck!
Disclosure: I was sent a review copy from the publisher in exchange for an honest review. All views shared are mine and mine alone.