Disclosure: I was sent a review copy from the publisher in exchange for an honest review. All views shared are mine and mine alone.
Have you recently, or will you be welcoming a new baby into your family? If so, and you are looking for a cute book to share with your child about a new sibling, then you will want to check out the upcoming children's book, "I am the Boss of this Chair" by

Carolyn Crimi. Even though we haven't welcomed or plan to welcome a new baby, both of my girls enjoyed this cute story, especially my oldest daughter, Savannah, who LOVES cats. As soon as Savannah saw that this book was about two cats, she couldn't wait to snuggle up on the couch and read it with me. And, as we read through the story for the first time, my girls couldn't help giggle at the story. When we got to the end of the book, the girls were all smiles. Depending on the day and my girls' moods, they either like each other or they don't. When we sit to read a book, I have to have them on each side of me so that they will pay attention and not bother one another. God forbid their legs touch, or one breathes too heavy....then the complaining starts. I used this book as a reminder to show the girls how having a sibling can be a lot of fun. Siblings are like built in best friends, that are with you 24/7, and can cheer you up when you are feeling down, and play with you and act all silly, without you having to be embarrassed. My girls are lucky to have each other, and thanks to cute children's books like this one, they are reminded, even on those days that they wish they were an only child, that having a sibling is way more fun.
We have had this book for about a week now, and it has become a staple at bedtime. Like I said, Savannah is a huge cat lover, so she is always pulling the book from the shelf to read the story and admire the illustrations of the two cats in the book. She has even tried her hand at drawing Oswald and Pom Pom, as she freehands them while looking at
Marisa Morea's illustrations i this cute and easy to follow along children's book from Sterling Publishing. My girls both give this book two thumbs up and said they would recommend it to children expecting a new sibling, or those who are lucky enough to have a brother or sister, as the story is a great reminder about how great having a sibling is. :-)
Read on for your chance to win a copy of "I am the Boss of this Chair," which arrives on bookshelves on March 6th. :-)
More about this children's book:
"When a new kitten joins the family, can the top cat learn to share his

chair

—and everything else, too?
Oswald Minklehoff Honey Bunny III has a nice life. He's the king of his castle, and likes it that way. Then Pom Pom the kitten comes along and suddenly Oswald isn't the

boss

of everything anymore—not the toilet paper, food dish, back door, toy mouse, or even his own special

chair

. Will Oswald realize that life is more fun when you have a friend, and that there's plenty of room on the

chair

to share?
I

AM

THE

BOSS

OF THIS

CHAIR

(Sterling Children's Books, March 2018) is a fun picture book with a comforting message for any kid (or cat) with a new sibling!"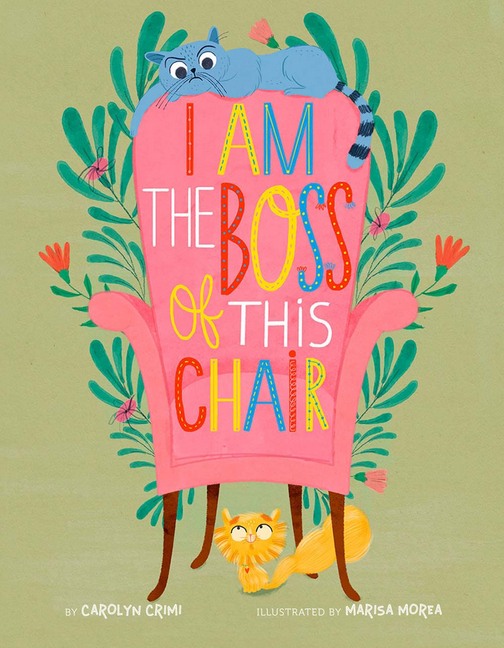 Thanks to the folks at Sterling Publishing, one lucky Inspired by Savannah reader will win a copy of this cute children's book releasing on March 6th. To enter, complete the entries on the Rafflecopter form below. Good luck!
a Rafflecopter giveaway
About the Author and Illustrator:
Author Carolyn Crimi has published over a dozen picture books, including Boris and Bella (Houghton Mifflin Harcourt), Where's My Mummy? (Candlewick), and Henry and The Buccaneer Bunnies (Candlewick). Carolyn won the SCBWI Golden Kite Award in 2018 for There Might Be Lobsters (Candlewick). She lives in Evanston, IL and is available for interview. Find out more about Carolyn at carolyncrimi.com.
Marisa Morea is a freelance illustrator based in Madrid, Spain. Visit her at www.marisamorea.com, and follow her on Instagram at @marisamorea.
Disclosure: I was sent a review copy from the publisher in exchange for an honest review. All views shared are mine and mine alone.