Disclosure: I was sent samples from the vendor in exchange for an honest review. All views shared are mine and mine alone.
With only a few days left in the month, there is still time to enjoy

February being National Hot Breakfast Month. If your family loves cooking up breakfast for dinner, then you will want to celebrate this national holiday! :-) Just think...hot buttermilk pancakes and waffles for your whole family to add their favorite toppings to. My belly is getting hungry just thinking about it. And, when I think of buttermilk pancakes and waffles,

Krusteaz

, maker of premium pancake and waffle mixes, is the first to come to mind. I have been stocking up on Krusteaz ever since I got my own apartment with my now-husband after college. I don't know about you, but I used to love making pancakes and waffles when I was in college. I could eat them for breakfast, lunch and dinner. And, when I made extra, I would either freeze them to pop in toaster when I had a craving for comfort food, or refrigerate and warm up before adding blueberries, whipped cream and maple syrup (my go-to pancake and waffle toppings). I grew up looking forward to Breakfast Nights in our house as a kid, and love surprising my family with pancakes and waffles for dinner a few times a month.
So, when I heard that February was National Hot Breakfast Month, I knew I had to celebrate with my family. And, thanks to the folks at Krusteaz, they sent me a box filled with
Buttermilk Pancake Mix, Protein Buttermilk Pancake Mix, Belgian Waffle Mix, and a grocery store gift card to buy toppings and other groceries needed to make my family's Breakfast Night a hit.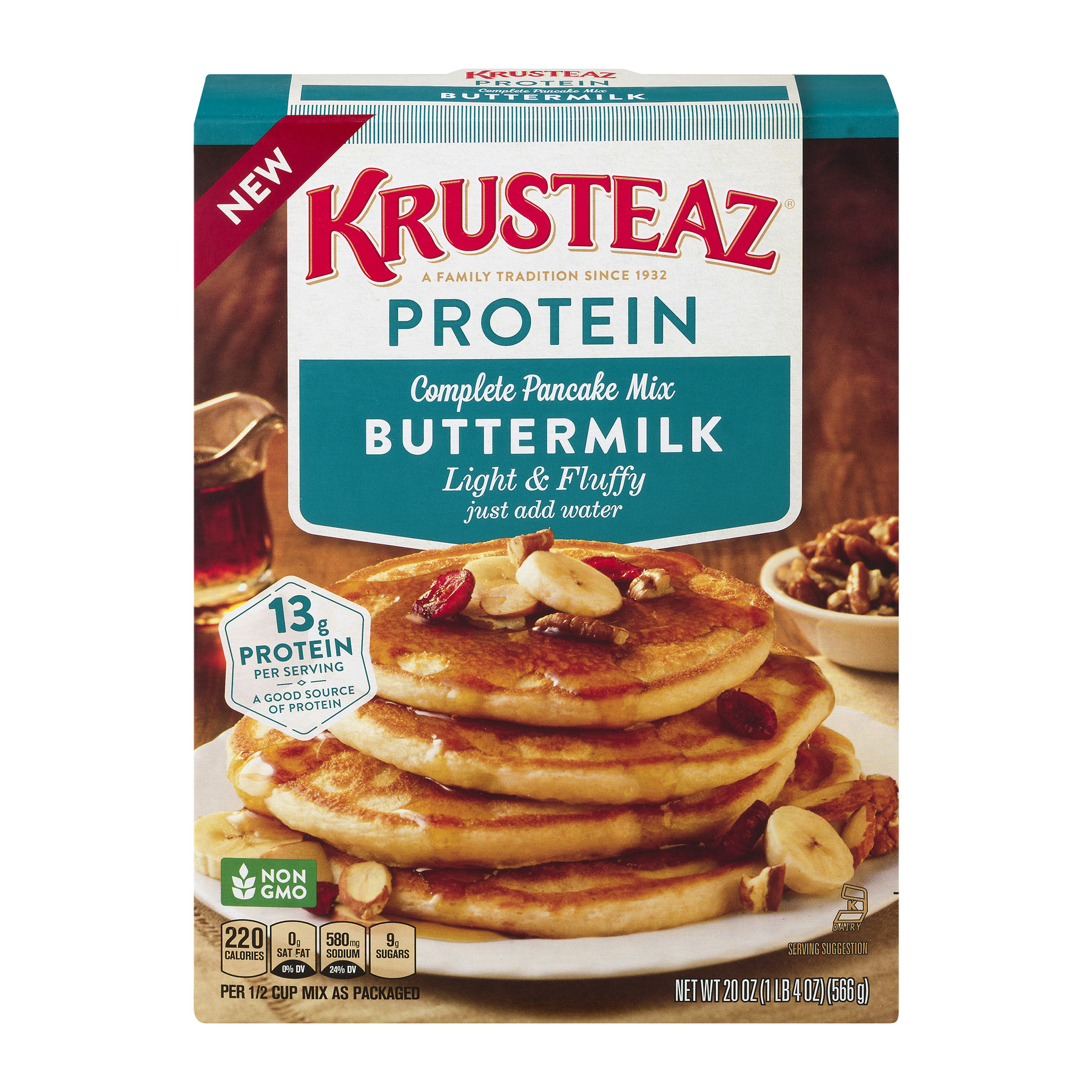 Now that my girls are older, they are helping out more in the kitchen. While they both love to cook and bake, my youngest daughter, Bella, is my right-hand gal in the kitchen. Whenever she sees me getting ready to cook, she will pull her chair over to see what I am making and see how she can help out. Her favorite thing to do is crack eggs, and when you are making Krusteaz pancakes or waffle batter, you will need a good egg cracker to help you out. :-) The past couple weeks have been crazy around here and there have been a few nights I have scrambled to figure out what to cook for dinner. But, thanks to the box full of Krusteaz pancake and waffle mixes, my dinners have been saved and we have not had to do take out. Breakfast foods likes pancakes and waffles have been a favorite comfort food of mine ever since I was a child. And, now that I have a family of my own, I get to have Breakfast Nights with my girls, who are also pancake and waffle lovers. I think they like adding their toppings more than anything...the more whipped cream, powdered sugar and fruit the better. :-)
So far this month we have had 3 Breakfast Nights thanks to the folks at Krusteaz. If I was to ask my girls each night what they wanted for dinner, I knew they would say pancakes or waffles. I found the other day my youngest daughter adding a pancake picture to the calendar, as she remembered I said Thursday night was going to be another Breakfast Night. She wanted to be ready to help, and make sure the day before we had enough fruit and whipping cream ready. And, when Thursday rolled around, Bella pulled her little blue chair into the kitchen and started pulling the supplies needed for our Krusteaz Breakfast Night out. Who knew pancakes and waffles could be so much fun to make! :-) Thanks to my little helper, they are not only fun to make, but I love having an assistant to help stir, crack eggs, and fill the waffle maker with the batter. She is even good at setting the timer on the microwave, so the waffles don't overcook.
Here are some photos I took the other night of Bella helping me out in the kitchen....
And, here is Bella prepping her waffle, before she sat down to enjoy her hard-earned dinner...
I thought I had taken pictures of my husband and other daughter, topping their pancakes and waffles, but was told the next day that Bella erased them when she was looking through the photos. She wanted to make more room for upcoming Breakfast Night photos of her cooking and prepping the best waffles. Gotta love kids. Well, next time I will be ready with my camera again, to gather all the great photos of my family enjoying a delicious meal together and laughing and smiling as they turn into pancake and waffle artists creating designs with the whipped cream and layering the berries and syrup just right.
If you are struggling with dinner ideas, skip the unhealthy take out restaurants, and instead stock up on some Krusteaz pancake and waffle mixes, along with tasty toppings, and serve up a Krusteaz Breakfast Night to your family. They will love this fun comfort breakfast food for dinner, and have even more fun adding all the toppings, before they gather around the table to enjoy a warm meal together. Once they are done eating, you will find your family asking when you plan on having another Breakfast Night again soon. Even though February is
National Hot Breakfast Month doesn't mean you can't serve up breakfast for dinner in the other months. Like I said, reaching for a box of Krusteaz is easier when you are scratching your head wondering what you can make for dinner, that everyone in your family will enjoy. Come on, who doesn't love pancakes and waffles?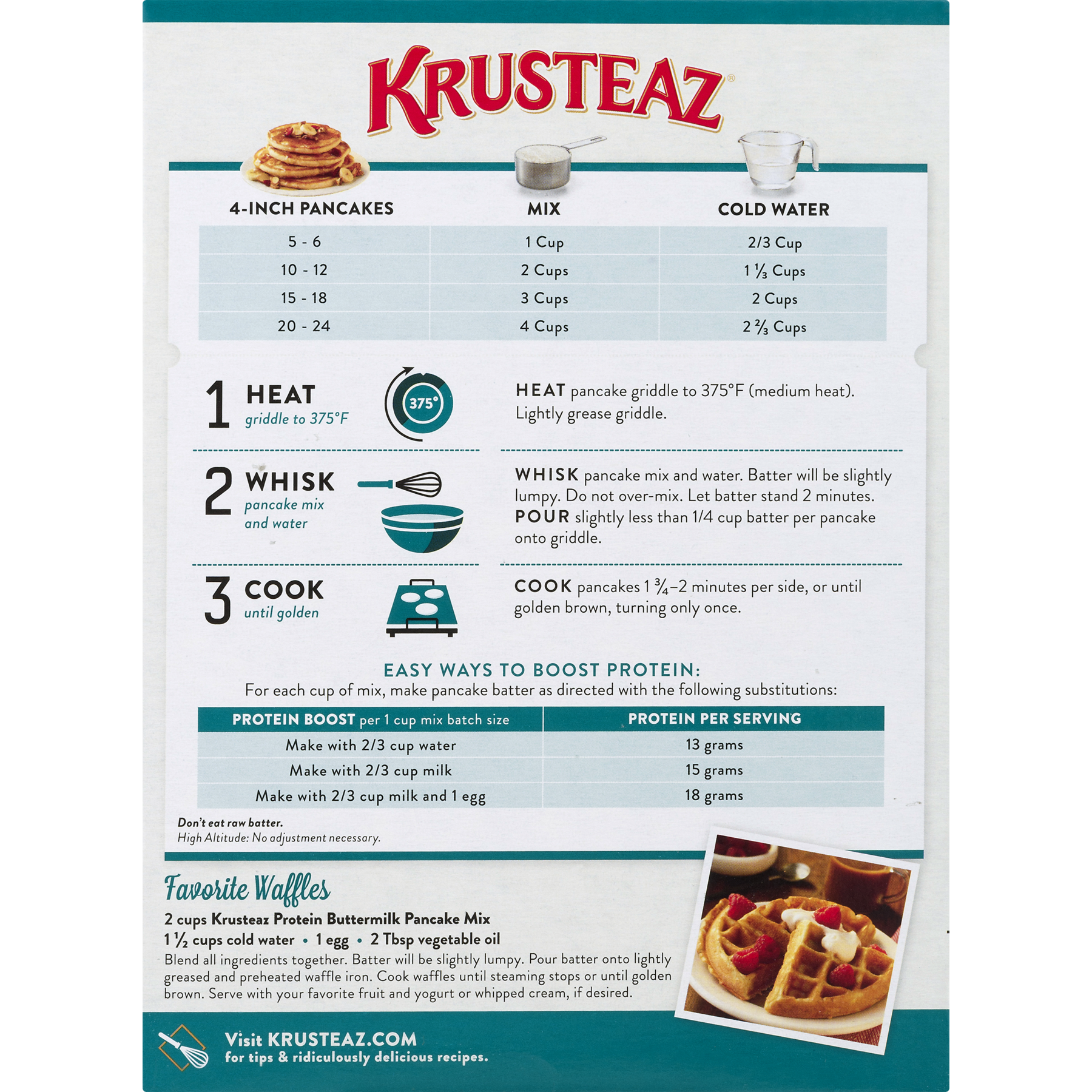 They are so easy to make...even my 6 year old can do it! :-)
To learn more about
Krusteaz
, maker of premium pancake and waffle mixes, including the product line available and store locator visit
https://www.krusteaz.com/. There is even a recipes and ideas section you will want to check out, to help make your Breakfast Night night more memorable and fun!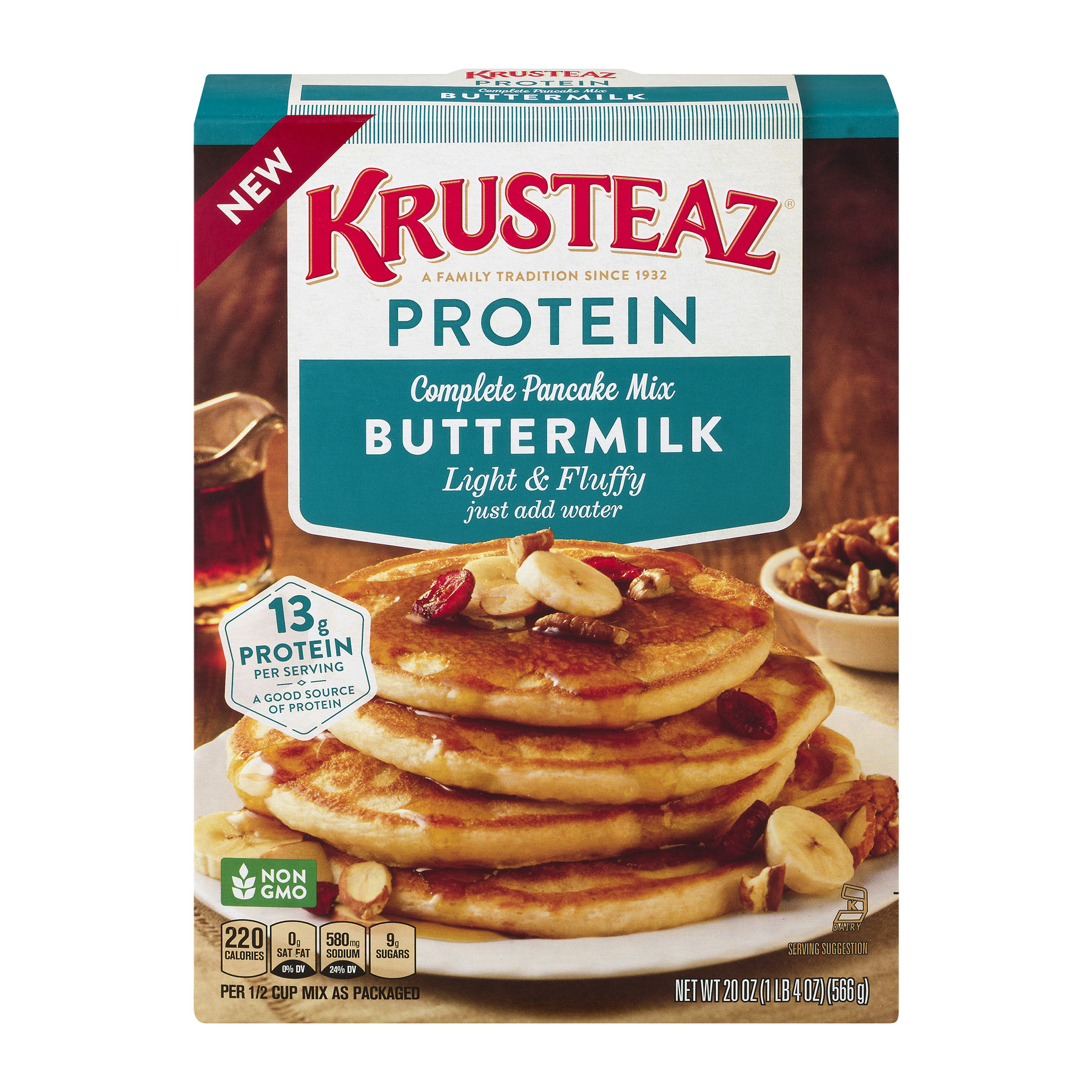 Thanks to the kind folks at Krusteaz, one lucky Inspired by Savannah reader will win 2 boxes of each --
Buttermilk Pancake Mix, Protein Buttermilk Pancake Mix, Belgian Waffle Mix. To enter, please complete the entry on the Rafflecopter form below. Good luck!
Disclosure: I was sent samples from the vendor in exchange for an honest review. All views shared are mine and mine alone.