Disclosure: I was sent samples from the vendor in exchange for an honest review. All views shared are mine and mine alone.
Do you kids love slime as much as my girls do? It seems like at least once a week they are asking me to make slime or gloop for them to play with. While it is easy to make -- use just need white glue, water and borax for a simple recipe -- I usually find myself missing one ingredient or not having enough glue to make a batch of slime. That is why I am a fan of slime kits, as it is so easy to grab a box from the craft shelf and whip up a batch of slime.
\

Recently I had the opportunity to try out three fun slimygloop kits from Horizon Group USA with my girls, and we had so much fun. What was so great about these kits, besides their great price - you can find these kits at Amazon and Target for around $10.00, is that it contains everything you need to make a batch of slime, including all the fun add-ins. The instructions are straight forward and easy to follow along. After making the first batch of slimygloop, the girls were ready to lend a hand and help me make the two other kits we were sent.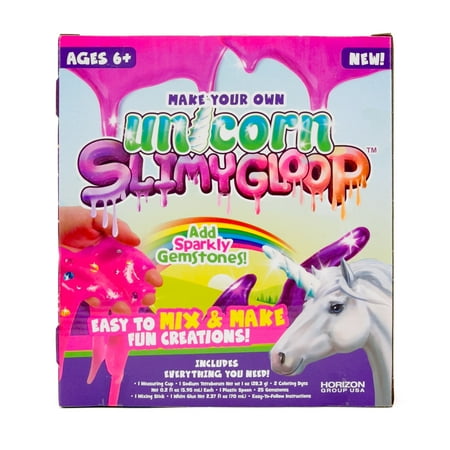 Slimygloop kits are perfect for children ages 6 and up, and come in a variety of styles - from galaxy, rainbow, unicorn, lava, scented and glow-in-the-dark, to name a few, so you are bound to find a kit that your kids will love helping you whip up and playing with.
The kind folks at Horizon Group USA sent along their Galaxy, Mermaid and Glow-in-the-Dark SlimyGloop kits for us to try out. We had so much fun making these different slime kits.
The galaxy kit was a nice blueish purple slime which you could add sparkling glitter to it. It really did look like outer space.
This kit would be great for homeschooling families or teachers who like to incorporate hands on play with their learning when talking about Outer Space.
The Mermaid Slimygloop, which was Savannah's favorite was blue with glitter to make it sparkle like water.
The girls were able to add fun beads and sequins that were shaped like dolphins, seashells, stars and more to it.
Bella really liked the glow-in-the-dark Slimygloop, not just because it was cool to see the slime glow in the dark, but with this kit you add sand to the mix, giving it a unique texture that was fun to play with.
The other day Bella took this slime to a co-op class to show it off to her friends, and everyone crowded around her at the table for a chance to play with this cool slime and see it glow in the dark. It was cute to see how excited all the kids got when they saw this slime. They were all smiles, laughing and having fun talking about the slime and how cool it felt.
Kids will love these new Slimygloop kits from Horizon Group USA. And, the best part after making and playing with this fun slime is that it can be stored for later use. Each slimygloop kit can be whipped up in under 5 minutes, and when your kids are done playing with it, you can store it in an air-tight storage container for future play. Be sure you store it away, as it dries out if you leave out in the open.
If your kids go crazy for slime like my girls do, or you like to have kits like these on hand for rainy/snow days, or when you need to entertain the kids, then you will definitely want to check out the line of Slimygloop kits from Horizon Group USA.
These kits would make for great gift ideas to give your kids, or for them to share with their teacher or friends. How can you resist playing with slime? I know I love feeling and playing with it when we whip up a batch. It is so much fun, and feels so weird.
If you have a science lover in your house you will check out this new Slimygloop Laboratory kit, available at Amazon for only $27.89..
I saw this kit when looking to buy more Slimygloop kits for my girls and had to pick it up. They love all things science and experimenting. I especially loved how this kit includes enough supplies and mix ins to make 5 fun creations, as well as containers to store them in. You can't get any more easier than this jam-packed Slimygloop kit.
The new SLIMYGLOOP products are available now at Five Below, Michaels and Walmart, as well as Amazon and Target.
ABOUT HORIZON GROUP:
Horizon Group
USA
is today's dynamic leader in the creative D.I.Y. marketplace. With a wide range of activity kits, fashion-forward impulse products and crafts for all occasions, Horizon fuels creative hands every day with quality, trend-right products. The original roots of the company date back to 1912 as a supplier to the decorative trim markets just outside of New York City. In 2003, Horizon transformed from its beginnings to evolve as the leader across many of the creative craft activity and impulse markets. Today Horizon custom designs, develops and distributes a wide array of award-winning national brands and programs. Horizon is well-known for its inspiring consumer packaging, quality trending content, retail execution and leadership in the creative activity industry. Our products reach people of all ages in
the United States
and over 24 countries across the globe. As Horizon's business continues to increase, new innovation and category growth is everywhere! The energy of our teams continues to grow as we successfully provide trend-right brands for a great value. We aim to provide what families need for creative expressions in their everyday lives.
Disclosure: I was sent samples from the vendor in exchange for an honest review. All views shared are mine and mine alone.