Disclosure: I was sent review copies from the publisher in exchange for an honest review. All views shared are mine and mine alone.
Start a fun new tradition with your family this Christmas with a book advent countdown.
We started our Christmas book advent a couple years ago and it was an instant hit with the girls. I think they were first excited about being able to unwrap something, but when they started seeing the amazing selection of holiday books I chose to wrap -- including family favorites we make a point to read each holiday season, along with new titles, they couldn't wait to snuggle up on the couch and read them together at night time.
Each morning beginning on December 1st, the girls open doors on the advent calendars. I let them choose their own chocolate advent calendars, and their elves surprise them with a fun activity advent calendar --usually either a LEGO or a figure advent featuring their favorite characters. This year Savannah's elf Christina surprised her with
a Paw Patrol advent calendar, while Bella's elf, Christopher brought along a Num Nums advent calendar for her to enjoy as she eagerly counted down for Christmas.
During the afternoons I make a point to do a fun Christmas craft or activity like Bingo or a matching game, to break up the school day. And, then before bed, the girls take turns each day grabbing a wrapped book to open and have us read at bedtime. They really look forward to this time of time, and I love how it is a great way to unwind after a crazy day and just enjoy quality time together, sitting quietly on the couch listening to wonderfully written children's books, that really get us into the holiday spirit. Yes, holiday movies are fun, but I love sharing the gift and love of reading with my girls, and I find they are drawn to these holiday books, and will read them long after the holidays.
Last month I was sent a sampling of new/recent holiday releases from the folks at Simon & Schuster. We had so much fun reading each of the following books. And, right before Dec. 1st, I decided to wrap each and every one of these books to share with the girls again, as they were a hit with them, and I know the girls will be happy to unwrap them and read them with me again as we count down to Christmas.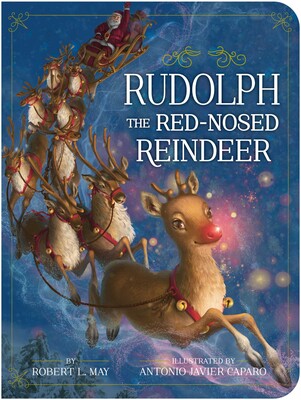 About this Book:
"

Celebrate Christmas with this Classic Board Book edition of Robert L. May's famous

Rudolph the Red-Nosed Reindeer

.
Every year at Christmastime, everyone—young and old alike—has one catchy, joy-inspiring song stuck in their heads: "Rudolph the Red-Nosed Reindeer!" Now fans of the most famous reindeer of all-time will fall in love with the original story, written by Robert L. May in 1939.
Rudolph, a youthful reindeer buck who possesses an unusual luminous red nose, is teased and excluded by his peers because of this trait. One particularly stormy Christmas Eve, Rudolph manages to prove himself after Santa Claus catches sight of his nose and asks him to lead his sleigh for the evening. Rudolph agrees, saving Christmas, and is finally treated the way he deserves by his fellow reindeer!"
Little Simon |
42 pages |
ISBN 9781534400276 |
September 2017 |
Grades P - K
I wanted to kick off this "12 Books of Christmas" feature by sharing a story about everyone's favorite reindeer with a red-nose. You know his name...Rudolph. In this cute board book, children of all ages will be treated to the classic Rudolph the Red-Nosed Reindeer story, which many of us sing at the holidays.
While this is a board book, it is perfect for children of all ages. My girls had so much fun listening to this story and admiring the wonderful illustrations. They especially loved the detail of the bright shining nose of Rudolph and said it looked so real and like they could reach out and touch it. The story is easy to follow along and will get families into the holiday spirit as they start decking the trees and finalizing their wish lists for Santa.
This is one holiday classic I will be sharing each year with my girls, and having out on the coffee table for family and friends to pick up and enjoy around the holidays.
About this Book:
"

Franklin soars onto the ice with Charlie Brown and the rest of the Peanuts gang in this 8x8 storybook based on a classic

Peanuts

pastime!
When Franklin accepts Charlie Brown's invitation to play hockey at the pond, the ace player doesn't get the carefree afternoon he expects. First Peppermint Patty refuses to share the ice. Then a rival group of kids try to claim the pond for themselves.
It looks like Franklin will never get to skate, until he brainstorms a brilliant play to please everyone. With Charlie Brown, Peppermint Patty, Lucy, and Snoopy on his side, he challenges the rival kids in a winner-take-all game of hockey. If Franklin's team wins, the pond belongs to everyone."
Simon Spotlight |
24 pages |
ISBN 9781481480116 |
August 2017 |
Grades P - 2


My Thoughts:
This is one of two Peanuts books we were sent from Simon & Schuster to enjoy. Continue reading to see what other wonderful holiday book we got to enjoy, and that would make a great gift idea or addition to your family's book advent this year.
My girls were excited to see this book as they love Peppermint Patty and Lucy. And, whenever you have Charlie Brown present you can expect a "Good grief" to come out of his mouth. :-) My youngest daughter, loves pretending she is Charlie Brown and does a good "woe is me" attitude when we are reading Peanuts books. :-)
This book is all about a winner-take-all hockey game, in which Franklin and Peppermint Patty have to agree to work together and as part of a team if they want to have any chance of winning. Kids and adults who love Peanuts will enjoy this book, and linger on each page admiring the memorable illustrations of their beloved Peanuts characters. I have read this book a handful of times to the girls since we received, and they continually pull it from the shelf to read and look at the pictures. Bella has been drawing the Peanuts characters from the story freehand, and is getting really good. Who knows, maybe she will be an illustrator one day. :-)
"

Gekko must learn how to ride Luna Girl's Luna Board so he can save Christmas in this 8x8 storybook based on

PJ Masks,

the hit preschool series airing on Disney Junior! This book comes with punch-out Christmas ornaments!
When Luna Girl steals everybody's Christmas gifts, it's up to Gekko to ride on her Luna Board and save the presents—and the day! There's only one problem though—Gekko has never ridden a Luna Board before and he's scared to try it. Can he overcome his fear in time to save Christmas? Find out in this sweet storybook that comes with
PJ Masks
–themed ornaments for Christmas trees."
Simon Spotlight |
16 pages |
ISBN 9781534401501 |
September 2017 |
Grades P - 2
My Thoughts:
Do you have a PJ Masks fan in your life? If you do, this is one book you will definitely want to pick up and share with them this Christmas season. Not only do the kids get to enjoy a fun adventure featuring their favorite PJ Masks characters -- Owlette, Catboy and Gekko, but they also get two pages of punch out ornaments that they will want to put on the tree to admire. My girls are PJ Masks fans and really enjoyed this book. They loved the illustrations which made the holiday story come to life. PJ Masks are all about saving the day, and they do not disappoint in this book where through teamwork they save Christmas.
"

In this beloved classic picture book, Tomie dePaola retells and illustrates an Italian Christmas folk tale, breathing warmth and humanity into the character of the lonely Old Befana and her endless search for the Christ Child.
Every morning and every afternoon, Old Befana sweeps with her broom. "Cranky old lady," the children say. "She is always
sweeping
!" Sweep, sweep, sweep.
But when a brilliant star glows in the eastern sky one night, and Old Befana encounters the glorious procession of three kings on their way to Bethlehem, her little world will never be the same."
Simon & Schuster Books for Young Readers |
32 pages |
ISBN 9781481477635 |
November 2017 |
Grades P - 3
I, for one, was excited to get my hands on a copy of this book, as I am a huge Tomie dePaola fan. I remember my Italian Nana telling me an Italian Christmas story each Christmas Eve when we would visit her. As I got older I tried my hardest to remember this story so that I could share it with my kids one day. But, I was only able to remember bits and pieces of it. After checking out this book online and seeing it at a local bookstore, I realized that this was a similar story that my Nana used to tell my brothers and I. I couldn't help but read through this book at the bookstore and even called the girls over to show it to them. I had planned to pick up a copy of the book, but was surprised to receive a review copy from the folks at Simon & Schuster.
This is unique story of a grouchy old woman who crosses paths with the three wise men on their way to Bethlehem. The illustrations in this book are what you expect from a Tomie dePaolo book -- full of vibrant color. These illustrations remind me of folk art. And, when I read this book again to my girls as we snuggled on the couch together, I couldn't help but think of my Italian Nana who was looking down on us from Heaven, as we read this Christmas story which will surely become a hit with many families. You don't have to be Italian to appreciate this holiday story.
"

A tiny snowplow determined to prove his worth battles a blizzard in this supremely charming story in the tradition of

Mike Mulligan and His Steam Shovel

and

The Little Engine that Could

.
My name is Walt,
I plow and I salt.
They say I'm small,
but I'll show them all.
Small Walt and his driver, Gus, take on a blizzard! All the bigger snowplows doubt that Walt has what it takes to plow the roads in the storm, but Walt is determined to prove them wrong.
Brimming with onomatopoeia and Walt's affirming chants, this sweet picture book shows that when it comes to strength, size doesn't matter. Bestselling illustrator Marc Rosenthal's wintry scenes make this book the perfect cozy read-aloud."
Simon & Schuster/Paula Wiseman Books |
40 pages |
ISBN 9781481448451 |
October 2017 |
Grades P - 3
My Thoughts:
Do you have truck lover in your life? If so, you will want to check out "Small Walt" which is about a little snowplow who feels much bigger than he is, and is destined to prove he his small size will not hold him back. He wants to show the bigger snowplows that he can plow the roads after a blizzard.
The girls had a blast helping me read this book. Whenever we got to a chant I would say it first and then the girls would repeat it. This continued all the way through this cute children's book that has a great message -- size doesn't matter. You can't help but fall in love with Small Walt when you read this book, and be rooting for him to prove that he can do great things, and that his small size will not prevent him from being great.
"

Way up high in the Rolie Polie Sky is a little round planet of a really swell guy…
Olie's Rolie Polie world has turned snowy! But when the sun turns back on, what will happen to Olie's new buddy, Mr. Snowie? Find out in this classic picture book-turned-beloved-TV-show from the brilliant mind that brought you
The Fantastic Flying Books of Mr. Morris Lessmore
.
Rolie Polie Olie wishes his world would turn snowy, but it's forever sunny—until one day when the sun blows a bulb. Olie's wish comes true, and—joy, oh joy—it snows! Rolie and his sister Zowie build a snowman buddy, Mr. Snowie, to join in on their snow day adventures. But when the sun gets a new bulb, all is not bright: Mr. Snowie is in danger of melting! There's only one solution: a rocket trip to Chillsville. Past the dangerous North Wind, Rolie, Zowie, and Mr. Snowie find a cool world filled with frosty friends to eat snowball pie and dance a chilly cha-cha with. And then they get the greatest surprise of all—a visit from Klanky Klaus! Talk about one awesome snow day!"
Atheneum Books for Young Readers |
40 pages |
ISBN 9781481489676 |
November 2017 |
Grades P - 2
My girls love Rolie Polie Olie books, and were excited to see this new book as part of our holiday reading. Before we even sat down to read the book, the girls grabbed it from the counter and brought it to the couch to flip through the pages and check it out.
The story itself is cute and the words are big on each page, making it a quick read for families with young children. My girls really liked the vibrant colors and loved the detail of the different snowman and the Rolie Polie Colie character. The illustrations were big, and made the characters in the story feel life-like. We couldn't help but linger and admire the illustrations, pointing out the different details intermixed in each scene like the sprinkles on the sky high snowball pies and the carrot noses of the snowmen.
My girls give this cute Rolie Polie Olie holiday book two thumbs up, and can't wait to read it again soon.
"

An enchanting Christmas story about a magical yet unlikely friendship between a little girl and a lost reindeer, lovingly told and illustrated with red foil highlights and interactive die cuts.
When a jingling sound wakes her from her sleep, a little girl's dreams come true when she meets a lost reindeer in the forest. They set off on a magical adventure and it becomes a Christmas never to forget. Nicola Killen's evocative illustrations are sure to enchant in this beautiful book with die cut pages, foil, and flashes of festive red."
My daughter, Savannah, said that this book was her favorite of the 12 books we received from Simon & Schuster. She loved the black and white illustrations which were adorned with foil and flashes of red throughout, making each illustration pop out and catch the eye of those enjoying the book. My girls loved feeling the pages whenever they saw the sparkly foil embellishments. But, what really won Savannah's vote for best holiday book was the cute story. This really is a fun story about a little girl and an unexpected friend, a reindeer. Christmas will never be the same for this little girl and reindeer, and those who get to experience their heartwarming story will feel the same.
"Three kids venture to the North Pole to help Santa defeat an army of evil elves in this holiday classic from the brilliant mind that brought you
The Fantastic Flying Books of Mr. Morris Lessmore
.
Art Atchinson Aimesworth—inventor, crime fighters, and all-around whiz kid—journeys north with his sister, Esther, and his pal Spaulding, by special invitation from Santa himself. Why did Santa call them to the North Pole? Art wants to know. But when Esther is taken by the Queen of the Dark Elves, Art must put his questions aside and save his sister.
This reissue of William Joyce's epic Christmas adventure now comes complete with lift-the-flap letters from Santa himself!"
Atheneum Books for Young Readers |
40 pages |
ISBN 9781481489591 |
October 2017 |
Grades P and up
This book was much longer than the other books I am featuring here. We ended up reading it over a two-night period. The girls were a little overwhelmed with the lengthy text on each page, but once they got into the story, they wanted me to continue to see what happened next. The best part for them was when we got to the end of the book and we flipped the page to find two envelopes -- one from Esther Aimesworth to Santa Claus, and a response letter from Santa to Esther. The girls got so excited when they saw this, and it only made them believe more about Santa.
This is a unique holiday story, that kids of all ages will enjoy reading this holiday season.
"

Celebrate Christmas with Charlie Brown and the rest of the Peanuts gang in this gorgeous deluxe storybook retelling of the beloved Christmas special!
Christmas is almost here, which means ice-skating, Christmas carols, and sparkly lights everywhere—even on Snoopy's doghouse! Everyone is enjoying the holiday celebrations except Charlie Brown. Can the Peanuts gang help Charlie Brown discover the true meaning of Christmas?
Find out in this beautiful deluxe storybook with a cloth cover, lush foil stamping, and incredible illustrations! This makes the perfect holiday gift for fans of
Peanuts
and the classic Christmas special."
Simon Spotlight |
48 pages |
ISBN 9781534404557 |
September 2017 |
Grades P and up
Who doesn't love Charlie Brown? It isn't the holidays until we see Snoopy in the Macy's Day Parade, and then tune in that night to see "A Charlie Brown Christmas." I have a handful of copies of this book, both in board, paperback and hardcover, but this is the first time having a cloth-covered hard cover book, with pretty foil stamping. You could just give this book along with a Peanuts plush or ornament and it would make a wonderful gift this holiday season for a Charlie Brown fan young or old.
My girls and I had a blast reading this book. We read it right after watching the Charlie Brown holiday special on television and I had fun comparing the book with the television special, which airs every holiday season. The girls loved singing "Jingle Bells" which is included inside the front cover, as well as "Hark! The Herald Angels Sing" which you will find within the back cover of this book, which is sure to be collector's items for that special Peanuts fan in your life.
"

In the spirit of her acclaimed

Dog Heaven

and

Cat Heaven

, Newbery Medalist Cynthia Rylant illustrates the nativity story in her powerful folk art style.
Cynthia Rylant takes the beloved text of the nativity story, as told in the King James Bible, and lovingly illustrates it in her simple but bold style that has been called "stunning" by
School Library Journal
. As she did with the creation story, Rylant has created a sublime take on a classic story that will appeal to readers of all ages."
Beach Lane Books |
40 pages |
ISBN 9781481470414 |
September 2017 |
Grades P - 3
I have been looking for a book to share with the girls about the Nativity that they would be able to understand. When I heard about this recent release from Cynthia Rylant, I couldn't wait to get my hands on a copy to share with the girls. I am a fan of folk art and that it what first drew me to this book on the classic story from the Bible. And, when I got to see this book up close, I fell in love with the illustrations. You usually don't see folk art in many children's books, especially faith-based ones. But, the author does an amazing job at incorporating her illustrations into the story bringing it to life, and appealing to those young and old.
If you are looking for a fun new way to share the Nativity with your children, then you will you want to check out this recent release. It is not what you expect from a book about the Nativity. But, once you read it and admire the illustrations you can't help but think to yourself, why wasn't this done before. This is one book we will be reading again soon, and for many years to come.
"

Award-winning author Tor Seidler and the incomparable illustrator Fred Marcellino retell Hans Christian Anderson's classic Christmas tale about a tin solder who is separated from the paper ballerina he loves in this stunning picture book that's perfect for gift-giving.
True love blossoms between a handsome one-legged tin soldier and a graceful paper ballerina, posed in arabesque. But when a jealous goblin pushes the soldier out a window, the soldier embarks on a journey through storm drains, past toll-collecting rats, into canals, and inside a fish before finding his way back with his beloved ballerina."
Atheneum/Caitlyn Dlouhy Books |
32 pages |
ISBN 9781481476621 |
September 2017 |
Grades P - 3
We recently took the girls to see the Nutcracker and my youngest daughter, Bella, fell in love with the whole Nutcracker story. She is taking ballet now and loved seeing all the different dancers take to the stage and perform. But, her favorite part of the whole play was the Nutcracker. She thought he was such a magical gift and came home wishing that she would be given her very own Nutcracker for the holidays. I surprised the girls the next morning with Nutcrackers that my Nana has passed down to me and I had packed away. The girls were so excited to see the nutcrackers, and see that they can actually crack nuts. While they were holding their nutcrackers, I read this cute children's book to them.
The girls felt so bad for the tin soldier when they saw the cover art and saw that he only had one leg. But, as we began reading the book, they were happy to see a love between the tin soldier and paper ballerina. They were rooting for the tin soldier to fight his way back to find his beloved ballerina and live happily ever after. The story has an unexpected ending that is both sad and heartwarming. Why happens? You will just have to pick up a copy of this book to find our for yourself
"

The original tale of

The Night Before Christmas

by Clement C. Moore is now accompanied by enchanting illustrations from Antonio Caparo in this festive holiday picture book.
'Twas the night before Christmas, when all through the house
Not a creature was stirring, not even a mouse…
Since it was first published nearly 200 years ago "The Night Before Christmas" has enchanted readers young and old with the story of St. Nicholas landing on a snowy roof, climbing down the chimney, and filling all the stockings with gifts before riding off in his sleigh, wishing "Happy Christmas to all, and to all a good night!"
This classic poem is now accompanied by stunning, richly detailed illustrations from Antonio Caparo, illustrator of
Rudolph the Red-Nosed Reindeer
and
Rudolph Shines Again
. This beautiful picture book is the perfect Christmas gift."
Little Simon |
40 pages |
ISBN 9781534400856 |
September 2017 |
Grades P - 2


My Thoughts:
Who doesn't love reading this book at Christmastime. If I had to to choose a favorite holiday book this would have to be it. While we have a handful of versions of this classic holiday book, it was nice to read this recent release to my girls as the illustrations were so realistic, it really brought this story to life. I found my girls and I lingered admiring and taking in all the detail in the illustrations when we read this book. And, as soon as we were done, the girls were quick to ask to read it again. They also pulled it from the shelf to read on their own and look at the illustrations.
If you don't have a copy of this classic "Twas the Night Before Christmas" story, then I highly recommend you pick up this book. You will not be disappointed. It is a truly amazing book filled with stunning illustrations your whole family will love looking at.
If you do a holiday book advent with your family, I hope that some of the above mentioned books will make it into your family's 25 days of Christmas book countdown. They really are a joy to read, and will become family favorites each holiday season. And, if you haven't started a book advent but like the idea, the above 12 books from Simon & Schuster would make a great start to your book countdown. You could even choose to do a fun "12 Days of Christmas" countdown where you could wrap and share these books with your family at bedtime, as you countdown to Christmas. However you choose to enjoy these new holiday children's books, just know you and your kids will have so much fun reading them, and admiring the illustrations in each book. It was so hard for my girls to choose a favorite from the twelve books sent, hence my decision to include them with our book advent this year, as they will be well-received.
To learn more about these and other wonderful holiday books from Simon & Schuster, head on over to
http://www.simonandschuster.com/. I can't wait to hear about which books you choose to add from the many great holiday books from Simon & Schuster, to your family's advent, or nightly holiday reading, so be sure to share your favorites in the comments section below, so that I can check them out, and maybe pick them up to add to our Christmas Eve gift box I make up for the girls.
Disclosure: I was sent review copies from the publisher in exchange for an honest review. All views shared are mine and mine alone.