Disclosure: I was sent a sample from the vendor in exchange for an honest review. All views shared are mine and mine alone.
My oldest daughter, Savannah LOVES animals, especially dogs and cats. And, whenever we are out and about shopping and she sees something dog or cat related, so always asks for it. It is the same come the holidays and see starts seeing holiday decorations out in stores. She has a good eye for picking up on cute dog and cat ornaments. :-) In years past, I have shared how each year I get my girls a few ornaments to add to a growing collection my mother and I started for them when they were born. We did this, so that when they are old enough and move out on their own and start celebrating Christmas in their own place (and eventually with their own family) that they will have a collection of ornaments to add to their tree. And, hopefully, when they look at each ornament before hanging them on their tree, they will recall special memories of when they received these ornaments when they were younger.
Usually my mother and I buy the girls each a dated ornament as a keepsake for that current year we are wrapping. I know that the may not recall all the times they receive certain ointments, but I hope that when the see these dated ornaments, it will make them smile as they try and remember back to when they were 6 and 7 yr. old like they are this year. In addition to a dated ornament, we also pick them up 1 or 2 other ornaments each to highlight a favorite hobby or movie or television character they are into. This year, I picked Bella up a cute pair of pink ballet slipper ornament which I had personalized with her name on the satin ribbon that hangs the ornament on the tree. I also picked her up a Buddy the Elf talking ornament, as she loves this holiday movie starring Will Farrell and watches it throughout the year. I saw this ornament and thought of her, and then when I saw it played popular phrases from the movie - ones Bella likes to say, I just had to get it. I am still looking for a dated ornament for Bella, but have a few ideas in mind. Now, just to find one of them in the store.
As for Savannah, I got her a Bingo and Rolly ornament from the hit Disney Jr. animated series she is into this year, along with an angel light-up water globe ornament she saw at the store during a recent shopping trip and really took a liking to. Thanks to the folks at Precious Moments, they provided me with her dated ornament this year....a cute black puppy dog ornament from their "Have A Pawsitively Soleful Christmas 2017" line, which includes both a dog and a cat ornaments.
Peeking out of Santa's shiny red boot, these adorable friends are ready for a purr-fectly fur-bulous 2017 holiday season.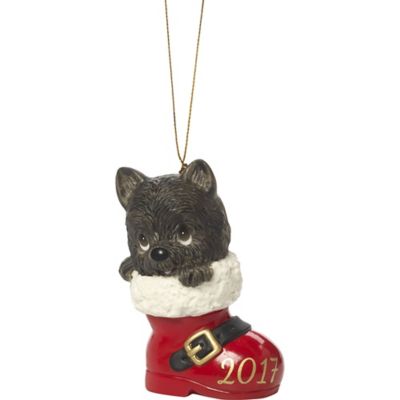 Choose one or both for doggone mew-nificent stocking stuffers, gift-bow accents or Christmas gifts! Available in

dog

and cat. SRP: $25.99 each
"Ornaments are a great gift for just about anyone!
Dated ornaments
are even better to remember special events like Baby's First Christmas, a First Christmas Together or as a fun keepsake!" I was so excited to share this cute dated dog ornament with Savannah, and her eyes lit up and she had a great big smile on her face, like I knew she would.
I surprised the girls with their ornaments a couple weeks ago when we put the Christmas tree up as part of Bella's birthday weekend. Savannah designated a section on the tree for her growing puppy dog ornament collection, which now included this adorable porcelain Precious Moments dated ornament. :-)
As you can see, Savannah has her dog ornament collection in the middle of the tree, right in where everyone can see them. And, when friends and family come to visit and stop to admire the tree and all the ornaments, Savannah is quick to show off her new
Precious Moments® Medium Have a Pawsitively Soleful Christmas Ornament in Red, which you can find online at Precious Moments, and even at Bed Bath and Beyond.
More about this cute ornament:
Peeking out of Santa's shiny red boot, this playful pup encourages one and all to have a "soleful" holiday while celebrating the year 2017

Any dog lover will adore this clever reminder of all 2017's blessings that honors all the canine companions that have been part of our lives. Makes a great gift for someone with a new puppy.

Give this Christmas gift to dog owners or anyone with a special place in their hearts for these loyal animals. Looks great on it's own or attached to a stocking or a package with a bow.

Meticulously sculpted of fine bisque porcelain and expertly hand painted

Approximately 3.75 inches high
I plan to pick up the cute porcelain cat dated ornament from this year's
"Have A Pawsitively Soleful Christmas" Dated 2017 collection to add to Savannah's stocking. Even though she has this designated spot on the tree for her dog ornaments, I know she will want to group these two pals together and admire before we take down the tree in the new year. And, then when we put it back up next Christmas, I know these will be one of the first few ornaments she grabs to hang on the tree.
If you have a dog or cat lover in your life, and are looking for a unique and memorable gift to give them this holiday season, why not consider one of these cute dog or cat ornaments from the "Have A Pawsitively Soleful Christmas" Precious Moments Dated 2017 collection? They really are adorable, and look wonderful when hung on a tree. I find myself stopping by the tree just to admire this ornament during the day and smiling as it is just so gosh darn cute. :-)
You can learn more about these two "Have A Pawsitively Soleful Christmas" Dated 2017 ornaments over at the Precious Moments website. Here you will also find a wonderful selection of other dated ornaments that would make for a great gift for a new baby, newly married couple, or if you wanted to start an ornament collection for your child(ren), like I am doing for my girls.
I have become a fan of their dated ornaments over the years, and love all the new styles and designs they come out with each year. And, I know that once you these adorable ornaments up close, you will be a fan, too!
Disclosure: I was sent a sample from the vendor in exchange for an honest review. All views shared are mine and mine alone.