Disclosure: I was provided with a promotional code to try out the app firsthand from the vendor in exchange for an honest review. All views shared are mine and mine alone.
Have you heard of the very popular and beloved British book series called The

Famous

Five
(SUPER HUGE IN THE U.K.)? Don't worry if you haven't, as I wasn't aware of this children's book series until I was recently contacted to see about reviewing the new Famous Five app, which released to iTunes the end of October.
Here is a quick video sharing more about this fun new app based on the popular Famous Five book British book series...
Growing up I used to be a huge Nancy Drew and Hardy Boys fans. What I loved about these books was the mysteries you had to solve in each book. I loved to read as a youth and these books really made reading more enjoyable as you always felt like you were brought along on each adventure. Even my older brother, who wasn't a fan of reading, took to the Hardy Boys series as he found himself getting caught up in the adventures and couldn't put the book down as he need to see how it ended. And, now that I have two girls who are early readers, I am always looking for books that will get them excited about reading, and develop a life-long love for reading. So, when I heard about the Famous Five series and then was sent a book from the popular series this past Friday, I couldn't wait to show it to my oldest daughter, Savannah, as she is now reading chapter books. At first she wasn't impressed with the book skimming through it. But, then I told her about this book and how each story has intriguing mysteries that need to be solved. And, no matter what is put in front of the Five's their courage and determination always prevailed. I also told Savannah that in addition to being able to enjoy this book, which we plan to read together at bedtime, as I am itching for a little Nancy Drew/Hardy Boys nostalgia, that I was adding the new Famous Five app to the iPad for the girls to play with, that way they could be introduced to the characters in this popular book series in a fun, interactive way.
Even though we have only had this app for a couple of days, is has become a favorite of the girls. They loved how the app has them exploring the iconic world of The Famous Five, a world packed full of British adventure, mystery and intrigue, while helping them develop their puzzle solving and language skills.
My girls were introduced to Julian, Dick, George and their friendly dog Timmy (Savannah's favorite character), and joined them on a fun-filled adventure searching for clues, talking with interesting characters, all to help them solve the different mysteries they encounter. Once the mystery is solved, a new story is created, which you can read and share.
What is so great about this app is that whenever you restart the app, it is new each and every time. This feature is what keeps the girls going back to play it as they like how it is not repeating stories, and how there are multiple solutions and plot combinations, so no single story is ever repeated. My girls spent the entire weekend solving the different mysteries and enjoyed reading their personalized adventures that were created as a reward for solving the mysteries. My parents were visiting for the weekend and had fun sitting with the girls on the couch listening to them read their storybooks which are game generated and that you can read time and again and share.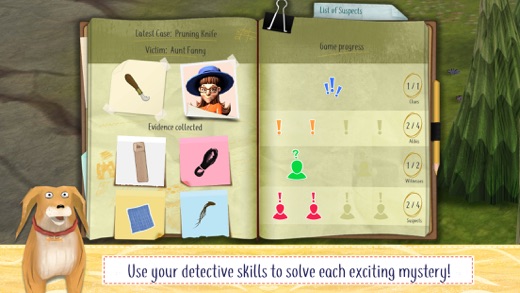 After playing this new app a handful of times, Savannah asked me when we would be starting The Famous Five book we received, as she was really getting into this mystery series, and if the book is anything like the app (which it is) that it will be an enjoyable experience, and one that we will get to enjoy together.
If you have dyslexic reader, there is a Parents Corner section in the app where users can choose from
accessibility options, including, OpenDyslexic font and color overlays to help readability. I have reviewed many book inspired apps like this and rarely see features like this to help dyslexic readers, so hats off to Kuato Studios, the award-winning app developer.
I am so excited to be given the opportunity to review this fun new app, and also for having the book sent for the girls and I to continue The Famous Five adventures at bedtime, when we will snuggle up and read a few chapters of this mystery series for kids. If you are looking for a fun app that your kids will love, then you will want to check out the new Famous Five app, which is available now for download for only $2.99. Click here to buy and download this app now!
You can't go wrong for this price, as the app is packed with fun adventures that are unique each time. Kids will enjoy s
earching for hidden clues and solving problem to be rewarded with a personalized story to enjoy or share. My girls can't stop talking about how much fun this app is, and not like other book-inspired apps they have used before. And, just this AM, they woke and asked if during their reading time after homeschool classes today if they could read the stories that were saved from the mysteries they solved over the weekend. I see this app being enjoyed for some time to come, and the fun will flow over into the popular British book series. We started reading book the book, and I can see why it is a hit with over in Britain. It was so hard for us to put the book down, and we can't wait for bedtime to continue on our adventures.
**Note: The Famous Five: Adventure Game requires an iPhone 5 or newer, an iPad mini 2 or newer, or any iPad Pro*, and 726MB of free space to install. You will need iOS 8.0 or newer. *iPod Touch and any iPads released before October 2013 are not currently supported**
Disclosure: I was provided with a promotional code to try out the app firsthand from the vendor in exchange for an honest review. All views shared are mine and mine alone.