Disclosure: I was sent a review copy from the publisher in order to write up an honest review. All views shared are mine and mine alone.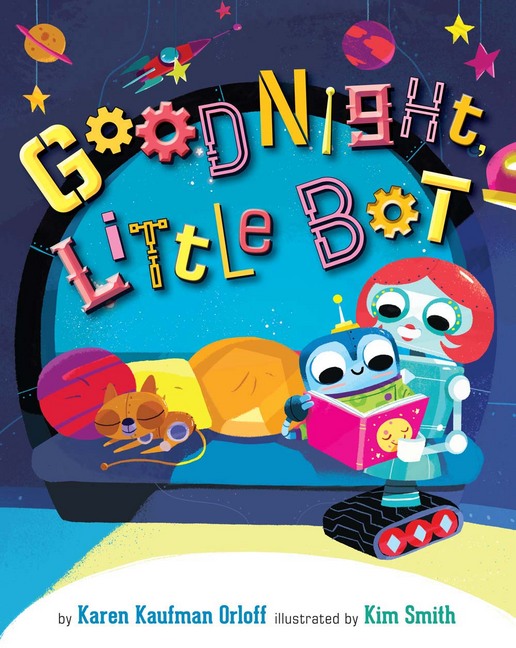 I am always looking for fun bedtime stories to switch up our nightly routine. So, when I hear about the release of Karen Kaufman Orloff's new book, "Goodnight Little Bot," I couldn't wait to get my hands on a couple and surprise the girls at bedtime.
The pages of this children's book are filled with bright and colorful illustrations that make the story come to life. And, as you read this story to your child, you can't help but laugh as you find Little Bot does the same things as your kids, when it comes to bedtime, and not wanting to go to bed. I don't know about you, but I dread bedtime with my girls. Don't get me wrong, I love the snuggling up and reading to them after bath time. But, once the last book is read, they start with their demands for the night..."I need water," "My pajamas are too hot, can I change?," "Why do I have to go to bed...I am not tired?" I could go on and on with their excuses, but I am guessing many of you deal with the same scenarios are bed time.
If only kids could lay their heads on their pillows and fall fast asleep. I could have some extra me time to enjoy...without feeling exhausted after trying to put them to bed for over an hour. I can't tell you how many times my husband and I have fallen asleep on the girls' beds, only to wake and find them still up walking around, playing or reading a book.
The girls really enjoyed this book, and saw themselves in Little Bot with all their excuses that he was using when his mom was trying to get him to sleep. They both laughed as I said, "See, this is what you do." In the end Little Bot eventually falls asleep, as did my girls a half hour later. :-)
If you are looking for a cute bedtime story to share with your child, you should really check out this cute by Karen Kaufman Orloff. Once you read this book, you will find it becoming a favorite at bedtime with your kids, too. My girls keep asking for this book, and I haven't grown tired of reading it to them.
More about this book:
"Little Bot, it's time for bed. Let's get ready, sleepyhead."
A sweet goodnight story with a unique hero.
Even

little

robots need their rest. It doesn't matter if young bots slip on their pjs over power packs, or enjoy batteries for their pre-sleep snack – just like children, they want a few more things before powering down!
GOODNIGHT

,

LITTLE

BOT

by Karen Kaufman Orloff adds a twist to the familiar bedtime routine. This charming
read-aloud is perfect for winding kids (and robots) down for the night!
Price

: $16.95 / $19.95 CAN
Format

: Hardcover Picture Book
Pages

: 32 pages, all in color
Trim

: 8.5 x 10.875 Inches
Category

: Juvenile / Picture Books
--GIVEAWAY--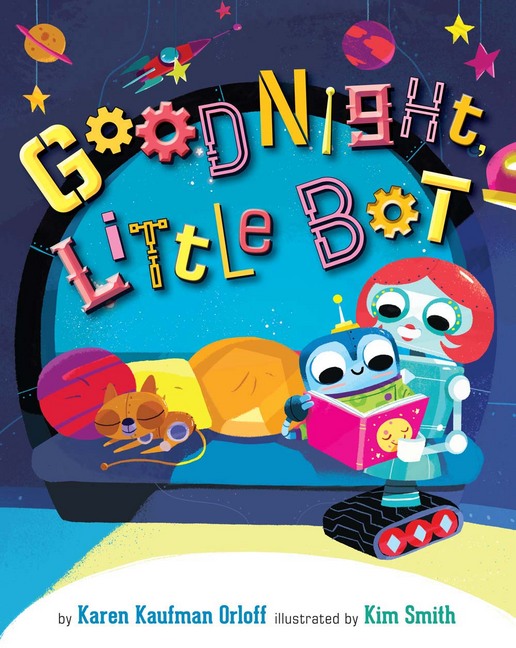 Thanks to the publisher, one lucky reader will win a copy of this cute children's book to share with their child at bedtime. To enter, please complete the entries on the Rafflecopter form below. Good luck!
a Rafflecopter giveaway
Karen Kaufman Orloff is the author of several books for children, including the bestselling I Wanna series, illustrated by David Catrow (Putnam). For Sterling, she has written
Talk, Oscar, Please!
, illustrated by Tim Bowers;
If Mom Had Three Arms
, illustrated by Pete Whitehead; and
Miles of Smiles
, illustrated by Luciano Lozano. She has another book scheduled for Sterling's Spring 2018 list:
Some Days
. Karen lives in Dutchess County, NY. Visit her online at karenkaufmanorloff.com.
Kim Smith has illustrated several books for children including Sterling's
Hey, Coach!
;
Over the River & Through the Wood;
and
The Twelve Days of Christmas in Canada
. Kim lives in Canada with her husband, Eric, and their border terrier, Whisky. Visit Kim online at Kimillustration.com.
Disclosure: I was sent a review copy from the publisher in order to write up an honest review. All views shared are mine and mine alone.