Disclosure: I was provided with a review copy from the publisher in order to write up an honest review. All views shared are mine and mine alone.
I found out about this new book release a few weeks ago and couldn't wait for a review copy to arrive. Even though I shared with both of my girls, I knew my youngest, Bella, my little baker, would get a kick out of this cute storybook about a boy and a dragon who become unlikely friends because of their love of baking.
The illustrations by George Ermos really are stunning and each page is full of vibrant colors and make the story come to life in a playful ways. Both of my girls couldn't get enough of this book and asked me to read it again right after I finished it the first time. The second time around, we lingered on each page, pointing out different things in the illustrations. Bella really liked the baked goodies they baked up and was looking forward to getting into the kitchen to do a little dragon cookie baking of her own.
The story itself is easy to understand and flows nicely. Kids of all ages will enjoy this book, any time of time. This was definitely one of my girls' favorite books of the stack of books I will sharing over the next few days as part of my annual "Welcome in Fall with a Good Book" feature. You don't have to be a fans of knights and dragons to love this book. Just don't read this book on an empty stomach you will find your belly growling as you admire all the baked goods and frosted cookies and cupcakes. Yum!
"In DOUGH KNIGHTS AND DRAGONS by Dee Leone, a curious knight and an amiable dragon meet serendipitously and instantly bond over their shared love of baking. But the friends are filled with worry when, according to the law of the land, the two must duel one another!
Can the unlikely pair cook up a way to evade the law, save their friendship, and spread good throughout the kingdom? This scrumptiously clever tale teaches kids the value of befriending those who are different from themselves, and that there is always a better solution than fighting."
Price

: $16.95 / $19.95 CAN
Format

: Hardcover Picture Book
Pages

: 40 pages, all in color
Category

: Juvenile / Picture Books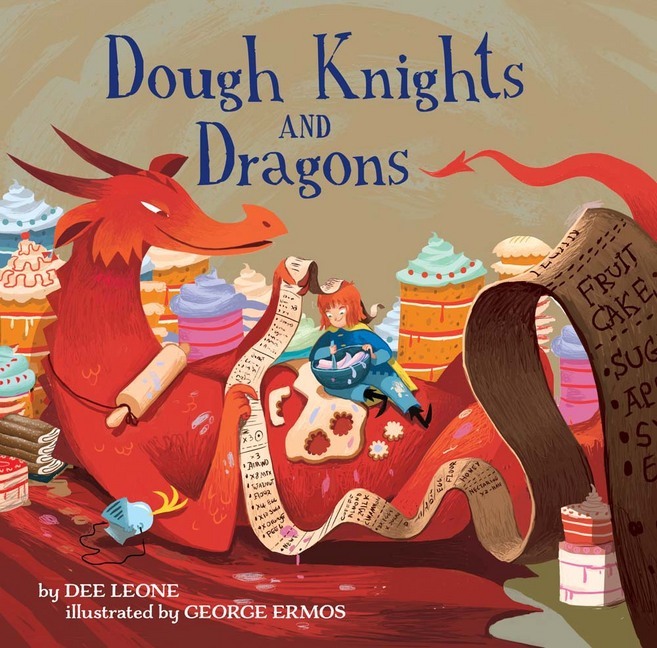 Thanks to Sterling Publishing, one lucky Inspired by Savannah reader will win a copy of "Dough Knights and Dragons" to share with that special child your life. To enter, please complete the entries on the Rafflecopter form below. Good luck!
a Rafflecopter giveaway
Dee Leone is the author of

Bizz and Buzz Make Honey Buns

(Grosset & Dunlap). Many of her stories, poems, plays, and activity puzzles have appeared in children's magazines. Dee taught at the elementary level in several states and was also a gifted program aide. Her interests include photography, traveling, and scrapbooking. Dee lives in San Diego.

Visit Dee Leone at www.deeleone.com and follow her on Twitter at @DeeLeone3!"
Disclosure: I was provided with a review copy from the publisher in order to write up an honest review. All views shared are mine and mine alone.