Disclosure: This is a sponsored post in which I was compensated by the vendor. However, all views shared are mine and mine alone.
Will you be hitting the road this holiday season? Many families end up making the rounds at Thanksgiving and Christmas to visit with family and friends, which means long car rides with the kids asking from the back seat, "Are we there yet?" We will be traveling Christmas morning, when we pack the girls in the car to visit with the grandparents and have dinner at their house.
If you do have plans to travel during the holidays and have little ones riding the back seat, make sure you do a car seat check before you pulling out of the driving. Many families will be piling gifts high in the trunk or squeezing into the empty spots in the back seat, so a child's car seat may be shifted with your fancy packing. Or, you may be upgrading car seats or switching out car seats from another car to make holiday traveling easier and more comfortable for your child, so you will have to make sure the new car seat is installed properly before placing your child in the seat. With all the craziness that the holidays bring, including travel stress, why add car seat installation stress to your list. I don't know about your, but installing a car seat, depending on the brand and how your car is set up, can be time consuming and stressful. I have lost count of how many times my husband and I have struggled to latch our daughter's car seats, only to find them loose or not even secured the right way.
Here are some quick tips for parents and caregivers as you gear up for holiday travel with young children this year...
Cars.com photo by Evan Sears
1. Hopefully you kept the installation manual for the specific car seat you are installing, as they are all different. If you don't have the manual handy, do a search online as they usually have .pdf versions available. If you can't find, you can always call the car seat's brand customer service line and ask them for assistance in finding instructions to help with the proper installation.
2. Check how the back seat you will be installing your child's seat into to see if you can remove the head rest, as these can interfere with a car seat's fit by pushing the safety seat's back off the car's seat cushion. You will also want to recline the seat back to allow for better access for the Latch anchors and for proper legroom once the seat is installed.
3. Head on over to https://www.cars.com/news/car-seat-check/ to learn more about the Latch System and check your vehicle's ability to accommodate different types of car seats. All you have to do is select your car make, model and year and you will provided with a detailed article written by a certified child passenger safety technician, who will discuss the car seat check based on their hands-on tests of your car's Latch system and different types of car seats.
I really found this to be helpful as we are planning to switch out car seats when we travel, so the girls have more room in the family car, with all the gifts we need to pack up.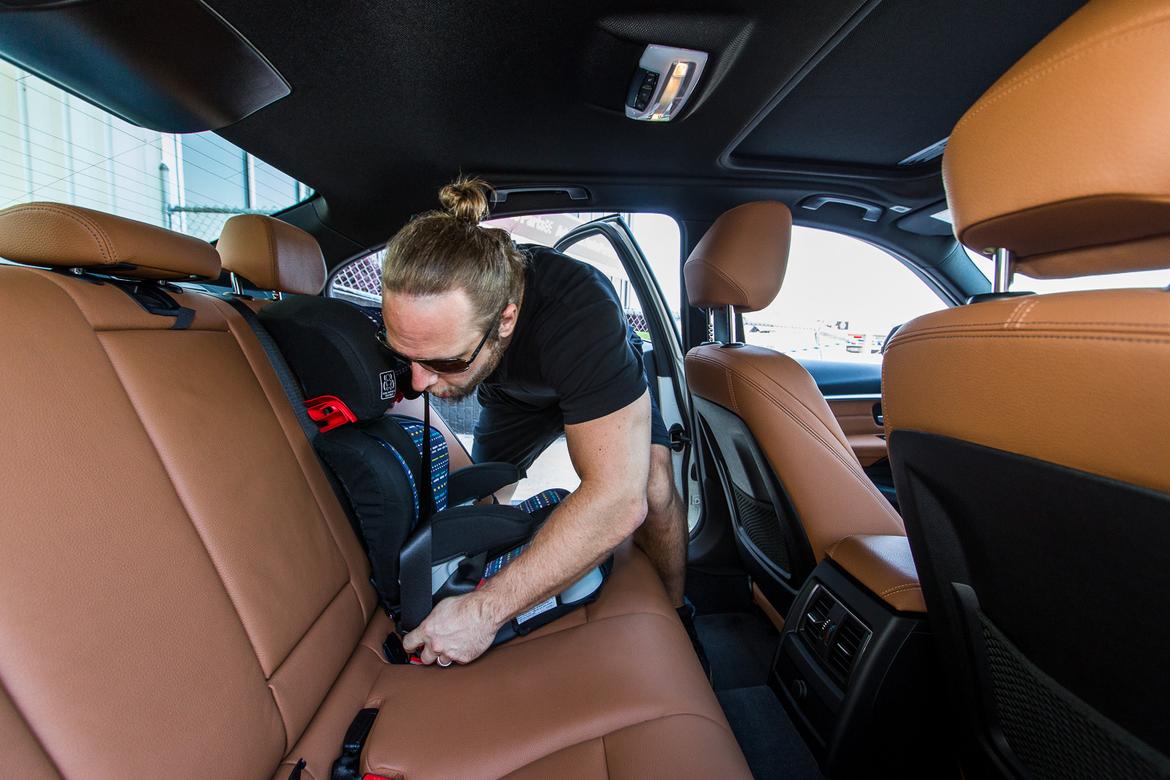 Cars.com photo by Christian Lantry
4. Not sure you have installed the seat correctly? You can call your local fire or police station to see if they have a drop car seat safety check, or have any scheduled car seat checks coming up. If not, you can also check out the NHTSA website for car seat checks scheduled in your area.
Don't delay in planning your car seat check if you have holiday travel plans. You don't want to be running around last minute trying to find an expert to assess if you installed the car the right way, or leave you stressing when you can't find the car seat manual or are struggling to figure out how to properly install and latch the car seat. Get this out of the way now, and when it comes time to pile the kids in the car you will have one less worry. :-)
Disclosure: This is a sponsored post in which I was compensated by the vendor. However, all views shared are mine and mine alone.