Disclosure: I was sent samples from the vendor in exchange for an honest review. All views shared are mine and mine alone.
What better way to welcome in spring than with the help of Peppa Pig and her friends? As you know, I am a Peppa Pig Parent, and on occasion are sent fun packages for the girls to open and enjoy from Peppa Pig...well, not really, but when I tell them it is Peppa Pig related, they think Peppa sent the goodies especially for them. :-)
Last week, after a crazy week of doctors visit for a UTI and stitches for a torn earlobe -- yes, this Mama is ready for a vacation -- the girls arrived home to a big box in the garage. They knew instantly that a box this size was sent from none other than Peppa Pig and they were right. I couldn't get the box into the house fast enough for them. But, eventually it made its way to our living room floor and the girls assumed the position of posing with the box before they could tear into the box and see what Peppa Pig goodies were inside. Here are the photos I snapped of the madness... :-)
We just started our garden outside so the

adorable

gardening toys

from BB Designs that we were sent, which included a

Peppa Pig rake and shovel, along with the pink bucket and watering can will definitely come in handy.
Toys "R" Us even has this cute Peppa Pig Flower Garden Set - 8 Piece, which is only $17.99. I plan to pick it up and give to Savannah in July as part of her birthday gift. She loves gardening and will love having her own tools and gardening belt like me. :-) Isn't this the cutest thing you have seen...
The girls were quick to take to the driveway to try out their new

chalk and a

Peppa

Pig

chalk holder from Pamson and thought it was the coolest thing.
They loved how the chalk holder kept their little hands clean and the chalk on the pavement and not on them or their clothes. This was a win win for both them and me. as I didn't have to worry about soaking their clothes after play, and they weren't running to the sink to wash the chalk off as it felt yucky. :-)
Savannah is the oldest at almost 7 years old, so she called first dibs on the

an

oinktastic

watch

from Accutime. But, I was quick to pick up another at Target, as you can't go wrong for only $9.99.
Even though I am teaching the girls how to tell time with big and little hand clocks, they both loved how quick it was to look down at their wrists like a big person and be able to tell the time.
Thanks to these fashionable Peppa Pig watches from Accutime, I don't have to worry about looking at my phone for the time as the girls are quick to tell me...."Hey, Mom it is 2:15" Hey, Mom it is 2:16." :-)
As for the

"

Peppa

Pig

and the Backyard Circus

" book

, this was the first book we read at bedtime and had been a staple at bedtime ever since.
About this recent release:
"

Step right up to Peppa's circus — just the ticket for little fans!
Grandpa Pig is busy setting up a big tent in the backyard for Granny Pig's garden party, but Peppa thinks it looks more like a circus tent. What could be better than to put on a circus show during the party? Danny Dog can be the strong man, Suzy Sheep the juggler, and George can wow the crowd as one of the cyclists. And it's Peppa's job to make sure the amazing feats go according to plan — she's the ringmaster, of course!"
We ended up bringing the

new DVD, "

Peppa

Pig

: Around the World

DVD in the car to watch on our way to a homeschool class the other day.
Even though the girls have already seen the special 15 minute episode and the 9 other episodes that make up this new DVD release, they were laughing and talking all about how much fun it was to watch. And, on the way back home, they watched the entire DVD again, only to talk my ear off at dinner about their favorite parts and asking when they could watch it again.
I love being a Peppa Pig Parent and being able to share wonderful products like the ones we were sent with my readers, as I know many of you are parents and grandparents to little ones who can't get enough of Peppa Pig. This is one of the few shows that I will sit and watch with the girls, and find myself enjoying the show. Peppa and her friends take your little ones on fun adventures, while also teaching important lessons about friendship, working together and never giving up. Peppa Pig really does a great job in sparking my girls' imagination and makes them want to act out the episodes they watch. So, it is also a treat when we are sent books and DVDs about Peppa Pig as I know the girls will put them to good use and watch the DVDs and have me read the books time and time again.
Why not welcome in spring (and summer) with your Peppa Pig fan and surprise them with some of the goodies now available at most retailers featuring everyone's favorite talking pig, Peppa. Kid will love getting outdoors and tending to their gardens with their cute Peppa Pig gardening tools. And, the pink Peppa Pig bucket is definitely going to make a splash at the beach when little ones take it to help make castles and collect seashells.
And, if these Peppa Pig goodies weren't enough, I wanted to make sure you were aware of the brand-new app,

Peppa

Pig

: Happy Mrs Chicken, which is now available to download – and it's sure to provide snorts of laughter for

Peppa

Pig

fans!
Inspired by the "Happy Mrs Chicken" game from the series, the app encourages preschoolers to explore the wonderful world of

Peppa

through five fun-filled games.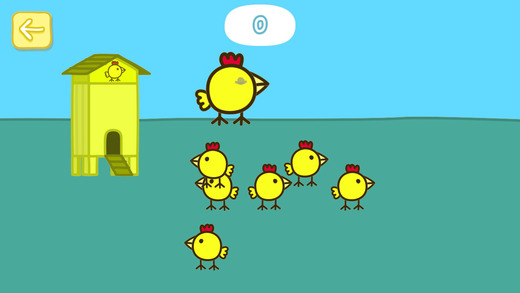 Young players can see how many eggs they can lay with Happy Mrs Chicken, leave a seed trail to guide chicks through a maze and much more!
You can purchase and download this new Peppa Pig app through these three links for only $1.99 now:
So, what are you waiting for? Welcome in spring and summer with these wonderful Peppa Pig inspired toys and goodies, and put a huge smile on the face of that special Peppa Pig fan in your life today. My girls are still smiling when I ask them about their new Peppa Pig goodies. They love them, and I know your kids will, too! :-)
Disclosure: I was sent samples from the vendor in exchange for an honest review. All views shared are mine and mine alone.