Disclosure: I was sent samples from the folks at Tryazon.com in exchange for an honest review. All views shared are mine and mine alone.
Hopefully this upcoming Memorial Day weekend is not going to be a wash out. If you live in New England like I do, then you are probably done with all these April showers in May. This whole week here in CT has been cold, gloomy and wet. My poor garden looks like a swimming pool now with all the water we have had. And, to think last week we were enjoying a heat wave with temperatures reaching 90 degrees on two days. That is the way it is here in New England. we get spoiled with early summer temperatures and the next week we get soaking rain that never seems like it wants to end. And, based on the upcoming holiday weekend forecast it is going to be more of the same. But, if you live in New England, you know not to trust the weather people as they can be wrong, and we just have to wait it out and hope for bright skies and no rain.
But, if the weather doesn't improve, all is not wasted when it comes to having family and friends over to celebrate the Memorial Day weekend, and early start to summer. Bring the cookout indoors by cooking hot dogs in a crockpot, putting on a pot on baked beans, and throw a bunch of corn in a cooler filled with hot water to steam it for guests. And, when it comes to dessert, don't forget the s'mores. Yes, you read that right...s'mores indoors...and, no I am not talking about using the microwave to make them. Instead, set up your own S'mores stations for guests to make their own s'mores at your dining room table or kitchen counter. Have you seen the s'mores maker from Sterno?
This is the coolest thing, and a must have for families who love making s'mores and entertaining family and friends especially during the summer months. With the unpredictable weather here in New England our Sterno s'mores maker is going to come in handy this summer when the rain prevents us from sitting around the fire pit roasting marshmallows. Instead, we will bring the fun of roasting marshmallows and crafting our own s'mores indoors where it is warmer (or cooler on those hot muggy night and the AC is cranked up) and there are no mosquitos or black flies to swat at. :-)
Last weekend I had invited family and friends over for a backyard BBQ. After being spoiled with the heat wave, I thought what better way to enjoy this marvelous weather than with a cookout and time spent around the fire pit. But, my luck, I summoned the rain gods and it started to pour buckets and as I write this post, it is still raining outside. So, I had all these people coming over and it decides to rain. I moved the party indoors and the Sterno s'mores maker was the hit of the party and had everyone putting their phones down and gathering around the table to create their s'mores masterpieces. I had the basics -- chocolate (both milk and dark), different flavored graham crackers (honey, plain and cinnamon) and marshmallows (medium and jumbo sized).
Earlier in the day I also made pizzelle cookies to make ice cream sandwiches with. I put out the leftovers at the s'mores table and everyone had a blast trying out this favorite Italian cookie with melted chocolate and ooey gooey marshmallow.
Yum! I am getting hungry just thinking about it. Oh, how I wish I had another pizzelle s'more to snack on. Well, I know what I will be doing this weekend...baking more pizzelle
and gathering the family around the dining room table after
dinne
for another fun
s'mores
night. Everyone will be saying "can I have some more." See what I did there -- some more...
s'more
!
Hahaha
! :-)
So, don't let this rain and gloomy weather put a damper on your upcoming holiday weekend plans. Instead, add the Sterno s'mores maker to your shopping list, as well as all your s'mores ingredients and head to your local Walmart store to pick us this must have item that will be used time and again this summer and for years to come.
Each Sterno S'mores Maker kit includes the following: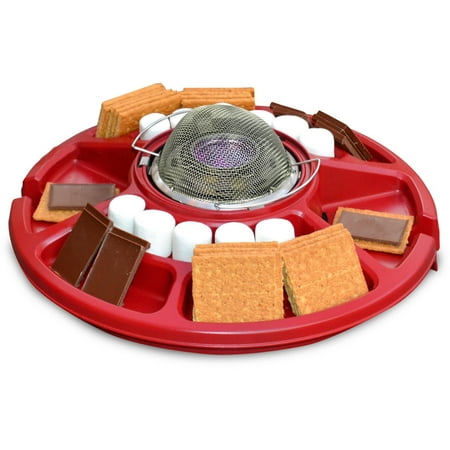 An easy to clean serving/display tray

2 built-in s'mores making stations for tidy s'mores construction

1 can of Sterno s'mores heat for the perfect custom roasted marshmallow (safe for indoor or outdoor use)

A protective roasting screen

2 stainless steel roasting forks
This is one of those items you try out and wonder how you ever lived without it. And, you and your family and friends will be talking about it and saying how it makes those family gatherings and cookouts and outdoor/indoor parties that much more fun.
Everyone loves s'mores and this s'mores maker is not only affordable, but will make you the party host of the year when you introduce family and friends to this ingenious product.
All your guests will be making a point to head to their local Walmart to pick up a Sterno s'mores maker for themselves, so that they can make s'mores anytime, anywhere!
Have I made your mouth water just thinking about s'mores and have you craving one? Then, head on over to Walmart.com or to your local Walmart store and pick up a Sterno S'mores maker today. The Sterno S'mores Maker is also available at Amazon with Prime Shipping for 2-day delivery.
And, be sure to pick up extra s'mores heat so you aren't without heat to roast your marshmallows.
Disclosure: I was sent samples from the folks at Tryazon.com in exchange for an honest review. All views shared are mine and mine alone.