Disclosure: I was sent a screener from the vendor in order to write up an honest review. All views shared are mine and mine alone.
A NEW INSTALLMENT OF THE SENSATIONAL
HIT SERIES STARRING LADYBUG AND CAT NOIR
COMES TO DVD FROM SHOUT! KIDS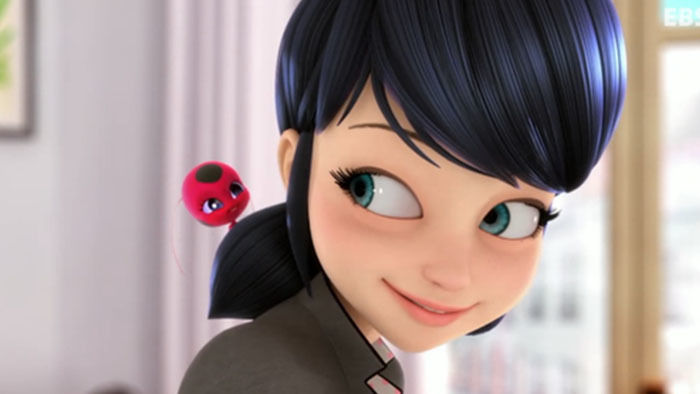 My girls were so excited when they saw this new Miraculous DVD in the mail the other day. They already have the previous three volumes released from Shout! Kids, and have been waiting on a new DVD from this popular series to watch and add to their collection. If you follow my blog, then you have read my past reviews about this show, and how it is watched by kids of all ages, as well as adults. Yes, I admit it, I am a fan of Ladybug and Cat Noir, too! Each and every episode is jam packed with adventure and will have you on the edge of your seat rooting Ladybug and Cat Noir on to defeat evil villains.
Fans of the show will be excited to watch the following 6 full-length episodes from the upcoming Miraculous™: Tales of Ladybug & Cat Noir: It's Ladybug!

DVD release...
Princess Fragrance

Gamer

Reflekta

The Puppeteer

Antibug

Volpina
With Easter fast approaching, why not pick up this upcoming DVD release when it arrives on DVD on April 11th, to add to your child's basket. This is one DVD they will watch time and again. Be sure to continue reading for a chance to win a copy of this DVD. :-)
More about this upcoming DVD release:
"The most Miraculous adventures of Ladybug and Cat Noir continue! Paris' favorite crime-fighting duo return in a new volume of the action-adventure, romantic comedy that will have you on the edge of your seat.
When Paris is threatened by super villains, two amazing heroes are our only hope: Ladybug and Cat Noir! With the help of their magical kwamis, this incredible duo team up to outwit the forces of evil… but their biggest challenge might be getting through school. In their normal lives, Marinette and Adrien are just a pair of young students, but in reality, this terrific twosome must juggle schoolwork, friends, family and growing up in a world where every day is a high-flying adventure!
A top TV show, Miraculous™ is quickly becoming a worldwide phenomenon. It's Ladybug! is available now for pre-order on Amazon.com and Shout Kids."
--GIVEAWAY--
Thanks to the kind folks at Shout! Factory, one lucky reader will win a copy of this upcoming DVD release. To enter, please complete the entries on the Rafflecopter form below.
Good luck!
a Rafflecopter giveaway
About Shout! Factory -
Shout! Factory, LLC is a diversified multi-platform media company devoted to producing, uncovering, preserving and revitalizing the very best of pop culture. Founders Richard Foos, Bob Emmer and Garson Foos have spent their entire careers sharing their music, television and film favorites with discerning consumers the world over. Shout! Factory's entertainment offerings serve up feature films, classic and contemporary TV series, animation, live music and comedy specials. In addition, Shout! Factory maintains a vast entertainment distribution network which delivers culturally relevant programming, movie and audio content to all the leading digital service providers in North America and across multiple platforms. Shout! Factory owns and operates Shout! Factory Productions, Scream Factory, Shout! Factory Kids, Shout! Factory Films, Mystery Science Theater 3000, Timeless Media Group and Shout! Factory TV. These riches are the result of a creative acquisition mandate that has established the company as a hotbed of cultural preservation and commercial reinvention. Shout! Factory is based in Los Angeles, California. For more on Shout! Factory, visit shoutfactory.com
About ZAG -
ZAG (Zag America, LLC./USA, Zag Animation Studios/USA, Zagtoon/France) specializes in the creation of groundbreaking 3D CGI animated kids & family film and TV franchises. You may know their global hit, Miraculous™; Tales of Ladybug and Cat Noir and their coming soon Zak Storm™ - "Super Pirate" series. Zag's robust original content pipeline includes 6 additional TV series and 3 feature films rolling out over the next 5 to 6 years. Keep close tabs on this hot new animation studio.
Miraculous™
is the trademark of ZAGTOON and METHOD. All Rights Reserved. ©
2017 Zagtoon

-Method Animation-TOEI Animation-SAMG-SK Broadband - AB - De Agostini editore S.p.A. All Rights Reserved.
Disclosure: I was sent a screener from the vendor in order to write up an honest review. All views shared are mine and mine alone.