Disclosure: I was sent samples from the publisher in order to write up an honest review. All views shared are mine and mine alone.
The countdown is on. There are only 20 more days left until Santa Claus comes to town. My girls are so excited and have been enjoying our Christmas Book Advent which we started back on December. We have read so many of the wonderful books I have shared over the past month and a half, as well as two new ones I was sent back on Friday from the folks at Simon & Schuster. I wanted to share about these two holiday books, as well as two cute coloring books which you could add to your countdown to make it for more fun, or pick up and give as a stocking stuffer or put under the tree. Either way, I know that you and your family will love these two new books and two new coloring books from Simon & Schuster.
So, without further ado, please take a look at my thoughts on "The Nutcracker" and "Candy Cane Lane," followed my the two coloring books we were sent.
About this Book:
"
The New York City Ballet presents a classic ballet tale for a modern ballet lover with George Balanchine's The Nutcracker, a holiday favorite.
The New York City Ballet is known for showcasing classic stories of the ballet with their trademark stylish and modern sensibility. For the first time, this beloved holiday story is told based on George Balanchine's quintessential production. The story line of this gorgeous picture book mimics the choreography of the famous ballet and the illustrations are inspired by the backdrops and scenery from the actual production.
The New York City Ballet's production of the Nutcracker is considered to be "the" leading production in the world. A holiday tradition for many families, now readers who can't travel to New York will be able to experience this colorful celebratory story. A must-have for every aspiring ballerina's library and a holiday tradition for every family's bookshelf."
My Thoughts:
You can tell just by looking at the cover art of this book that the pages will be filled with magnificent illustrations that will have you and your children lingering, just to admire the detail of each page's colorful illustrations. This was the first year that I introduced the Nutcracker to the girls through books and the ballet. And, this upcoming weekend we will be heading up to MA to see "Max and Ruby's: The Nutcracker," in Lowell. So, I thought tonight would be a fun night to tell the girls about the upcoming show with Nana and Papa and share this classic holiday tale with them.
The girls, like I was, loved the front cover. It took me forever to be able to open the book and begin reading, as they wanted to sit there and admire the cover art. They kept talking about how beautiful Clara was, and how her beautiful hair ribbon flowed like a candy ribbon to the floor. But, then when I opened the book and started reading, the "eww's and ahh's" got louder. They couldn't get over the illustrations, as they really helped to make the story come alive.
Christmas is a magical time of year, and this new release from Simon and Schuster really gets family excited about the holidays. Now, I am itching to see the Nutcracker again, thanks to the beauty of this story. Usually I will only read one book a night during our Christmas book advent, but I am guessing the girls will be asking for me to read it again, as I caught them trying to wrap it back up and add to the pile of books we will be counting down the days with. :-) I will not mind, as this has become a favorite of mine, especially because of the illustrations. And, this is one book I will be leaving out on the coffee table for all to admire, and sharing with the girls, year after year.
If you are a fan of the Nutcracker and have been looking for the perfect version to share with your child, why not pick up a copy of this one from Simon and Schuster. You will not be disappointed!
About this Book:
"

A group of misfit holiday decorations come vividly to life as they try to make their way home for the holidays in this enchanting and heartwarming picture book from Scott Santoro.
The houses on Candy Cane Lane have some of the most spectacular holiday decorations around, so when a winter storm hits and damages some of the festive lawn ornaments, the residents simply can't allow the broken figures to ruin their prized displays. Many end up in the trash, including a scuffed choirboy who is sure he'll never have a chance to bring holiday cheer to the lane again. That is, until a little girl in the only undecorated house on the block saves him and gives him a special spot on her lawn.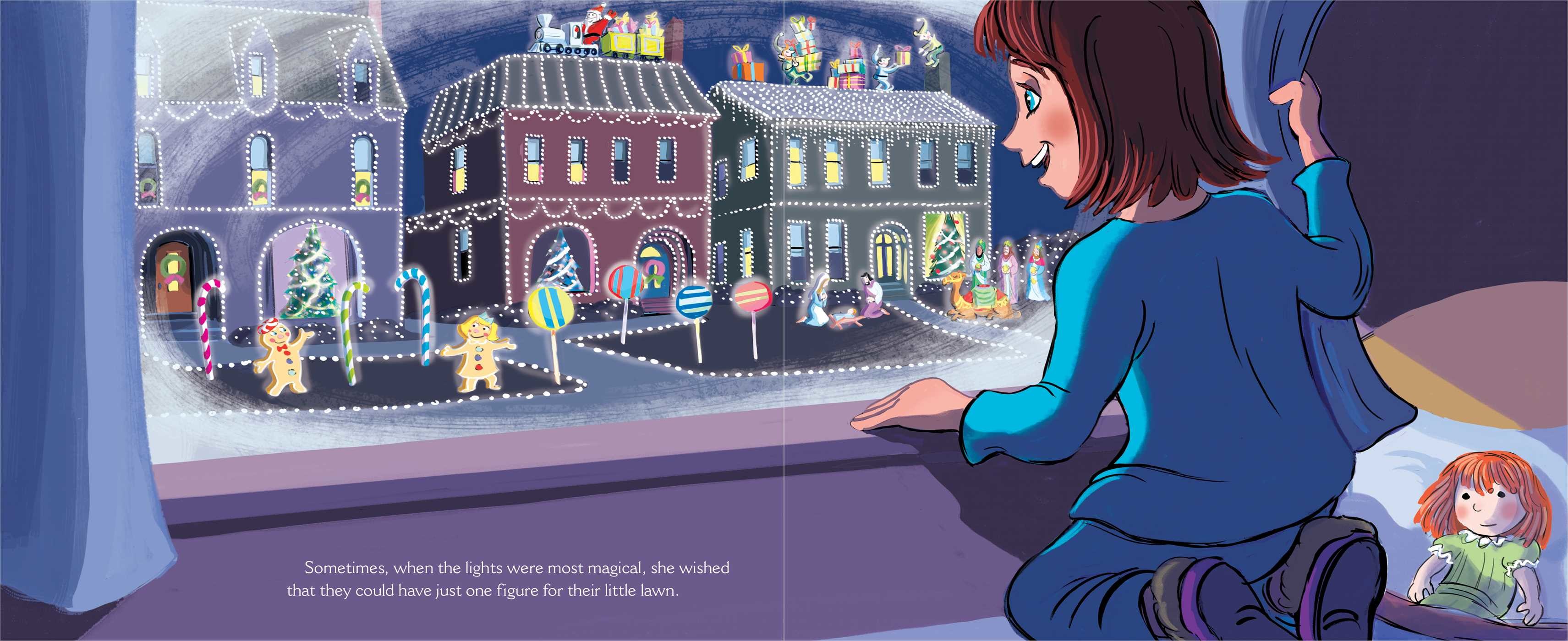 But when a misunderstanding the next morning sends the choirboy off to the dump, he'll have to team up with a plucky group of other discarded lawn ornaments to find his way back to the little girl and the one place everyone wants to be during the holiday season—home.
With classic holiday spirit and illustrations as merry and bright as any holiday display, Scott Santoro brings Candy Cane Lane to life for readers of all ages."
My Thoughts:
This was our first Scott Santoro book, but will not be our last. What a cute story. I grew up loving the plastic Christmas light up statues people would put in their yard. We never had any...my dad would just string lights around the gutters and frame the house. So, whenever we would pile in the car, I would always dream about one day having a yard filled with these cute holiday decorations. Unfortunately, today they are rare and can cost up to $100 or more from people selling on E-bay. So, it was nice to have a book to admire these holiday decorations from my childhood and share with my girls.
The girls thought the story was cute...a little, though, when they saw the little chorus boy end up in the dump, all alone and scared.
But, then as he walked through the trash piles he spotted someone (you will have to read to find out who), and together they walked all over town picking up new friends along the way, until they finally found their way back to Candy Cane Lane, where they surprised the girl with a yard filled with decorations and holiday lights.
This is truly a unique and heartwarming story that will have families cuddling closer as they read the book. When we got to the end of the story, both the girls and I couldn't stop smiling and saying just how wonderful the book was. I know my girls will be pulling this book from the bookshelf and flipping through it to the admire the colorful illustrations, which like the Nutcracker book, really made the story come alive.
If you are looking for a fun holiday book to share with your kids, that is not only a joy to read, but will warm your heart, then you will want to pick up a copy of "Candy Cane Lane" by Scott Santoro" today.
And, here are the two coloring books I mentioned in the beginning that would be fun to share with the kids now and get them excited about Christmas, or add to their stockings.
Illustrated by: Various
About this Book:
"

Doodle away with this mini boxed set that includes three mini Dream Doodle Draw! books—perfect for gift-giving!
This mini boxed set includes three doodle books packed with activities! These mini doodle books are just the right size to slip into your pocket for unlimited on-the-go fun!
With fun prompts and activities to inspire the artist within, this mini Dream Doodle Draw! boxed set is the perfect gift!"
My Thoughts:
My girls love love love the coloring books put out by the Dream Doodle Draw! series. I have lost count on how many they have. I do know, however, that this is the fist mini coloring book gift set they have...but, it will not be their last. The girls loved the 3 coloring books which make up this set -- Patterns, Animals and Snow -- all of which had winter or holiday pictures to draw, doodle or complete activities on each page. I am a fan of coloring and activity books for the girls, and usually have a stash in the car for long car rides or to bring into restaurants to entertain the girls.
They were excited when I showed them this holiday themed set, and were quick to discuss which coloring book they would have, and that they would share the third one. :-) And, this afternoon, the girls sat at the dining room table working on the Dream Doodle Draw! books. Now my fridge and the art wall in the dining area is covered with their holiday art work. :-) They couldn't stop raving about the different coloring pages, and loved how the books were mini sized -- perfect to tote around or put in their backpacks they said. I found Savannah finishing the last few pages of her Pattern Dream Doodle Draw! when I tucked her into bed tonight. And, before I turned out the lights, she asked me to remind her to write another letter to Santa in the AM asking him for books and gift sets like this one, as she really enjoyed it.
If you have a child who loves to color, or like to pick up coloring and activity books to keeps kids busy on the go, or on rainy or sick days, then you will want to check out this cute mini gift set, as well as the other coloring books available in the popular Dream Doodle Draw! series.
About this Book:
"

Pusheen returns in a delightful coloring book perfect for fans of

I Am Pusheen the Cat

.
The Internet's favorite chubby, tubby tabby is back in a purr-fectly cute coloring book featuring adorable kitty drawings that will charm cat lovers and coloring book fans everywhere!"
Touchstone |
96 pages |
ISBN 9781501164767 |
October 2016
My Thoughts:
Ok. Well, this is not a holiday book. But, seeing that Savannah is a huge fan of cats. I had to make sure I added this coloring book to the mix. Savannah says, "Everyone loves cats!" :-) I had never heard of Pusheen, but I guess I was out of the loop as even my husband a girlfriend of mine knew of this popular chubby tabby cat.
Savannah has been asking for Pusheen stuff on her wish list and I had no idea what she was talking about. Then, the folks at Simon and Schuster send along and email announcing this recent October coloring book release. I had to reach out and ask for a review copy, as I knew just the person to help me out. I wish you could have seen Savannah's face when she saw this book. She thought Santa had sent it at first, and then called first dibs on it when I said I had to review this and the above mentioned books. Before I could say, "OK," she had grabbed it from my hand and ran to the table to start coloring it. Within a matter of minutes, she was showing me her first completed page, with an even bigger smile. She was even nice enough to tear out a page and let Bella color it, so that she, too, could add a completed Pusheen coloring page to her bedroom wall to admire. :-)
Savannah was thrilled that this coloring book had 96 pages, as it would provide her with hours of coloring fun, she said. :-) Do you have a Pusheen fan in your house, or someone who just loves cats? If so, you will want to pick up this chubby Tabby filled coloring book. Coloring books are all the rage right now and even help adults like us unwind and relax. I spent an hour earlier today coloring a page with Savannah and couldn't believe how relaxing it was. I felt like a kid again, trying to stay in the lines, and choosing just the right colors for each picture. :-)
These holiday themed books and coloring books would make gift ideas this Christmas, or to bring the family together and enjoy quality time sitting together and reading a good book, or coloring. We loved these books, and I know your family will, too.
Disclosure: I was sent samples from the publisher in order to write up an honest review. All views shared are mine and mine alone.