Disclosure: I was sent samples from the publisher in order to write up an honest review. All views shared are mine and mine alone.
Leave it to Nana and Papa to get the girls hooked on all things Barbie just by buying them a DVD to watch. Prior to the girls seeing the Barbie and her sister in a Puppy Chase movie, which recently came out on DVD, my girls had no interest in Barbie. Well, I will not say that...Bella was into the Barbie Dreamhouse series that streams on Netflix. But, they weren't big into the dolls or characters. That was until they saw this movie and now want everything Barbie and Puppy Chase related. Santa is going to have to get a bigger red sack to meet all the demands of my girls and other children worldwide who are being introduced to Barbie for the first time thanks to movies like the Puppy Chase -- which if you haven't seen is really good! :-)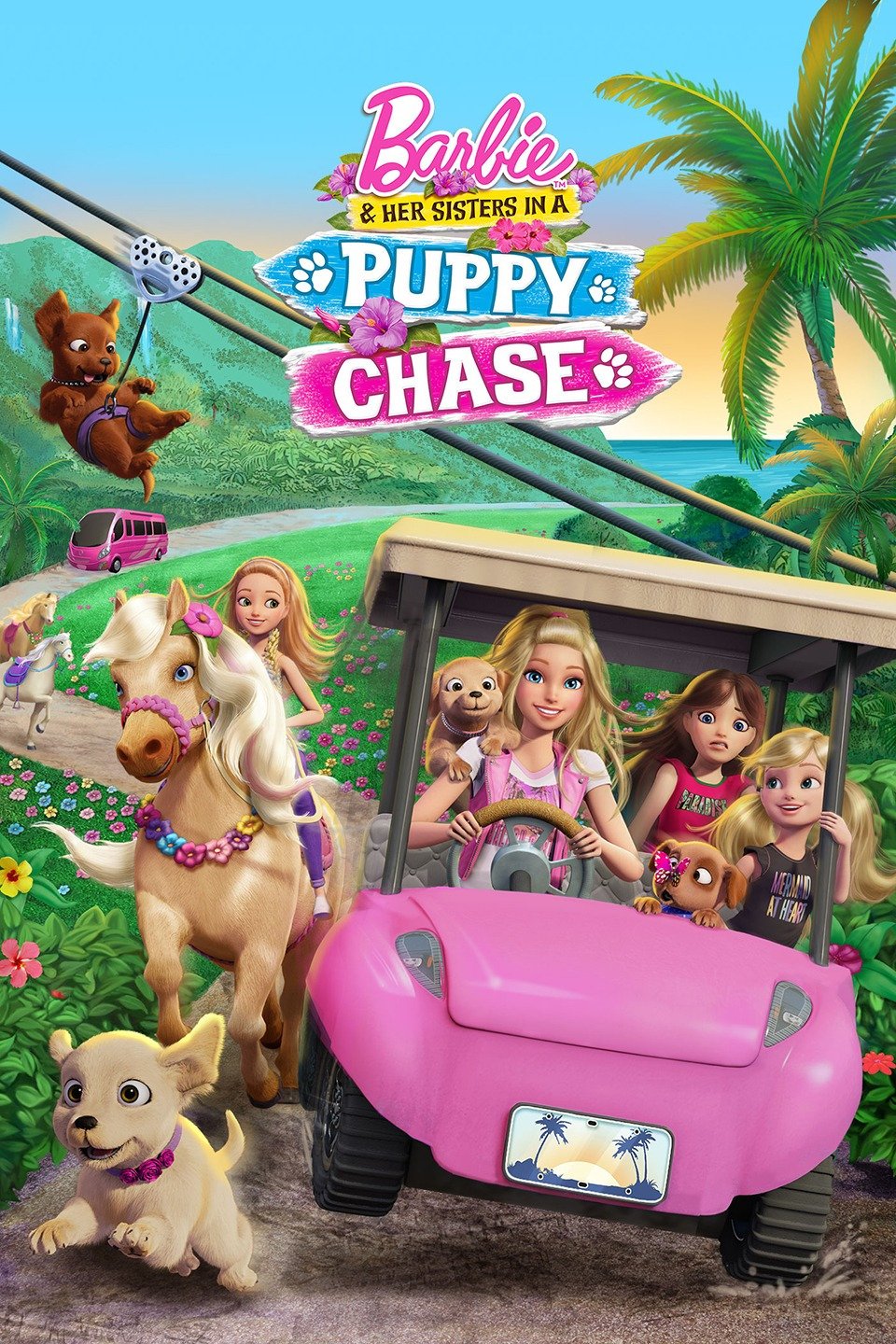 I was recently sent news about Papercutz debuting two new Barbie graphic novels, just days after my girls saw this movie and fell in love with Barbie. I thought it would be fun to surprise the girls with the two new graphic novels, and boy were they surprised. Savannah, who is all about puppies, couldn't stop smiling when she saw the "Barbie: Puppy Party" graphic novel from Papercutz.
My little fashionista, Bella, was quick to the "Barbie: Fashion Superstar" copy, and couldn't stop flipping through the pages of this new graphic novel. My girls are not big into graphic novels or comics, but when they saw Barbie in it, they just had to have me read them to them.
We started with the Barbie Puppy Chase one and the girls loved the story. They were especially excited to see the pups from the movie that Barbie's grandmother gave them were included in this new graphic novel. Because the girls aren't big on comic books or these types of graphic novels, I wasn't sure if they would get overwhelmed with the blocks of illustrations on each page. But, surprising, this is what they loved most about the book. They lingered on each block and admired the illustrations as I read the story to them. And, there was a lot of pointing and ehh's and ahh's as they looked at the cute pups in the book. This book was definitely a favorite from the start, and one book the girls continue to pull from the shelf and have me read. Or, they will grab and flip through the pages admiring the pictures and telling their own stories based on what they see in each scene. :-)
After reading Barbie: Puppy Party, I shared the Barbie: Fashion Superstar graphic novel with the girls. Just like the Puppy Party book, the girls loved the whole graphic novel idea and the story itself was fun and engaging. Bella, a fashion diva in her own right, took to the story, and wanted to be a fashion superstar just like Barbie, by the time we were done reading the story. She even tried her hand at sketching dresses that she thought Barbie and her sisters would enjoy wearing, and Savannah helped her color her sketches in.
I am so happy to have been given the opportunity to check out the new Barbie graphic novel series books from Papercutz. My girls and I can't wait for more books in the series to release so that we can pick up, enjoy together and start a collection. :-) If you have Barbie fan in your life, why consider checking out these two new graphic novels from Papercutz. They would make for a great non-toy gift or stocking stuffer idea.
Here is more about these graphic novels and Papercutz...
Volume One of
Barbie
Puppies
will be released on November 29th
"Barbie

, the world's #1 fashion doll, is making her debut in two new series from Papercutz this fall. With two new original graphic novel series, Barbie and

Barbie

Puppies

, fans of Mattel's classic doll can now experience all of the adventures of

Barbie

and her friends like never before!
Barbie

Graphic Novel Vol. 1, "Fashion Superstar," which is available now, finds

Barbie

diving into the high-stakes world of fashion. As

Barbie

pursues her dream, she meets a diverse bunch of all-new friends that can help her... and some others that may actually try to end her fashion career before it even starts!
The second of the new

Barbie

graphic novels is "

Puppy

Party

" from the

Barbie

Puppies

series, which will be released on November 29th. Based on the popular

Barbie

Puppies

DVD films "The Great

Puppy

Adventure" and "A

Puppy

Chase," "

Puppy

Party

" tells the story of

Barbie

and her sisters entering their pups - Honey, Rookie, Taffy and DJ - in a dog show in the city. But when the

puppies

get lost, the adventure begins!
These new graphic novels featuring the life and adventures of

Barbie

are just what young readers have been waiting for. While the

Barbie

franchise has taken many other forms in music, movies and more, this is the first time in over 25 years that this globally-recognized figure will be the subject of a graphic novel. These fun stories let

Barbie

fans enjoy her adventures in one of the fastest growing mediums in kids' media and they're sure to be a perennial favorite in libraries, schools and homes across America.
A third graphic novel series,

Barbie

Starlight, is slated for release later this year.
Papercutz is celebrating ten innovative audience-expanding years of publishing great graphic novels for all ages. Papercutz graphic novels for kids, tweens, and teens include a wide range of genres from humor, action adventure, mystery, and horror to favorite licensed characters. It is proud to be the only publisher exclusively dedicated to children's graphic novels, working every day to introduce young readers to the imaginative wonders waiting to be discovered in comics. To find out more visit http://www.papercutz.com.
The Mattel family of companies (Nasdaq: MAT) is a worldwide leader in the design, manufacture and marketing of toys and family products. Mattel's portfolio of best-selling brands includes

Barbie

®, the most popular fashion doll ever produced, Hot Wheels®, Monster High®, American Girl®, Thomas & Friends®, Fisher-Price® brands and MEGA® Brands, as well as a wide array of entertainment-inspired toy lines. In 2015, Mattel was named one of the "World's Most Ethical Companies" by Ethisphere Magazine, and in 2014 ranked No. 5 on Corporate Responsibility Magazine's "100 Best Corporate Citizens" list. With worldwide headquarters in El Segundo, Calif., Mattel's companies employ approximately 31,000 people in 40 countries and territories and sell products in more than 150 nations. Visit us at www.mattel.com,www.facebook.com/mattel or

www

.twitter.com/mattel

.