Disclosure: This post is s

p
onsored by the Role
Mommy Writer's Network. However, all views shared are mine and mine alone.
I shared in my last post how I would do a follow up post and share photos of the food and my personal experience with the food from the Easy Peasy meal kits program I was sent to sample. As I mentioned in my previous post, the new Atkins meal kits come in 3 options -- Easy Peasy, Evening Chef or Frozen Foodie. Each of these meal plans come complete with a step-by-step plan that will help you begin and maintain a successful weight loss journey. What is so great about these kits is that they were created for busy people and those who have had trouble in the past counting calories or preparing meals that were appropriate for their weight loss or weight maintaining needs. Thanks to these new meal kits, the folks at Atkins take the guess work and prep work out of everything.
In a given day, you will find yourself controlling your carb and sugar intake with each of these three convenient meal plans, by only consuming 20-25 grams net carbs daily. In addition to doing the work of counting the carbs and sugars for you, the folks at Atkins also provide you with useful tools to help you stay on track (includes Mobile App & Community, Online Support & Call Center Support) -- no extra fees for these tools -- they are included with your meal kit! :-)
As I mentioned, I was set the Easy Peasy Meal Kit, which costs $97.99 (including shipping and tax). This meal kit is the most popular and convenient, and after trying it out myself for a week I can see why.
This is the Easy Peasy Meal Kit -- retails for only $97.99
And, like shown above, this is what is delivered right to your door...
As soon as I opened my Atkins Easy Peasy Meal Kit box, I found the foods above, as well as the following bonus items included when you first order:
Guide (Including shopping list and a specially formulated meal plan where you'll consume between 20-25 grams net carbs per day)

Illustrated step-by-step recipe booklet

Carb Counter

Atkins Made Easy Book
With each meal kit you will also find a menu plan and shopping list, which makes grabbing the extra items, mainly snack items or small sides to go with meals, a breeze. I don't know about you, but when I tried out past weight loss programs one thing I found myself hating was the need to shop for a huge shopping list of items. I would spend top dollar for a program, and still have to spend time at the market reading labels, in order to successful complete a program. It was too much work, and a lot of money, on top of what I already paid. That is why I am loving the Atkins Easy Peasy meal kits, as you are sent almost everything you need.
"Atkins offers the tools and education needed to help consumers eat a balanced diet with reduced levels of refined carbohydrates and added sugars, and rich in protein, fiber, fruits, vegetables and good fats."
As you can see from the shopping list on the right side, this is recommended, but not required. So, if you find yourself pressed for time and can't make it to the market, you can use the extra goodies sent to you, to find items you have in the pantry to go along with the weekly meal plan.
I wanted to get the whole experience, so I purchased the recommended items from the grocery store before beginning my week on Atkins. This is what I bought...
Some of the vegetables I pulled from our garden and had butter on hand, so the shopping list I took the market was small, and cost under $15.
When I got hope, I looked over the suggested weekly meal plan and started to organize the shakes and snack bars. I will say that a few days I switched up, as I was craving chili or a breakfast meal. And, in doing so, I didn't have to worry about messing up my diet or adding more carbs and sugars to my week, as the week of meals you are sent are proportioned to take the guessing out of counting carbs and sugars.
I could go on and on about the convenience of these new easy-to-prepare meal kits. But, I know you are all wanting to see what the food looks like outside the box and how it tastes. So, here are some photos I took of the food...
I don't know about you, but the food looks much better than other diet frozen meals. I was not disappointed when I took a meal out of the box, which was the case with past ones that were only a small serving or looked like baby food. The trays were full and when heated up, the food tasted amazing. I am not lying, I was so impressed with the overall quality of the food. And, at times I found myself forgetting that it was meant for weight loss or those looking for a low-carb diet.
Each and every meal and snack time, I found myself full and content. I was not finding myself hungry 20 minutes later, or with a heavy weight in the belly. Another thing I found from eating these meals that I didn't with other brands is that I had more energy. I wasn't feeling sluggish or crashing at the end of the day from a limited sugar and carb diet. My moods were better. I was able to work out longer at home or at the gym and not craze sweets or snacks right after. And, unlike other meal programs, I really looked forward to waking up and getting my meals together for the day. I knew they would taste great, and that I would start and end the day feeling great and knowing that I was eating healthy.
Even though I was only sent a week's worth of meals, I did visit my local market and pick up more snack bars, shakes and frozen meals to continue with my low-carb diet journey. It has been a little over 2 weeks now, and I have already lost 7 pounds, and find myself with more energy every day. And, thanks to the extra goodies including the Atkins made easy book, I am in control of this healthy way of eating journey and can really see the difference in how I feel and how I don't craze snacks throughout the day. Each and every meal I am satisfied, and can wait until the next. Try saying that about other weight loss programs. I, for one, fall off the diet wagon as I need snacks or craze sugary foods to get me through the day, especially with my two girls who are always going from the time they get up, until they lay down for bed for the night.
Overall, I have to say my experience with the new Atkins Meal Kits was a positive one. I have been sharing my experience with friends and family, as well as people I know online who have struggled like me to stay on a low-carb diet or complete a successful weight loss program. If you have struggled to find a weight loss program that not only meets your needs, but also tastes great, then you will want to get out the new Atkins Meal Kits.
You will love the convenience of having the weekly meal plans laid out for you, and the simplicity of the shopping list. And, once you try a meal you will see why I and so many others have become fans of Atkins. They really are great meals and snacks, and affordable if you figure out the math on what you spend now trying to create low-carb or healthy meals for breakfast, lunch and dinner, and snacks in between. With the meals being delivered right to your door, what more in the way of convenience can you ask for? :-)
TRY IT TODAY AND SAVE $$$!!!!
Atkins Meal Kits cover a week's worth of food and tools, with three different options to choose from for one's needs and lifestyle. And, all plans come with the Atkins Meal Kit Guide, The New Atkins Made Easy book, the Atkins Carb Counter and the Recipe Booklet.
All Meal Kits are offered exclusively at Atkins.com with a current offer for free shipping and five percent off on orders for a limited time (Until September 30th) with promotional code NEWKIT5. The Meal Kits may also be purchased as a recurring subscription.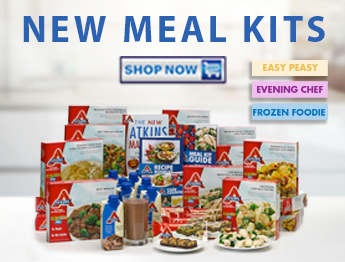 Once your order your Atkins Meal Kits you can
receive free support from nutritionists, access educational materials and share insights from your personal weight-loss journey with other members of the Atkins community.
Stay up-to-date on all things related to Atkins by following their social media channels below...
@AtkinsInsider - Atkins on Twitter
@AtkinsInsider - Atkins on Intagram
@AtkinsDiet - Atkins on Facebook
About Atkins Nutritionals, Inc.:
Atkins Nutritionals, Inc. is the leading low-carb program for consumers looking to achieve a healthy lifestyle. From weight loss and maintenance to improved overall health, Atkins offers the tools and education needed to help consumers eat a balanced diet with reduced levels of refined carbohydrates and added sugars, and rich in protein, fiber, fruits, vegetables and good fats. Its extended portfolio of products, ranging from frozen meals and nutrition bars to shakes and snacks, provide convenient low-carb solutions to help the body burn more fat and work more efficiently, while keeping consumers satisfied and energetic.
Backed by more than 80 published scientific studies and consumer success stories, Atkins is a long-term, well-balanced program that appeals to a broad audience of men and women who want to achieve their weight management goals and enjoy a healthier lifestyle. Atkins products are available online at Atkins.com and in more than 50,000 locations throughout the U.S. and internationally. To learn more about Atkins, visit Atkins.com.
Disclosure: This post is
sponsored by the Role
Mommy Writer's Network. However, all views shared are mine and mine alone.