Disclosure: This is a sponsored post with Doctor on Demand in which I was compensated for my time. However, all views shared are mine and mine alone.

It is that time of year...colds, the flu and viruses going around. Has your family been hit yet? As I write this post, I can't help but notice a few notices come through on Facebook about schools in CT and MA that are closed today due to 200+ students and faculty out with a stomach virus. Wow, I don't remember them closing schools for a day due to illness when I was younger. Do you? I can only imagine what the local doctor and pediatricians offices in these areas look like...crazy busy, for sure!

Well, we have been dealing with our fair share of colds, viruses and sinus infections these past few months. It seems that when school started, so did the colds and illnesses that needed trips to the doctors and medicine to treat. Fun stuff, right? I don't know about you, but I find that when I take the girls or myself to the doctor's, the waiting room is always packed with people coughing, sneezing and spreading germs. A few instances, maybe because our immune systems were already compromised due to illness, we ended getting sicker days later with stomach bugs or another type of virus.

With so many people under the weather with stomach bugs, the flu, viruses, etc., and needing to seek medical treatment or advice, are there options outside a doctor's office? Why yes there is! Remember me talking about telemedicine services in the past? These are sites that offer virtual visits with board certified doctors 24/7, without having to leave your home. I raved about this option in the past, as it is so hard to get two little ones ready when one or both aren't feeling well, and then having to keep them entertained as we wait to see the doctor. We seem to spend more time in the waiting room than seeing the doctor. Because of this, not wanting to contract further germs and the most important reason, next to the convenience of not having to leave your home, is that a virtual office visit with a doctor is (only $40 for 15 minutes

for

Medical & Pediatrics calls

), I reach for my phone or laptop whenever I need to see a doctor for myself or my family. This is great for people who don't have medical insurance, have high deductibles that they have to meet and/or high co-pays.

So, which telehealth service do I prefer? I have tried out a few different ones, but have found Doctor On Demand to be my favorite. I love all the doctors I have met with and if I ever run into a technical issue, the customer service at Doctor On Demand is exceptional.

Here is more about Doctor On Demand, including the types of symptoms that can be treated by their extensive list of board certified doctors...
Next time you find yourself reaching for the phone to call and make an appointment to see the doctor for yourself or your family, why not consider using the Doctor on Demand app, if you find yourself with any of the following...
Use Doctor On Demand for --
Cold, cough, flu, allergies

Rash, Pink eye, hay fever

Asthma, bladder infections

Pediatric questions

Most cases that are not life threatening

Prescriptions refills

Referral to a specialist
Do not use Doctor On Demand for any medical problem that is life-threatening --
Chest pain/pressure

Poisoning

Seizures

Serious head, neck or back injury

Broken bone
Once you have a Doctor on Demand doctor on the phone, you will have their undivided attention to the duration of the call. You don't have to worry about thinking about another patient they just saw, how many patients are after you, or having to step out of the room to make a phone call or speak to the pharmacy. They are there for you, which I love!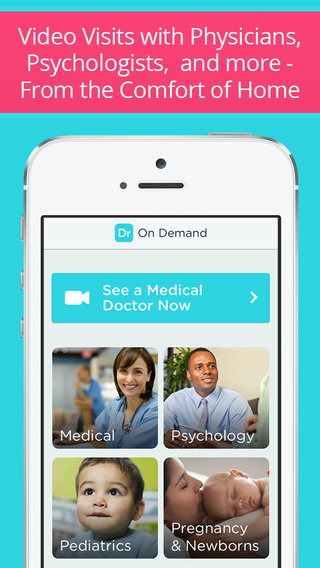 Recently, I found myself in the ER after talking with a doctor from

Doctor On Demand

. It turned out that a sinus infection turned into bronchitis which led to pneumonia. I was having trouble swallowing from the irritated throat and a fever of 102.5. The doctor told me to head right to the ER and his diagnosis was right. I returned home on bed rest, only to find that my girls were sick yet again with a head cold. My husband didn't want to take them to the walk in clinic as he drove by and it had a full parking lot, so he asked what he could do, as he wasn't sure if the girls needed stronger medicine. I reminded him of

Doctor On Demand

and said he could meet with a doctor sitting at the dining room table or sitting on the couch with the girls.

I also told him that the girls feel more comfortable talking with a doctor when they are in the comfort of their own home.

As I was resting in bed, my husband was in the living room talking with a doctor, who sent an antibiotic for the girls to the local pharmacy.
Who knew seeing the doctor with two little ones in tow would be so easy. :-)
Savannah telling the Doctor on Demand pediatrician her symptoms...what a big girl!
In under 10 minutes the doctor met with the girls and my husband through a virtual office visit, asked the necessary questions and provided a diagnosis and even follow report. Now, how is that for convenience?

I hope your family stays well this cold and flu season. But, if you find yourself needing to medical advice or treatment, why not consider using Doctor on Demand and save a stressful trip to your local doctor or pediatrician's office. You will get the professional care from a board certified doctor without the hassle of waiting a long time to see the doctor and you will probably also save more as a phone call with a Doctor on Demand is

a $40 flat fee for 15 minutes for

Medical & Pediatrics calls (

Note: A

25-minute Psychologist session is only $50)

(if you go over 15 minutes, you are billed an additional $40 for each additional 15-minute increment)

--- that is after your first FREE call. Yes, you read that right! Your first Doctor on Demand visit is FREE, just for being an Inspired by Savannah reader. :-) Simply use promo code

INSPIRED50

to get your first virtual doctor's visit FREE.

So, what are you waiting for? Don't let that cough or cold go any longer,

or chance not getting the necessary medical treatments and diagnosis that you and your family deserve, in hopes to save money. Instead, make sure you have the Doctor On Demand app downloaded and ready to use, when a non-life-threatening medical issue arises, and you need advice, but don't want to pay high co-pays and deductibles.
My husband doesn't mind the doctor anymore. :-)
Just knowing that I will be saving $$$, makes me love this app even more. Who knew that your could save your hard earned money and keep it in your pocket, just by using an on-call doctor service like Doctor On Demand?




I am so glad I had the opportunity to learn more about this app and try out it out firsthand. :-)

Once you give Doctor On Demand a try, I know you will love it too, and brag about it to family and friends.

.
Log on to Doctor on Demand and set up an account (easy as 1-2-3) and start feeling better once and for all. To learn more about

Doctor On Demand

or to sign up and try out your first FREE call today, visit http://www.doctorondemand.com/.
Stay up-to-date on all things related to

Doctor On Demand

by following them on their social their media channels....
Disclosure: This is a sponsored post with Doctor on Demand in which I was compensated for my time. However, all views shared are mine and mine alone.