Disclosure: This is a sponsored post in which I was compensated for my time. However, all views shared are mine and mine alone.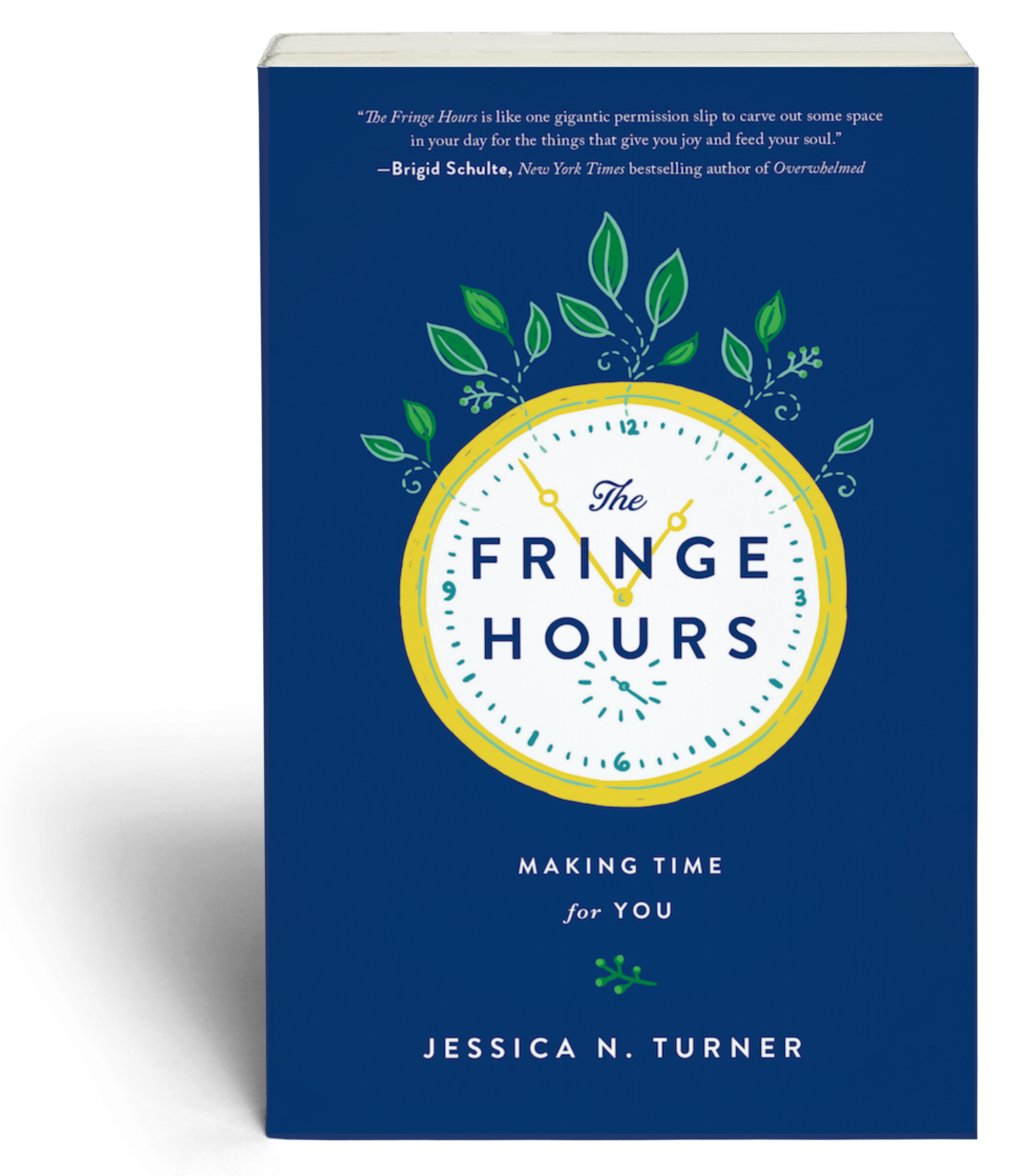 The Kindle price of The Fringe Hours is only $2.99 through January 16th (tomorrow)
. This is the lowest the book has ever been and I am so excited for you to share the sale with my readers.
Can you believe that we are halfway through January? I am still recovering from the craziness of the holidays, which seemed like they came fast last year. It was only last week that I finally took down the last of the Christmas decorations and finally packed away the tree until December. With 15 days of the new year under our belts, how are your resolutions going? Do you make resolutions? And, if so, how are you at keeping them?
I have learned since welcoming my girls that in order to keep resolutions I need to make them realistic. Yes, I could say I will lose X number of pounds or go to the gym X number of days. But, if I wasn't doing it in the last year or struggled to lose the extra weight before, how do I think I can do it in 2016. I don't know about you, but I really get upset when I find myself giving up resolutions so early in the new year as I don't see myself following through.
This year, I only made one resolution that I knew I had to keep, and that would benefit both myself and my family. What is my 2016 resolution? It is to make and take "me time" for myself each and every day.
Even if I can only squeak in 5-10 minutes in a day for a longer shower, or to put my feet up at the end of the night after everyone is in bed to read a few pages in a book or magazine, or simply to breath...I will do it! I kept telling myself last year that "me time" was important. I also recall sharing in a few posts how "me time" especially for new moms was a must, so that you don't burn out. But, I, like so many other moms with busy work and life schedules found myself not taking this much needed "me time."
So, what happens when you go without "me time?" For me, I get cranky, as if I don't have my morning coffee. I also lack patience, which is a must when you have little ones. And, now that I homeschool my girls and am home with them around the clock, and usually driving around for groups and meetups, I really need take "me time" each day to recharge my batteries and relax, so that I ready each day to tackle the craziness of today's busy families.
Take a look at your family's schedule in a given week? How long are you in the car driving the kids back and forth to sports practice and games, after school clubs and meetups, or appointments? Then, factor in time to run errands and food shop. Do you have things penciled in on the calendar that are just for you? Just because you have a family and kids to take care of, you still have your own passions to pursue. Are you pursuing these passions or hobbies? Probably not. Last year, I rarely found time...scratch that...made time for ME. Oh, how I wished I took a night to go to a paint bar with the girls, took a show, or simply met up with a friend at the local coffee shop. Every time I thought I found extra time in the day to do something nice for myself, either the kids got sick, I forgot about an appointment I had, or had to rush around for someone in the family.
So, for 2016, I decided to make this the year for ME. Are you with me? I hope you consider adding this to your resolutions...or at least try to make the necessary "me time" to practice self-care and to pursue your own passions, outside of caring for the family. If you have struggled in the past to practice self-care, as have I, you will want to pick up a copy of The Fringe Hours, which was written by

a fellow mom and blogger, Jessica Turner of

The Mom Creative.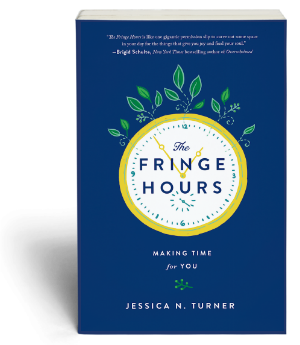 Buy the Kindle Version Now for only $1.99 from Amazon
Every woman has had this experience: you get to the end of the day and realize you did nothing for you. And if you go days, weeks, or even months in this cycle, you begin to feel like you have lost a bit of yourself.
While life is busy with a litany of must-dos—work, parenting, keeping house, grocery shopping, laundry and on and on—women do not have to push their own needs aside. Yet this is often what happens. There's just no time, right? Wrong.
In this practical and liberating book, Jessica Turner empowers women to take back pockets of time they already have in their day in order to practice self-care and do the things they love. Turner uses her own experiences and those of women across the country to teach readers how to balance their many responsibilities while still taking time to invest in themselves. She also addresses barriers to this lifestyle, such as comparison and guilt, and demonstrates how eliminating these feelings and making changes to one's schedule will make the reader a better wife, mother, and friend.
Perfect for any woman who is doing everything for everyone—except herself—The Fringe Hours is ideal for both individuals and small group use."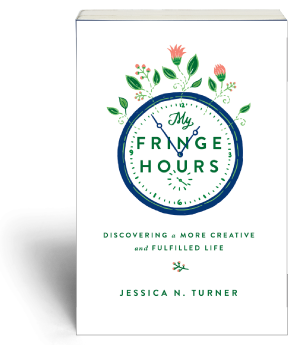 More about this book:
"Women are tired of getting to the end of the day and realizing they haven't done one thing for themselves. In
The Fringe Hours
, Jessica Turner revealed the pockets of time women already have in their day and encouraged them to use those fringe hours to practice self care and do the things they love. Now she's ready to take readers a step forward, leading them through their own inspiring journey to a changed life.
Equally practical and beautiful,
My Fringe Hours
offers busy women both inspiration and a space to make its concepts their own. Each section includes thought-provoking questions, space for reflective journaling and planning, and targeted motivation to help them use their fringe hours to live more creative and fulfilled lives.
The perfect gift for the busy woman, this unique, interactive book gives clear guidance on how to begin a practice that will change her life."
In addition to reading The Fringe Hours by Jessica Turner, I have also been enjoying The Fringe Hours stationary and goodies I was sent from the folks at Love, Hallmark that you can find at DaySpring.com, as part of this campaign. Just look at the beautiful stationary, postcards, greeting cards that I have using as part of my "me time" resolution.
I have loved sending these to my dear friends to remind them about how important they are and also to remind them to take time for their passions, too!
Jessica has partnered with Dayspring to create an exclusive set of products inspired by The Fringe Hours

and designed to help you recapture time for yourself and your dreams.
Visit Dayspring.com to find these exclusive products inspired by

The Fringe Hours

.
Notice the two quotes on the the journal and greeting card set in the photos? They have become my favorites and ones I recite to myself day in and day out when I find myself thinking about not taking "me time," due to the craziness of the day...
"You are never too busy to make time for what you love."
So, let me ask you...what do you love? Put your family and kids aside. What are your passions? Have a hard time thinking of them? If so, then you really need to pick up The Fringe Hours and start reading so that you find your passions again. Also, encourage your friends, who are in the same boat, to do the same. Share the book or send them a greeting card from The Fringe Hours to help them find their fringe hours. They will thank you for it!
Join me in taking part in The Fringe Hours movement today, This movement will empower women to do more for ourselves, which in turn makes us all happier and be reminded that we MATTER. Redeem your fringe hours to take back your passions and find the real joy in life besides being a Mom, wife, friend, daughter, etc. Start by tracking your time in a given week and see where your fringe hours fall. You can use this FREE time tracker (free download here) to track your time in a given week.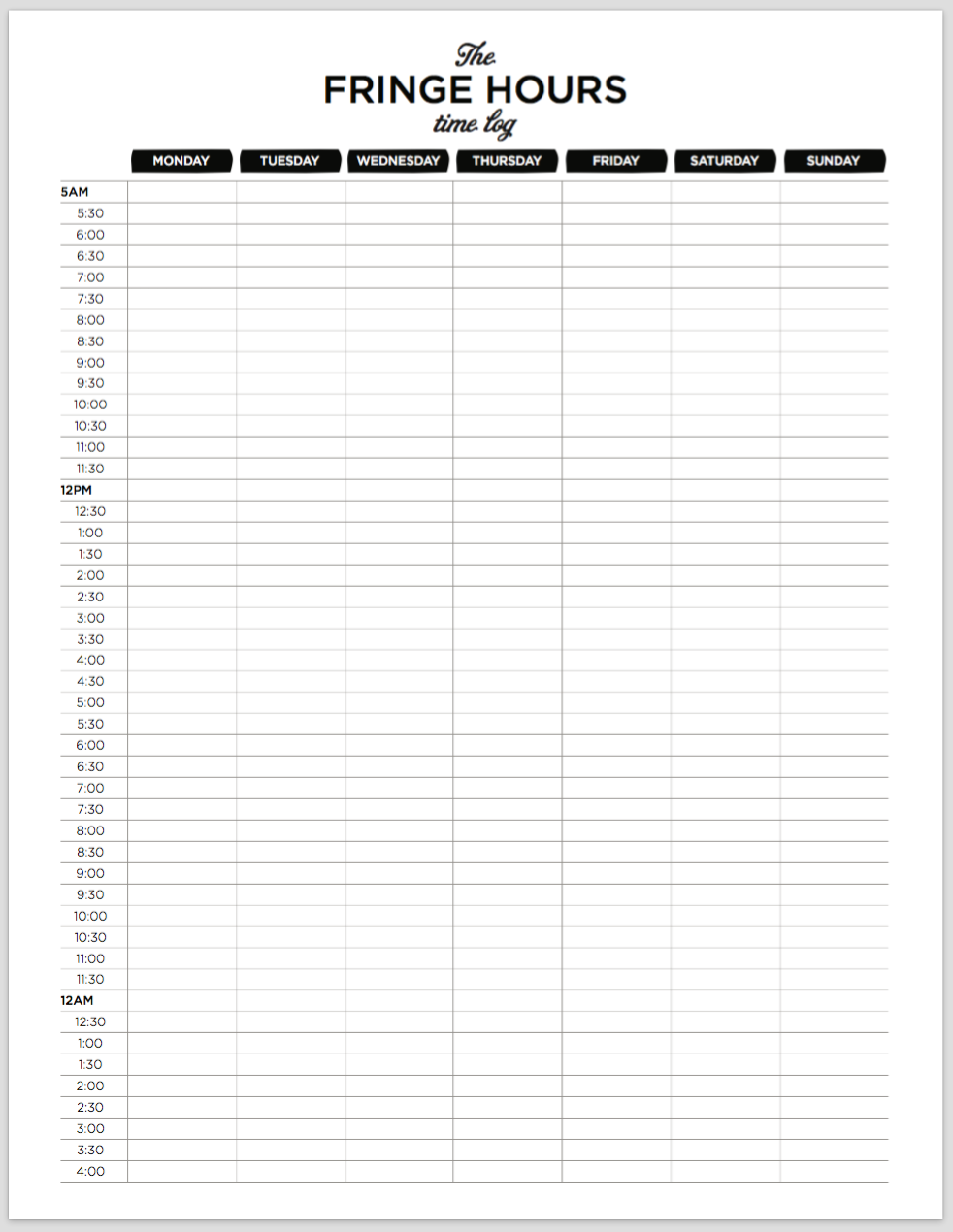 Use this free weekly time tracker as a regular personal resource to help you find, plan, and maximize your fringe hours.
I have found this time tracker so beneficial and helpful in finding the necessary "me time."
With the help of Jessica's books, I have finally found ways to help fit my passions into my daily schedule. Just like Jessica said in the video shared above, that she doesn't do it all, I can see that it is OK not getting it all done in a day. Once you recognize this and accept that there is always tomorrow, then you are ready to work at fitting the necessary "me time" in your day and sticking to it each and every day.
Once you make "me time" a priority in your life, you will be amazed at the undiscovered extra time in your day. Jessica writes in such a relatable and inspirational way that you find yourself not feeling guilty for wanting to sneak a little "me time' into your day for your own passions. By focusing on "you" and doing things for yourself during the fringe hours in your day, you will find yourself feeling more relaxed and having a more fulfilled life. Don't believe me? Then, pick up The Fringe Hours and start working on a new 2016 -- making time for yourself!
About the Author: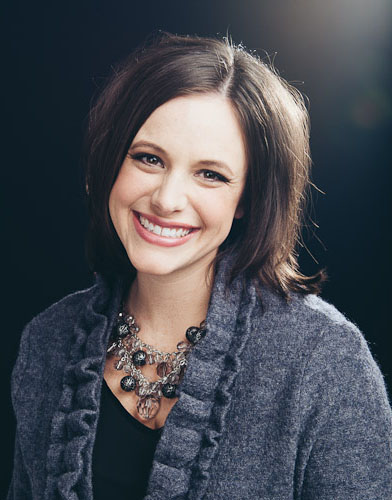 Jessica Turner is wife, mom, marketing professional and founder of the lifestyle blog
The Mom Creative
. There she documents her pursuit of cultivating a life well-crafted, through posts mostly on parenting, memory keeping and frugal living. Jessica is also an
(in)courage
writer, co-host of the
Bloom Book Club
, a
blogger for World Vision
and a
Big Picture Classes
teacher. She and her husband Matthew live in Nashville, Tenn. with their three young children: Elias, Adeline, and brand-new Ezra.
Learn more about Jessica Turner and The Fringe Hours by visiting http://fringehours.com/
Disclosure: This is a sponsored post in which I was compensated for my time. However, all views shared are mine and mine alone.