Disclosure: I was sent samples from the vendor in order to write up an honest review. All views shared are mine and mine alone.
You can't celebrate Easter without Chocolate Easter bunnies and other tasty treats, right? When it comes to filling my girls' Easter baskets, I always reach for RM Palmer Company chocolate. Not only are their chocolate bunnies cute to look at, but they taste great too -- especially if you start by nibbling at the ears and working your way down...so says my daughter, Savannah. :-)
Over the past few years I have developed a wonderful working relationship with the folks at RM Palmer Company in which they send along their holiday offering for me to sample with the girls and create fun desserts and crafts with. Unfortunately due to a family emergency last year, I wasn't able to participate. But, I was excited when they reached out this year, and couldn't wait to receive samples to share with the girls.
I am not sure who was more excited when the box from RM Palmer arrived at the door, the girls or myself. While they didn't know what was inside, I sure did, and being a chocolate lover, couldn't wait to see what fun and oh so tasty Easter treats were inside.
Just look at what was included in the box...
The folks at RM Palmer were kind enough to send two of each, so that my girls could have their own. Maybe they knew that my girls are still working on sharing, and that it is best to have two of everything. This sure saved me in having to rush out to the store to buy more. :-)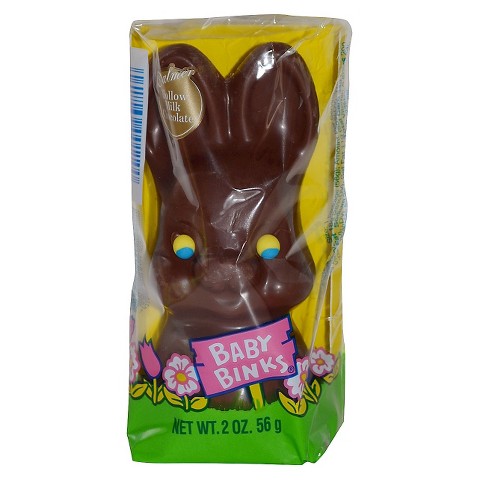 Both of my girls were quick to grab the Baby Binks, which has become a staple in their Easter baskets.
Savannah couldnt' stop talking about how she remembered seeing this last year when she saw her Easter basket filled with goodies on Easter morning at the foot of her bed. She also remembered how good it tasted, and couldn't wait to peel open the wrapper and take a bite out of little Baby Binks' ears. :-)
Another favorite RM Palmer treat that I had picked up for my girls last Easter and that was included in the box of goodies this year was their Fun'n Games chocolate puzzle.
Remember back as a kid playing those labyrinth and maze style games? I used to love these games, even though they could be frustrating at times. Well, now you can enjoy this puzzle game, but with chocolate. As a prize for winning the game, you can devour the board game. Or, if you can't seem to get the chocolate ball to the other end of the puzzle...eat it anyway. Either way, you will love the taste of this rich milk chocolate treat from RM Palmer. I ended up picking up a handful of these to give to my nieces and nephew this Easter, and was keeping one for myself. :-)
Who doesn't love ducks, especially cute little ones? Well, the folks at RM Palmer Company have you covered with their fun Quax duck, which is made of pure milk chocolate.
It is hollow, and will crumble once you take a bite. But, don't worry as you will still love nibbling away at this. My girls were reluctant to eat their Quax, but after holding it and playing around with it too much, it began to melt, or so they said...so, they had to eat it. Boy, were their bellies happy, and they had a grin on their face as they told me they ate the little yellow duck (by accident).
I was excited to find the Color Me Cottontail chocolate bunny in the box of goodies sent for the girls.
The only difference with this box filled with an Easter-themed milk chocolate bunny, is that your child gets to color the outside packaging with crayons.
My girls thought this was the coolest thing, and had a blast designing their very own chocolate bunny box. Savannah even brought it in to show and tell to show her class. She was so proud of her coloring and kept pointing out how she stayed in the lines. I will definitely be keeping the box once the chocolate bunny is gone, to show her down the road. :-)
Other fun goodies that were included in our RM Palmer Easter sweets box were mesh bags of carrots, which the girls and I plan to use to decorate cupcakes for Savannah's upcoming Easter party at school -- stay tuned for photos I will share on my social media pages, as well as 18 oz. bags of Easter mix (which included milk chocolate and peanut butter foil wrapped candies) and my personal favorite, 3 oz. bags of Double Crisp Bunny pops.
I kept asking the girls if they would share their bunny pop with me.
And, thanks for it being oversized, the girls got full fast, trying to devour it quickly, so I had to step in and finish, as you all know chocolate doesn't store well...shh, don't tell the girls otherwise! :-)
When the girls weren't sneaking chocolate from the RM Palmer box, we were having a blast trying to incorporate some of the chocolates from the Easter Mix bags into fun recipes. We found inspiration from recipes shared on the RM Palmer Company website, which you can see here...
Is your child having an Easter party at school, or do you just love going all up making fun sweets for family and friends to enjoy at your Easter dinner? Why not pick up some of the above RM Palmer Company Easter chocolates I mentioned above to make your dessert table extra playful, and one guests will hover over, trying to sample all the tasty treats you and your children make.
Here are just a few of the recipes I found when browsing the RM Palmer Company site and will be making for our upcoming Easter brunch with family at my house. I can't wait to hear what guests think of them.
My girls want to add licorice to make them look like cute little Easter baskets, too!
These are going to be a definite at our dessert table and at Savannah's school party.
They look too cute to eat!
And, I sure can't wait to get into the kitchen with the girls to make these tasty treats, as well as think of fun arts and crafts products to add these chocolates to -- thinking Easter bunny village or cute carrot patch scene that will act as a chocolate advent calendar to count down the days until Easter. :-) Savannah already picked out the Easter Candy Cones craft idea that she saw when browsing the Palmer site, as a fun way to hand out her Easter candy to her class.
And, I am hoping to do this fun egg carton craft with the girls I saw on their site -- super cute!
With only a couple weeks left until Easter, don't delay in picking up RM Palmer Company chocolate bunnies and other holidays treats to fill your child's basket with. The Easter mix bag and mesh bag of carrots are also perfect for filling the plastic eggs for egg hunts with. Looks like with all the snow still on the ground and many local Easter egg hunts being cancelled, that we will be having our family egg hunt inside. But, not to worry, as the eggs will be filled with chocolaty goodness from RM Palmer Company. :-)
To learn more about the chocolates I mentioned above, as well as other seasonal chocolate novelties available for this Easter season, visit www.rmpalmer.com. And, while you are there, don't forget to check out the fun stuff you can do with Palmer chocolate -- including games, recipes, crafts and more.
Happy Easter!!
Don't forget to follow RM Palmer Company on their social media pages for seasonal chocolate offerings, special offers and giveaways, fun craft and recipe ideas and more...
Each year, R.M.

Palmer

Co. manufactures 50 million hollow Easter bunnies in our facilities in Reading, Pennsylvania.

Palmer

's products are available at grocery stores, discount stores, drug stores and other retail outlets throughout the U.S.
R.M.

Palmer

Company has been crafting fun, seasonal chocolate novelties since 1948. Today, the R.M.

Palmer

Company is the 75th largest confectioner in the world, with more than $165 million in annual sales, and is the 21st largest confectioner in North America (according tocandyindustry.com). For more information about R.M.

Palmer

Company, visit
www.rmpalmer.com
.
Disclosure: I was sent samples from the vendor in order to write up an honest review. All views shared are mine and mine alone.