Disclosure:

I participated in an Influencer Activation on behalf of Influence Central for

Fellowes Brands

. I received a product sample to facilitate my review as well as a promotional item to thank me for my participation.
Have you started spring cleaning yet, or heck filed your taxes? I am not alone in not having started either. But, I can say that after going through stacks of paperwork I had laying around the office and house, I am in need of a good spring cleaning this year, that includes getting rid of personal documents that will need to be shredded, while organizing others so that future tax filing and even referencing of documents is easier.
It if funny how before kids and before we moved in our house, my husband and I used to pride ourselves on being organized. We had file cabinets full of our important personal documents. And, when it came to tax time, we just had to pull out a folder we had filled over the course of previous year with receipts and tax documents, thus making the entire tax filing process a breeze. Oh, the good 'ole days. Now, with a bigger house, which we seem to still be running out of space, and two little ones who help create messes for us to pick up, we are lucky if we can find our keys each morning. :-)
I will say, however, that when it comes to organizing papers and getting rid of documents that we no longer need, we have found the
Fellowes M-12C shredder, which I was sent around the holidays, a godsend.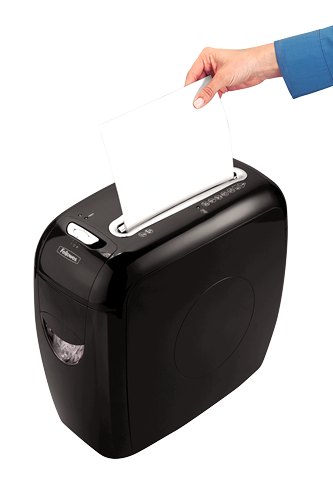 We had gone through half a dozen paper shredders over the years, as they would either burn out or break when we added too much paper or plastic to them. The
Fellowes M-12C shredder
has so many great features that you can't go wrong with investing in this popular branded shredder, either for yourself or to give as a wedding or even housewarming gift. While a paper shredder was never on my wedding or housewarming registries, I can see now how useful it is, that I wish I had asked for one. It would have saved me countless hours of cutting up bank and credit card statements by hand, as well as trying to cut credit cards and expired membership cards into tiny pieces with a dull pair of scissors. Ugh.
Why do I love the
Fellowes M-12C shredder
so much? Just check out these amazing features:
o

Cross-Cut blades that shreds 12 sheets of paper into approximately 302 particles per sheet for greater security
o

SafeSense® Technology which automatically disables the shredder when hands touch the paper opening -- a must for families with little ones in the home.
o

The ability to shred credit cards, paper clips, staples and junk mail for added convenience -- Can't get over this feature and how well it shreds this stuff.
o

Slim profile fits neatly under desks -- Only 16"H x 8.75"W x 17"D with a 4 gallon bin
o

A 5 minute run time before an automatic 20 minute cool down period
o

1 year product warranty and 5 year cutter warranty with your purchase
You can also read my previous review of this shredder here, in which I talked about my favorite features including the

SafeSense Technology that offered an added level of safety for families like mine with little ones, as well as the 5 minute run time, which allows me to shred a lot of paper in a matter of minutes, without having to wait for the shredder to cool down for another round of shred, thus eating away at my limited time in a day --

http://www.inspiredbysavannah.com/2014/12/the-fellowes-m-12c-shredder-makes-for.html.
Since receiving the
Fellowes M-12C shredder
a few months ago, I haven't been able to stop raving about it with friends and family, who like me, struggle to stay organized, while properly disposing of personal information safely.
I don't know about you, but having had my credit cards stolen a handful of times over the years, I am always looking for ways to protect my identity and accounts, especially when it comes to getting rid of outdated documents and cards. A shredder is a must have for everyone, even college students -- yes, they have credit cards and even school loans that they pay and have monthly statements, that will eventually need to be thrown away.
With spring cleaning upon us as well as summer weddings and families moving into new homes after this school year ends in June, now is the perfect time to purchase a
Fellowes M-12C shredder
to give as a gift, as well as pick up for your family. This shredder will help get you organized and dispose of outdated documents properly, so you don't have to worry about accounts or other personal information getting into the wrong hands after disposal. Once you find yourself organized and documents shredded and thrown out, you will find yourself working harder to keep things this way for the rest of the year. While it may be hard, especially with little ones or a busy work schedule, it really is a must in today's day and age when we have so many documents laying around the house that contain personal information that can be used to steal our identities, ruin our credit through fraudulent charges, etc.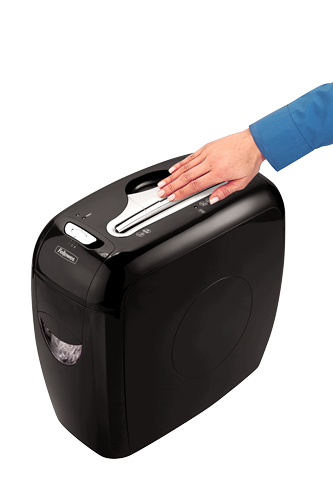 While you may think giving a
Fellowes M-12C shredder as a gift is crazy, you will find after buying one for yourself, that this is the perfect gift for any occasion, including spring cleaning. Newlyweds and new homeowners will thank you for the gift as it will help them get ready to start their new lives together with their spouse or in a new house. If you haven't moved in awhile, you would be surprised at much stuff you accumulate and hold onto over the years. Most of the documents you are holding onto can be getting rid of -- that is, if you shred them beforehand, thus protecting your personal information and identities from thieves.
Who knew you could love a shredder so much? The
Fellowes M-12C shredder is slowly helping me achieve one of my new year's resolutions to get organized and keep documents and personal information secure all year round. So, what are you waiting for? Join me in getting organized as you begin your spring cleaning/organizing, and think about giving a
Fellowes M-12C shredder as a gift to friend and family who will be getting married or moving into a new home soon. It really is the perfect gift, and one that everyone should have!
We will be attending a few weddings this spring/summer and I don't have to worry about what to get the bride and groom, as their
Fellowes M-12C shredder are already wrapped and waiting for them. :-)
--BUY NOW--
You can find the M-12C is available at
Target Stores
nationwide and
Target.com
with a suggested retail price of $99.99.
Don't forget to follow Fellowes on their social media pages to stay up-to-date on new product additions, news, special offers and more...or simply to drop them a line to rave about their amazing product offering. :-)
Disclosure:

I participated in an Influencer Activation on behalf of Influence Central for

Fellowes Brands

. I received a product sample to facilitate my review as well as a promotional item to thank me for my participation.