Disclosure:
I participated in an Influencer Activation on behalf of Influence Central for
Fellowes Brands
. I received a product sample to facilitate my review as well as a promotional item to thank me for my participation.
Have you finished all your holiday shopping, or are one of those people you see shopping last minute on Christmas Eve trying to find a gift amongst all the mess at stores? If you wait until the last minute, I wish you luck in finding the perfect gift for those remaining people on your holiday shopping list. And, if you see me husband out at the stores, say "Hi!," as he, too, is a procrastinator and waits until the very end to go shopping. :-)

Well, if you are still searching for a great gift idea that is also unexpected, why not consider giving that hard to shop for person on your list a paper shredder from Fellowes. Yes, you read that right -- a paper shredder. Think I am crazy? Just stop and think about it for a minute...most people charge gifts to their credit cards for the holidays and wait until after the New Year to throw out receipts, after their gifts have been received and will be kept by others, or they have paid off their credit card debt from the holidays. With so many incidents of identity theft, stealing of credit card information and personal information, you have to be very careful how you dispose of financial documents, bank and credit card statements and even receipts. This is where a paper shredder comes in. Just think of a paper shredder as a gift that keeps on giving, in the aspect that it will be used throughout the year -- from shredding leftover paperwork come tax time in Feb./March to spring cleaning of your home office or personal files, to times throughout the year where you simply want to shred a document, say from a doctor's visit or financial advisor that you don't need and don't want others to stumble upon in the trash.

Once you start using a Fellowes paper shredder, you will wonder how you ever lived without one, or put up with your old paper shredder which always seemed to be on the fritz. I can't tell you how many paper shredders I have been through. Some stopped working for no reason, others got jammed and never worked again, while another one would overheat after just adding 1-2 sheets of paper to the shredder. But, after doing my research for a paper shredder for work, I found that Fellowes ranks #1 when it comes to paper shredders. They are the best of the best, and you will see this after just one use.

When I left work to become a stay at home mom, blog and be a virtual assistant, I found myself wishing I had the Fellowes paper shredder I had researched and purchased for my previous employer. It worked so well, and really did get the job done in record time. I noticed myself needing to shred past medical records, as well as quarterly financial statements, business LLC paperwork, etc. But, the shredder that I had, which wasn't a Fellowes shredder, just didn't cut it. I found myself wasting time trying to feed papers through, emptying a small waste bin or having to wait for the machine to cool down before adding more. I would always tell myself that I could rip up the paper into little pieces faster than the shredder could.

With two young children at home and limited time to spend shredding papers, I need a paper shredder that really gets the job done. So, when I was given the opportunity to review the Fellowes M-12C, I jumped at the opportunity. It was like Christmas came early when I received the shredder. And, as soon as the girls went down for a nap, I plugged in the paper shredder and starting tackling piles of outdated documents that I had been meaning to get around to shredding, but needed a good shredder for.

Do you find yourself throwing papers that need to be shred into a corner of your home office, or even closet? Over time these stacks will pile up, until they start to fall over. This was what was happening to me, so receiving a Powershred® M-12C Cross-Cut Shredder, was an unexpected surprise and the best gift I could have received for the holidays.
For 1 user

Slim profile fits neatly under desks

1 year product warranty and 5 year cutter warranty



The Fellowes M-12C shredder's slim profile design and innovative technologies make it a great choice for at-home use. With its cross-cut blades, this shredder "will destroy 12 sheets of paper into approximately 302 particles per sheet, for greater security." It will also "shred for 5 minutes before automatically cooling down."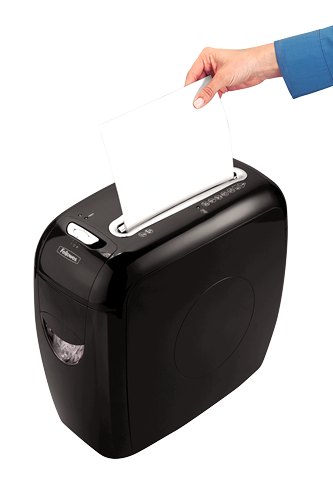 After a few days of shredding -- yes, it took that long to go through the past few years of papers I was storing, I finally got the alcove in our top floor neat and tidy again. I never thought the day would come when I could actually find things I was looking for and not walk past and see an overflow of paper.

What is so amazing about the Fellowes M-12C shredder and why would if make the perfect gift this holiday season? Well, besides the features shared above, the shredder will shred about 12 pages per pass through or 1 credit card. In addition to shredding paper, the shredder also will shred small paper clips, credit cards, staples and junk mail. Staples and paper clips were always the reason why my old shredders would jam or break. Even though the shredders said they could handle these little buggers, they really couldn't. Being a busy mom on the go, I love being able to shred that many papers at once pass. I have been finding myself walking past the shredder which I set up in the upstairs hallways and shredding documents, junk mail, etc. as they come along, so that they don't start piling up and eventually winding up into the mess that we have had for quite some time, and that I tried to overlook every time I walked past it.

Besides the amount of paper that you can put through in one pass, I have to say my favorite feature of the Fellowes M-12C shredder is its SafeSense Technology, which adds an added level of security, especially with two little ones in our house. When the girls saw me plugging in the shredder, they thought it was a toy. So, when I read in the manual that this shredder cane with SafeSense Technology, I felt relived in knowing that if my girls ever try to put their fingers in or near the paper opening that it will shut off automatically.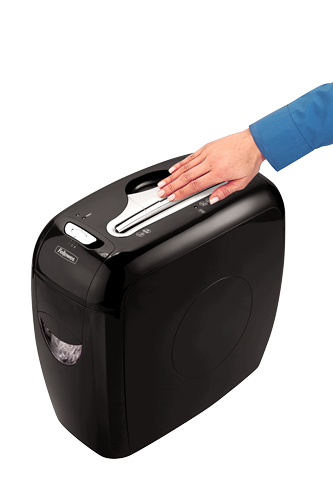 This was never a feature of the other shredders I used to own. And, now that we have little ones, it is definitely a must have, as we need this added level of security with the Fellowes shredder within their reach.
So, as you can see, a paper shredder does make a great gift idea for those hard to shop for people, or even as a gift you would want for yourself. With the new year fast approaching and people starting to think about resolutions for the new year, why not make one of your resolutions to get organized for once and for all, and that includes shredding and disposing of important documents in a safe manner. The last think you want to have to worry about in 2015 is having to deal with identity or credit card theft due to be careless in how you dispose of receipts, statements or other documents you have that contain personal information as well as account numbers. Clear the clutter once and for all with the help of the Fellowes M-12C.

While you may laugh at the thought of receiving a paper shredder as a gift, once you start using it, you will see that is the best gift you could have received, as it is something that can be used year round and for years to come. So, stop stressing out over what to get those remaining people on your list, or even about a gift you want to give yourself, and pick up a Fellowes M-12C shredder today. You will be hailed the perfect gift giver, and will hear rave reviews about how great this shredder is, and how useful it is. I am not kidding! :-)

To learn more about Fellowes and their line of paper shredders, visit: www.fellowes.com. You can also find more information about the Fellowes M-12C Shredder, which I have been using and absolutely love by visiting its product page here: http://bit.ly/11ouX5v.
--BUY NOW--
The M-12C is available at
Target Store
nationwide and
Target.com
with a suggested retail price of $99.99.
Stay up-to-date on special offers, new product additions to the Fellowes product line, and more by following these social media channels...
Disclsosure:
I participated in an Influencer Activation on behalf of Influence Central for
Fellowes Brands
. I received a product sample to facilitate my review as well as a promotional item to thank me for my participation.