Disclosure: I was sent a screener by the vendor in order to write up an honest review. All views shared are mine and mine alone.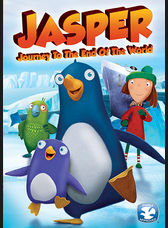 Synopsis:
"

Join the cutest and most curious penguin you've ever seen in the delightful animated adventure Jasper: Journey To The End Of The World!
Down at the icy South Pole, Jasper and his family live a peaceful and happy life. But when he and his brother Junior run afoul of the evil Dr. Block and a scheme to steal some rare parrot eggs, it's up to the plucky penguin to save the day! With the help of Junior and their new friend, a nine-year-old girl named Emma, Jasper embarks on an incredible journey that will take him to places he'd never imagined before."
Is there a particular animal that your little ones go crazy for? Both of my girls love penguins. From books, to toys and an even movies, our house is filled with all sorts of penguin fun. So, when the girls saw this upcoming Shout! Factory release come in the mail, they couldn't wait to watch it. And, thanks to a couple snow days and no school, they were able to fit this movie into their busy schedule -- their words, not mine! :-)
This family-friendly movie is a real treat and one the whole family wil enjoy watching, over and over again. It stars two penguin brothers, Jasper and Junior, who rescue parrot eggs from the evil Dr. Block. The two brothers also become friends with a little girl named, Emma, who comes along on their fun-filled journey to help save these rare parrot eggs.
From the start of this movie, both kids and adults will be drawn in. Not only is the story line easy to follow along with, but the animation and beautiful colors really are eye pleasing, and make this movie more enjoyable to watch.
Not only is this movie enjoyable to watch, but it also shares wonderful life lessons that parents can talk to their child(ren) about after the movie, including listening to your parents, protecting the environment and its many animals/habitats, as well as being responsible for yourself and family (including siblings). We continue to draw on this movie and scenes from the film when discussing listening to your parents, as the girls seem to be struggling with this during their terrible 3's and 4's stage they are currently going through.
You don't have to be a fan of penguins to fall in love with with this cute Dove-approved film. So, if you are looking for a new movie to share with your family for an upcoming family movie night, why not pre-order this DVD or make a point to pick it up when it hits store shelves on March 10th. You'll find yourself smiling as you watch Junior, Jasper and Emma embark on a journey of a lifetime.
Disclosure: I was sent a screener by the vendor in order to write up an honest review. All views shared are mine and mine alone.