Disclosure: I was sent a sample from the vendor in order to write up an honest review. All views shared are mine and mine alone.
Even though the

Marvel Creativity Studio stylus from with FREE downloadable iPad app from Kiddesigns came out in 2013, it was new to me, and was an instant hit with my husband and 7 year old nephew, who are both marvel and comic book fans.
"
The Marvel Creativity Studio Deluxe Smart Stylus and App help turn your iPad into an interactive art studio where you and your kids can learn to draw, color, and animate your favorite Marvel heroes and villains. Set your creativity free with characters from Avengers Assemble, The Ultimate Spider-Man and Hulk, and the Agents of Smash."
Interactive grid system and a "Drawing Scope" help you draw your favorite Marvel characters from "Avengers Assemble," "Ultimate Spider-Man" and "Hulk and the Agents of Smash"

Use character stickers, sound effects, speech bubbles and backgrounds to build and animate action scenes and direct your characters

Over 45 official character and speech bubble sound effects help you animate your scenes like a pro

Professionally illustrated coloring pages provide more than eight drawing tools and a palette of over 64 colors so you can add your own personal style

Smart Stylus lets you wirelessly switch tools and change the line thickness for precise drawings

"Shake" the Smart Stylus to animate your creations and more

More than 100 unique "pages" offer Drawing, Coloring and Animating and other activities

Use your creation in the Assemble activity to personalize your animated scenes

Sticker Creator lets you make custom stickers from the drawing and coloring pages

Interactive help videos guide you through each activity

Smart Stylus interacts wirelessly with your iPad (sold separately)

Requires the Marvel Creativity Studio app (free app redemption card included)
And, once my girls saw their daddy and cousin coloring in and bringing to life scenes with Spider Man and other Marvel characters, they wanted to try, too! :-)
Do you have a Marvel fan in your life who owns an iPad? If so, and you are still looking for the perfect gift to give them this holiday season, why not consider picking up the
Marvel Creativity Studio stylus with app.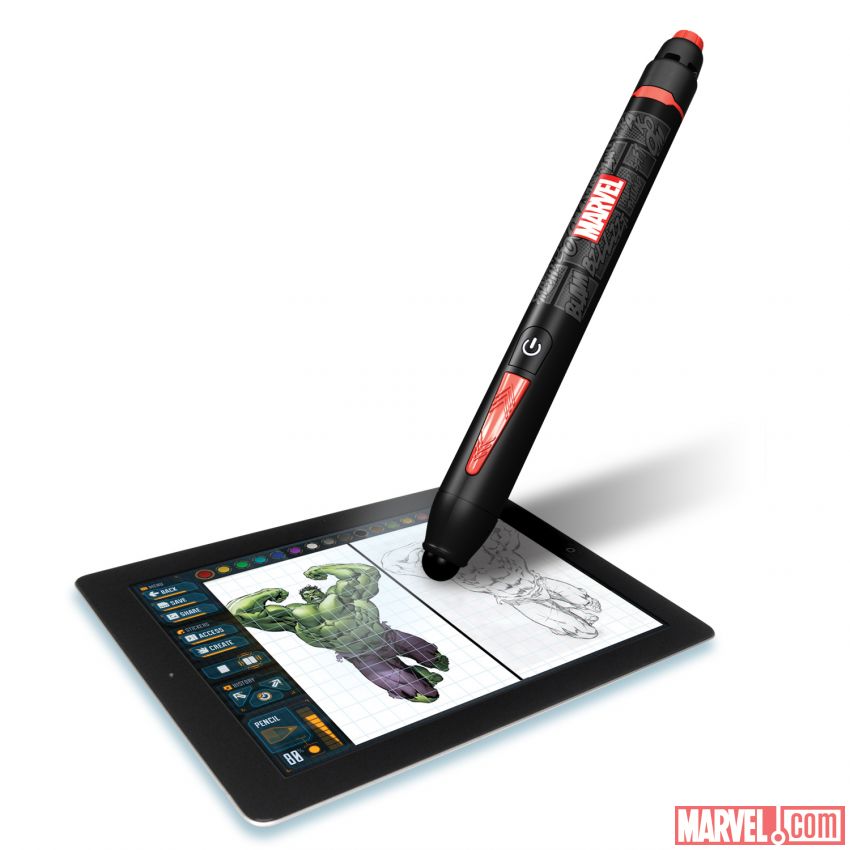 Available at both retail stores like Toys 'R Us, as well as online stores including Amazon.com, the
Marvel Creativity Studio stylus with app is a must for Marvel fans, who have always wanted to learn how to draw their favorite comic books/superhero characters.
The Marvel Creativity Studio stylus, which averages about $25.00 also comes with a storage case to store the stylus --
But, the real fun begins once you download the FREE Marvel Creativity Studio app through iTunes,
From coloring in scenes featuring Marvel heroes, to learning step by step how to draw them as well as assembling scenes where you drop in characters, "Action" words and more and then tap the screen to put it all together like a mini action sequence, the

Marvel Creativity Studio stylus and app will have fans saying things like "Oh, how cool", "Yes", "Ah, rad" as they navigate through the jam packed app that features Marvel's Ultimate Spider man, the Avengers and even Hulk (my husband's personal favorite).
Navigating through the app and learning to use the stylus is easy and will provide hours of fun for kids and adults of all ages. My girls couldn't stop stealing their Daddy's Marvel Stylus pen to color in fun scenes.
While they were merely coloring in the scenes or creating cool stickers, a real fan who is older than 4 yrs. old will thoroughly enjoy the added features of the coloring section, which lets you color like a pro with speciality tools including different paint brush tips and more.
Both my husband and nephew have been having a blast trying out the different features of the app. When asked what their favorite thing to do with their Marvel Creativity Studio Stylus is, they are both quick to respond with creating action scenes. They both love how you can create scenes that look like they came from a popular Marvel comic book, using stickers they have colored and saved, while adding in fun speech bubbles and sounds. Once you through in a cool background and hit play, the true fun begins.
From "Boom!" "Zzlpp" "Kra-Koom!" and other popular sounds you know and love from Marvel comic and your favorite superheros, this app turns fans into action scene creators, who can save their masterpieces and share with friends.
Who knew that a simple looking stylus like this can do so much...

Now my nephew is drawing his own comic book scenes thanks to the help of the drawing tutorial through the free Marvel Creativity Studio app, and together with my husband they are making fun action packed scenes that they will play over and over again, while adding their own fun sound effects to.
At only $25, which is how much the
Marvel Creativity Studio Stylus is going for, you can't go wrong, as the FREE app offers so much once you have the stylus in your hand. This is definitely a must for Marvel fans of all ages, and would make a great gift idea this upcoming holiday season.
Disclosure: I was sent a sample from the vendor in order to write up an honest review. All views shared are mine and mine alone.