Disclosure: I was given promo codes to download and giveaway from the vendor in exchange for an honest review. All views shared are mine and mine alone.
With the holidays fast approaching, I wanted to make sure you knew a fun app for kids from Tiggly. You may recall me sharing about Tiggly in the past, as I reviewed a handful of their apps that use their Tiggly Shapes. Right now, Tiggly Christmas is available for only $.99, until Dec. 23rd.
We downloaded this fun Christmas app a couple of hours ago, and the girls had a blast playing with the different activities and features of the app. We have the Tiggly Shapes, which although you don't need, is recommended for Tiggly Christmas. My girls especially loved being able to make postcards to send to family and friends, as well as decorate their own Christmas trees.
Right now, Savannah is learning about shapes at preschool, and thanks to Tiggly and their other apps, Savannah is top in her class when it comes to knowing her shapes. This fun holiday app really does a great job in helping little ones learn about shapes as they bring interactive features of the app to life. From creating windows on the outside of the house to even acting life an elf and making their own toys, kids can use the Tiggly shapes to create, while having fun.
Both of my girls loved this app, and will be playing with it long past the holidays. And, at a price of only $.99, you can't go wrong with this fun, educational app from one of my favorite app creators for kids, Tiggly.
Here is more about the app...
Tiggly Christmas takes your child through the secular traditions of Christmas: decorating the tree with Santa, fox, and drum ornaments, opening gifts, playing with toys, taking pictures, and sending festive postcards. Save your child's artwork as postcards to share with your loved ones!
Tiggly Christmas is designed to give children the opportunity of experiencing a magical holiday in an imaginative way. Playing with the app will also help children develop their creativity and spatial skills while learning about geometric shapes as they create ornaments and complex toys from squares, stars, circles, and triangles.
Tiggly Christmas works best with Tiggly Shapes.
ACTIVITIES:
Decorate your Christmas tree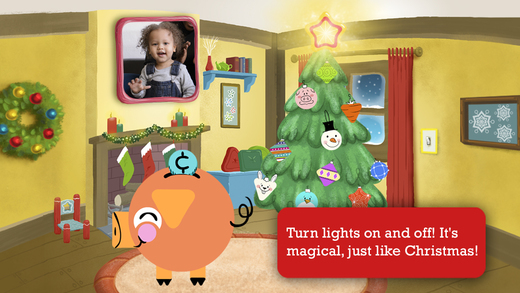 - See four basic shapes transform into 30 beautiful and colorful ornaments.
Open your gifts and make a big present
- Open your gifts to construct a rocking horse, a magic hat, a monster doll, and many other toys!
- Play with the toys you create! Funny and friendly interactions with toys are designed to delight children.
- Hear the names of shapes repeated for each shape and toy, helping children learn to speak new words.
Save a memory
- Take a picture of yourself that turns into a holiday postcard.
- Save festive postcards on your device to share with loved ones.
OTHER FEATURES INCLUDE
- Kid-friendly interface.
- Airdrop sharing functionality for iOS 7 and higher
- No ads or in-app purchases
- Educational game which can be played with or without Tiggly Shapes
With Christmas just a week away, I want to give 2 lucky readers the chance to win a free code to download the Tiggly Christmas app for free and enjoy with their kids. To enter, please leave a comment below telling me about one of your family's favorite holiday traditions. Be sure to leave your email address in the comment. At the end of the day today at 11:59PM EST, I will randomly choose two winners and email you the free code to download this holiday app. Good luck!
About Tiggly:
The Tiggly team is made up of PhDs, MBAs, parents, grandparents, uncles, and aunts who want to help parents introduce their children to the digital world in an easy yet educational way. Our educator-designed tablet toys interact with our learning apps because we believe there is a powerful learning opportunity in the combination of physical and digital play. Children explore geometric shapes and spatial relations by manipulating physical geometric blocks while interacting with their digital creations. Our team collaborates with Grammy and Emmy-award winning creative talent to craft products that parents and children both love.
Disclosure: I was given promo codes to download and giveaway from the vendor in exchange for an honest review. All views shared are mine and mine alone.