Disclosure: I was sent a sample from the vendor in order to write up an honest review. All views shared are mine and mine alone.
Do you love to dance and listening to chart topping music? And do you own any of these video gaming consoles -- ? If so, why not pick up the newly released Just Dance 2015 from Ubisoft, which hit store shelves back on October 21st?
When it comes to video game playing in our house, I usually gravitate towards board games and strategy games, while my husband is more into the simulation and

first-person and third-person shooter video games. But, there is one type of game we both love to play, and can really get a workout to -- dance ones. While you would never catch me at an arcade having a dance off, I sure can cut a rug at home, and have some mean moves. :-) It is funny how a person who has two left feet can get down and have so much fun playing games like Just Dance 2015.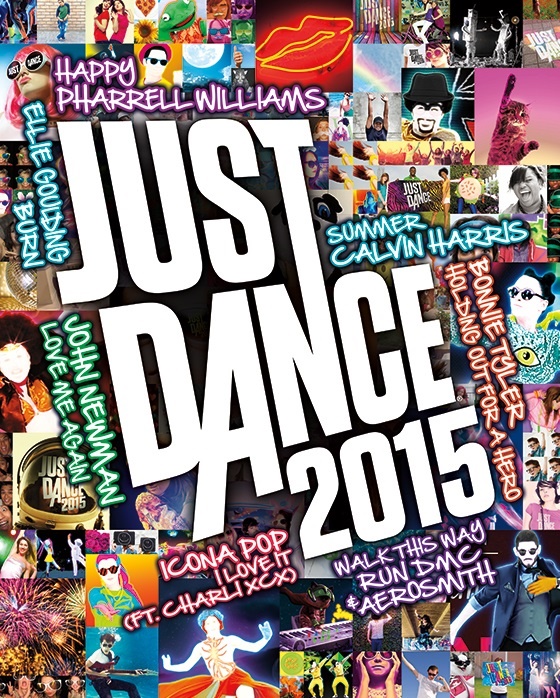 "Since its launch in 2009, the

Just

Dance f

ranchise has become the world's top selling

dance

video game and a mainstay of popular culture. And the game is back again this year with

Just

Dance

2015

, bringing hot moves and new features to 40+ current hit songs and throwback favorite tunes. Let loose with friends and family by

dancing

to hit songs like"Happy" by Pharrell Williams and "Burn" by Ellie Goulding.
New dances and songs means there's something for everyone!
Just Dance 2015 is the perfect way to let loose with friends and family by dancing to hit songs like "Happy" by Pharrell Williams and"Burn" by Katy Ellie Goulding. Staying true to the Just Dance DNA, there are also legendary favorites like "Walk This Way" by Run DMC & Aerosmith and videogame classic "Tetris" by Dancing Bros. Get ready for this year's fun and quirky dance moves that have something for everyone in your family or group of friends.
More power to the community!
With more than 50MM units of Just Dance sold to date, and 100 million fans worldwide, the community is as important as ever—and our new features in Just Dance 2015 bring the community interaction to another level.
The all-new Community Remix feature and the upgraded Autodance feature put Just Dancers in the global spotlight, while the Challenger Mode lets players battle against anyone in the world. Last year we introduced World Dance Floor, our online multi-player feature, and in Just Dance 2015 we bring celebrities and well-known dancers into the feature."
Platforms:
Wii, Wii U, Kinect for Xbox 360 and Xbox One, PlayStation 3 and PlayStation 4
Release Date:
October 21
I have been a fan of this video game franchise since they started releasing these games annually. Being a music lover, I am always excited to see the artists they choose to include on each new game. Are you a fan of Just Dance video games, too? There is something about dancing and listening to great music that can turn a boring date night or rainy day home with the kids into a fun, memorable experience. And, when you play Just Dance 2015, the video game, you can't help but want to get up out of your chair and dance around -- even if you were born with two left feet. Who cares! Kick off your shoes and dance like no one is watching -- have a blast, and don't forget to smile! That is my motto, and I have been dancing and laughing and having a blast with husband and friends and family who come and challenge me to a dance off.
Here are the key features of the new Just Dance 2015 game that truly make this my favorite of all the Just Dance games to date...
Be part of the game! (WiiU/X360/ Xbox One /PS3/PS4):

For the first time ever, with the all-new Community Remix feature, you can be the coach in Just Dance that players everywhere dance along to! Record yourself dancing on a specific song with the camera on your console and share it in-game. The community votes for their favorites and then the Just Dance development team will create playable remixed game play featuring 15-30 players per song.
The massive multiplayer mode is back! (Wii/WiiU/X360/Xbox One/PS3/PS4):
With the World Dance Floor feature, dance with anyone anywhere in the world in Just Dance's exclusive online multi-player mode! Join a virtual dance crew – made up of real-life friends or other Just Dance fans – and compete based on different themes (like "Boys vs. Girls "or "Crew vs. Crew"). You can also track your standing on global leader boards, check out fun stats about other players around the world.
Never dance alone! (Wii/WiiU/X360/Xbox One/PS3/PS4):
With the new Challenger Mode feature you can dance against anyone in the world—from friends and family to top ranked Just Dancers. The best part is that you don't have to play at the same time; you can score against their previous performances and even share your score with the community!
Share your coolest dance moments (WiiU/X360/ Xbox One /PS3/PS4):
Autodance –available on all camera-enabled platforms – is back and better than ever. Autodance uses footage of you playing the game and creates short, funny, shareable mini videos. Your Autodance video is now automatically generated while you're dancing, so you can instantly share it once the song is finished. The most popular Autodances, based on community votes, will be displayed on the same page.
New visual techniques (Wii/WiiU/X360/Xbox One/PS3/PS4):
From a smiling universe where donuts come to life in Happy, to I Love It's energetic split screens, to laser cats in Holding Out For A Hero, Just Dance has proved once again that there are no limits to the creativity and eye-popping visuals of the Just Dance world. With Just Dance 2015, get ready to be surprised by groundbreaking new visual effects that will take you to crazy universes beyond your wildest dreams!
Always stay connected (Wii/WiiU/X360/Xbox One/PS3/PS4):
The new Just Dance Wall enables you to share your stats, your wildest dance performances, vote on others' videos, make friends, collaborate, and more! Check all what's going on in the Just Dance in-game calendar and keep track of all activities happening in the Just Dance Community.
Just Dance favorites are back (Wii/WiiU/ X360/Xbox One/PS3/PS4):
Own the spotlight with the On Stage Mode where one player will dance and lead one or two back-up dancers. With the Karaoke mode, you can sing along to the song by following lyrics displayed on screen. You are given bonus points for your vocal prowess and as the star of the show, you can take it seriously and show off how talented you are, or just goof off with friends.
Get fit with Just Dance! (Wii/Wii U/X360/ Xbox One /PS3/PS4):
Personalize your Just Dance workouts! Create custom playlists or choose the non-stop shuffle option, and turn on the Sweat mode (calorie counter) to track your calories burnt! You can also activate the Sweat Mode at any time, by accessing the Pause menu: track your calories & time spent dancing, and the number of songs you've played! Your calories burnt are also accessible on your Dancer Card.
With the holidays fast approaching and family and friends stopping by to visit, I can't wait to get them into our family and challenge them to a dance off. It is going to be so much fun. Now to get in a few practice sessions before the big dance off. :-)
If your child is a fan of the Just Dance games, or loves dancing video games, then you will want to check out Just Dance 2015, available now on multiple platforms from Ubisoft. Turn a boring family night into one filled with laughter and fun. You'll be surprised once you stop dancing, how much exercise you have done, and how tired you will feel. But, you will also find yourself smiling from ear to ear and laughing, as you will have a blast playing and singing along to the top chart hits.
--BUY NOW--
Just Dance 2015 is available for the XBox 360 ($39.99), XBox ONE ($49.99), Wii ($39.99), Wii U ($49.99), PS3 ($39.99) and PS4 ($39.99). You can buy the game at your favorite local gaming retailer, or through the online Ubisoft store.
Disclosure: I was sent a sample from the vendor in order to write up an honest review. All views shared are mine and mine alone.