Disclosure: I was sent samples from the vendor in order to write up an honest review. All views shared are mine and mine alone.
As you gear up to shop for your kids this weekend, I wanted to make sure you were aware of other wonderful Discovery Kids toys that would be perfect under the tree gifts. In addition to the Discovery Kids View-Master Gift Set we were sent, the girls and I have been busy playing around and having fun with a few other wonderful educational toys from Discovery Kids. I don't know about you, but when it comes to choosing gifts for my kids, I try to look for toys that will not only grow with the and keep them engaged for longer than a few minutes, but they also have an educational aspect to them. I have found that Discovery Kids offers an exceptional line of products that make learning and exploring fun for my girls.
First up is the

Discovery

Kids

2-in-1 4x LED Starlight Lantern, which is perfect for kids showing an interest in astronomy, or simply as a gift to help light up the night at bedtime, in your child's room.
"This lantern is a dual function LED light and star projector in one! Projects stars to create your own indoor night sky. Convenient fold-down carry handle for easy transport. Dome casts a glowing star field onto walls and ceilings. Switches from a 4-LED lantern to cosmic star projector. Dual-function great for indoor camping, bedtime stories and playtime."
What I loved most about this LED Starlight Lantern is that it can be used indoors and outdoors. My husband has been taking the girls on mini-explorations in our backyard where they check out the animals of the night. They will look up at the stars as they walk around listening for sounds and the animals that are making them.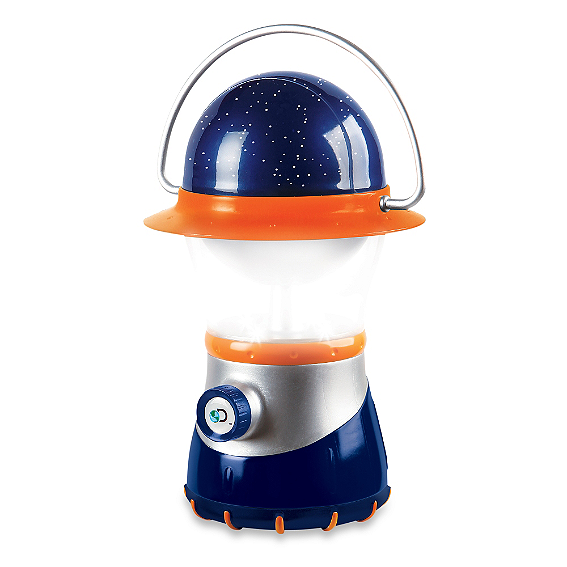 The girls have so much fun when my husband tells them to grab their lantern, as they know that they will be in for a treat of outside exploration. Then, when they come inside, the LED Starlight Lantern is perfect for indoor camping or simply to shine a light in the girls' room by casting a starry night on their ceiling.
A great feature of this LED Lantern is that is the perfect size for little hands. It is not too clunky or hard to turn on and off. It also fits nicely on my daughter's bedside table or dresser, without taking up much space. And, the fold-down handle is also a great feature, making transport or packing to bring on overnight adventures, easier.
Another fun toy from Discovery Kids is the
Digital Squish Camera, that comes in a variety of colors (pink, purple, blue and green), so that boys and girls can enjoy the joys of photography.
Out of my two girls, Bella is the one who loves who loves to grab my camera or phone and start taking pictures of things. I can't tell you how many times I have reached for my phone only to find my wallpaper changed to a photo I didn't take, or go into my camera app and see an assortment of selfies and up close eye and nose photos that Bella has snapped. Knowing how much she loves to take photos, I have been searching for a more kid-friendly camera that takes great quality photos, but will also hold up to a young child playing with it, and potentially dropping it. My search led me to the
Discovery
Kids
Digital Squish Camera.
My daughter is only little so I love that this durable camera is easy for her to use and switch through the video and picture taking modes. She is learning the basics of photography, while having fun trying to find things to take photos of. She will definitely be front and center on Christmas morning with her new Discovery Kids Squish camera capturing all the special moments, so that she can show off to family and friends who will be coming for dinner. Her face always lights up whenever she is flipping through and admiring the photos she has taken. She impresses herself, in that she is seeing her picture taking skills improving with each and every use of her own kid-friendly camera from Discovery Kids.
This is yet another toy I found myself wishing I had when I was a child, as it was really fun and cool to play with. Bella felt like a big girl with her own camera, which she brings around everywhere with her, as not to miss an opportunity to take photos. :-) We have even caught her out at restaurants pulling out her camera just to take a photo of her food...makes me wonder if she has a secret Instagram or blog I don't know about. :-)
The only negative things about this camera -- even though they didn't bother Bella -- is that the video recording feature does not capture sound. You can online take silent photos. Bella ends up adding her own sound effects to the videos when she plays them back. Also, this camera also lacks a flash, so you need to be sure you in a well-lit room to take photos that will come out clear.
With the ability to hold over 100 images, this camera with its full-color 1.5" LCD display, is perfect for kids who love to take photos. The soft molded grips and built-in carry strap make it perfect for on the go photo and video taking. And, if by chance your child drops the camera, it is kid-strong to hold up to even the roughest of play. I know this firsthand as Bella has been putting it to the test and has dropped it a few times, making me gasp hoping that it didn't break. Then, she quickly picks it up and starts laughing as she knows nothing has happened to it. :-)
This camera also included a USB cable and installation CD so that you can download your child's pictures and videos to your company to save and treasure for years to come, or simply clear out their camera's memory for more space for picture and video taking. If I hadn't surprised Bella with this camera before Christmas, I could definitely see this as being one of her favorite toys she would have found until the tree. She has had this camera for over a month now and hasn't stopped using it.
The last toy I was sent to review, and that I know will grow with the girls is the

DISCOVERY

KIDS

TALKING USA PUZZLE. I am lucky in that both of my girls picked up my love for problem solving and making puzzles. Ever since they were little, they always seemed to flock to puzzle toys and could spend hours putting together and taking apart puzzles, only to do it again.
"The Discovery Kids Talking USA Puzzle identifies the state name, capital city and nickname for each of the 50 states. The 44 removable puzzle pieces help children learn geography and conveniently fit in the storage drawer. The Talking USA Puzzle also includes fun facts for the American Flag and the Statue of Liberty. The large 18"x13" format is easy to read and the easy grip handle fits different sized hands. Includes a bonus poster with a fun fact matching game."
Everything is made better when sound is involved, especially when it comes to kid's toys. I found that this feature make playing that much more fun and engaging. I forgot to mention to the girls when I showed the

DISCOVERY

KIDS

TALKING USA PUZZLE for the first time. So, as they were putting the different state pieces into the map, they made the puzzle talk. At first they giggled, but then they got quiet to listen to what was being said. I told them that this was not just any ordinary puzzle, but instead it was a talking puzzle that would teach them all about the USA, from identifying state and capital names, as well as fun facts about states and landmarks.
While my girls are still a little too young to really benefit from all the knowledge this talking puzzle has to offer, they are having a blast putting the different colorful state pieces into the USA map. Savannah loved seeing the "Georgia" puzzle piece and kept telling Bella and her friends that she was named for "Savannah" in this state.
I did get to use the

DISCOVERY

KIDS

TALKING USA PUZZLE with 8 and 10 year old nephew and niece, and loved watching them learn and enjoy the benefits of this puzzle. After only a half hour of playing with it, they were telling me all about the different states, their nicknames and state capitals. My niece even asked her mom for a

DISCOVERY

KIDS

TALKING USA PUZZLE as she was learning about the different states and their placement on the map and this would be a perfect learning tool to practice with at home.
If you homeschool or have a child who struggles when it comes to identifying the different states and their places on the USA map, or, like me, you like to buy toys that are fun yet educational, then you will love the

DISCOVERY

KIDS

TALKING USA PUZZLE. I see many more years of use and play time with this talking 44-piece puzzle, and can't wait for my girls to see the full benefit of this toy, once they enter grade school and begin to learn about geography.
So, as you can see from the above toys, Discovery Kids offers a wonderful assortment of toys for kids of all ages, that would make for great gift ideas this upcoming holiday season. Don't just give a toy that will be played with until kids get bored with it. Instead, offer up a toy that also has an educational aspect to it, that will teach you child new things, thus in turn showing them that learning can be fun!
Disclosure: I was sent samples from the vendor in order to write up an honest review. All views shared are mine and mine alone.