Disclosure: I was sent screeners from the vendor in order to write up an honest review. All views shared are mine and mine alone.
Usually I will share a review of one new NCircle Entertainment title each month, but this month I am excited as I will not only share a review of a handful of DVDs, which one lucky reader will win (all of them). Nice, huh? :-)
First up is The

Wiggles: Apples & Bananas DVD:
"Apples and Bananas is a tasty musical treat! Join the Wiggles as they add their special Wiggles magic to favorite nursery rhymes and songs."
"
Sing along with special guest Lee Hawkins to This Little Piggy Went to Market and with the delightful Dennisha Pratt on Miss Polly Had a Dolly. There's the "spider-iffic" Itsy Bitsy Spider, Dorothy the Dinosaur swings on Shortnin' Bread, then we jump on board for The Wheels on the Bus and This Old Man Came Rolling Home! The Wiggles travel across the globe to Ireland for I'll Tell Me Ma and Michael Finnegan, and then over the continent for the delightful French song Sur le Pont d'Avignon. With centuries of best-loved songs served up fresh for your child, Apples and Bananas is certainly "a-peeling"!"
Fans of the Wiggles will love their "Apples and Bananas" DVD, which originally hit store shelves on Aug. 26. I think after the fifth time of watching it they would be able to give me their personal reviews, but Savannah said she needed one more time today before she shared "I love it!"
With 22 sing-along songs included on this upcoming DVD release, fans of the Wiggles will want to own and add this DVD to their growing The Wiggles DVD collection. I don't know about you, but I am still warming up to the new Wiggles cast. I am happy to see Anthony still with the group, but I miss the others. While many parents thought the show was a little annoying, I found it to be a great way to teach the girls new songs and words, while allowing them to express their creative sides and get goofy as they danced around to the catchy tunes, or sat giggling at the cute sketches featuring the Wiggles cast and their costume friends.
What sets this DVD apart from recent DVD releases is that this offers a wonderful collection of popular nursery rhymes, including "Itsy Bitsy Spider," "This Little Piggy Went to Market" and "Wheels on the Bus," to name a few.
In addition the 22 sing-along songs, this recent DVD release from The Wiggles also includes a photo gallery and full length already aired television episode, "Wash Your Hands," as part of the "Special Features" section. This DVD will definitely provide hours of fun and enjoyable for little ones as they develop early preschool skills including communication, literacy, numbers reasoning and problem solving. My girls give this new DVD 2 thumbs up, and your little The Wiggles fan will, too!
Next up is The Octonauts: Deep Sea Mission -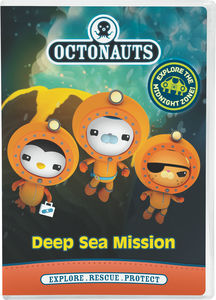 "Dive into adventures with your favorite underwater explorers, the

Octonauts

! Join brave Captain Barnacles, daredevil ex-pirate Kwazii, and medic Peso Penguin, along with other

Octonauts

as they explore the world's oceans, rescue the creatures who live there, and protect their habitats - above and below the waves!

On this exciting

DVD

, join the

Octonauts

as they explore the hidden depths of the Midnight Zone! Peso must conquer his fears to treat a Vampire Squid! Dashi and Inkling go head to head with hungry Gulper Eels! Then, Barnacles, Kwazii and crew must rescue sea creatures before an underwater volcano erupts!"
This is one of the shows that my girls will watch for some time and then stop watching. But, then when they start watching again, they want to watch all the older DVDs we have accumulated from NCircle Entertainment. So, when they saw this DVD in the bundle of DVDs I was sent, they weren't watching the show at the time. But, seeing Peso and Kwazi on the front cover triggered them to want to watch this popular animated series for preschoolers.
Included in this DVD are the following 6 action packed episodes:
Midnight Zone

Vampire Squid

Scary Spookfish

Blobfish Brothers

Gulper Eels

Long Armed Squid
This really is a fun show that lets little ones explore underwater creatures in a fun way. I have lost count on how many times the girls have watched this DVD, which is only $ 8.49 at Amazon right now. And, they also pulled out their Octonauts toys and have been playing with them again.
Do you have fans of The Cat in the Hat Knows a Lot About That!? If so, then you will want to check out "Show & Tell Sure is Swell!" DVD,
"

Summer is over, and fall is now here. Let's go back to school; the best time of year! Our favorite part about going to class? Why

show

and

tell

, how great you should ask. But what should we

show

, oh what can it be? Tune in with the Cat to find out and see!"
I love tuning into this show on PBS Kids each morning, as Martin Short voices the cat. I love him! My girls love this show, not just for the fun adventures the Cat takes Nick and Sally on, but also because they learn new things each and every time they watch the show, including things about nature, science and more. This DVD contains the following full length episodes, that fans of this award-winning animated series will want to watch over and over again:
Spring & Summer

Fall & Winter

Amazing Eyes

Hooray for Hair

When I Grow Up
This DVD also offers a Spanish language option, which my utilizes when watching the show with the girls, as a way to teach then new Spanish words. From learning about migration to sigh and even growing up, preschoolers will love this DVD. It would also make for a great stocking stuffer idea, too!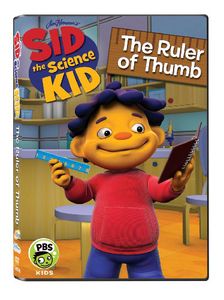 "
Sid learns all about the science of tools like rulers and magnifying glasses and how they help us. In fact, Sid even finds out how to measure a giant blue whale!"
Have a Sid the Science Kid fan in your house? Savannah went through a phase where she loved this show, and now she is busy watching other "big girls" shows. But, I still get to enjoy this fun animated series, as Bella has found it and loves it! So, when Savannah is in preschool in the AM, Bella and I will snuggle on the couch and watch Sid and his classmates ask "Why" about practically everything. This is one show I can see the girls learning, and it also peeks their interest and wanting to know why things happen, how they happen, etc. They are like my own mini Sid's -- and, I love being able to explain things to them and see them get excited as they learn.
This DVD includes the following fun-filled episodes:
The Sticker Chart

The Rolie Polie

Enough with the Seashells

The Whale Episode
And, to round out my NCircle Entertainment DVD bundle which I reviewed recently with my girls and will be offering up a set for one lucky reader, is Animal ABC's.
"Introduce preschoolers to the alphabet using the amazing animal kingdom!"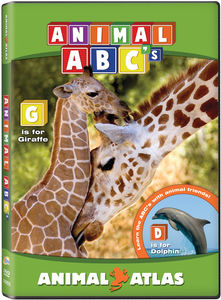 Even though this looked like it was for toddlers, my girls love animals and enjoyed watching this DVD. What better way to introduce children to the alphabet than by also introducing them to animals of the animal kingdom. Cute songs are used to reinforce what is being learned, and kids will love exploring and see animals from all over the globe. If only the weather was warmer -- I would love to take the girls to the zoo and let them see up close the animals they were introduced to from this cute educational DVD.
We had a blast watching each of the above DVDs from NCircle Entertainment. Not only were the girls entertained, but they were learning at the same time, too! If you are looking to add new DVDs to your child's growing collection, or want to give the gift of learning this upcoming holiday season, why not consider putting together a bundle back of DVDs from NCircle Entertainment. With many titles under $10, you can't go wrong with the price.
You can find the above DVDs as well as other kids' titles

offered by NCircle Entertainment by visiting their website (

www.NCircleEntertainment.com

),
as well as at your favorite
local retailers.
--GIVEAWAY--
As promised, thanks to the kind folks at NCircle Entertainment, one lucky reader will win all the DVDs I talked about above -- 5 in total -- to share with your child(ren) or give this upcoming holiday season as a gift. To enter, please complete the entries on the Rafflecopter form below. Good luck!
a Rafflecopter giveaway
Disclosure: I was sent screeners from the vendor in order to write up an honest review. All views shared are mine and mine alone.