Disclosure: I participated in an Influencer Activation on behalf of Influence Central for
Little Remedies
. I received product samples to facilitate my review as well as a promotional item to thank me for my participation.
It is never a dull moment in our house. From things needing to be fixed around the house to the girls (and I) picking up and passing along different colds and viruses, it seems like we can never catch a break. Is it like this in your house? And, with the cold/flu season upon us, I try extra hard to help prevent the spread of germs by washing the girls' hands more than usually, spraying the house down with disinfectant, cleaning and sanitizing their toys, etc. By the end of the day, all I want to do is crash and rest, as I know the next day will be just the same -- hopefully, knock on wood, a sick-free day.
Last month was a month that I hope to never have to repeat again. You would think that having gone through stage 2 cancer myself and having to deal with the long-term side effects, that I would be able to handle a medical emergency better. Well, maybe, if it was happening to me. But, when I see my girls not feeling well, I feel helpless. And, a few weeks ago I felt the most helpless ever, as Savannah spiked a fever and ended up having a febrile seizure. Never having experienced this before I had no idea what was happening. Right up until the seizure, she was fine. She was playing with the iPad at the kitchen table. Earlier in the day she had a little fever (100 degrees), so I gave her
acetaminophen
to help break the fever. She took a nap on the couch and then got up and ran around the house playing with Bella. So, there was no signs or cause for concern.
After she was done playing with the iPad, she came to lay next to me on the bean bag pillow we had in the living room. She told me that she was tired and not feeling well. I checked her temperature with the thermometer and it was only 100.3.
I went to get her more
acetaminophen.
But, by the time I got to the kitchen, which was a hop, skip and a jump away from where we were, she was in my husband's lap on the couch telling him she was cold. She began to shiver and then started having a seizure. Having never seen a seizure firsthand or having a family history of them, my husband and I had no idea what was going on. Savannah stared off to one side and was non-responsive. Not knowing what to do, I grabbed her and tried to put her in a cold shower to reduce her fever. Growing scared, we grabbed the girls and drove to the hospital which was a few minutes (thank God). Note to self: Next time call the ambulance.
As we were pulling into the hospital, Savannah shut her eyes and passed out. My heart stopped, not knowing what was going on. I went into survivor mode and rushed her into the hospital, rattling off what had happened a mile a minute. The ER team of doctors and nurses took over and for the next 26 minutes, we watched and waited for Savannah's febrile seizure to stop. Once it did, we had to stay in the hospital for 4 1/2 hours under observation before we were able to bring her home.
I am so thankful to have a hospital close by, as I don't know what we would have done if we had to drive far away, not knowing what was wrong with our daughter. And, know, I can say that I know what a febrile seizure is and what to do if it happens -- which again, knock on wood, I hope never does. One thing that I now stock up on is Little Remedies Children's Fever + Pain Reliever, as we had to give acetaminophen to Savannah every 4-6 hours after bringing her home.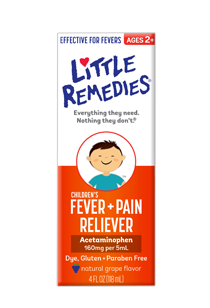 Reduces fever and relieves minor aches and pains. Safe, effective pain reliever with ingredients to bring down your child's fever.
Safe and effective relief for your child

No artificial colors or flavors; no alcohol, saccharin or gluten

Natural grape or cherry flavor
This was a precaution to keep fevers away, or reduce them if one started to creep up in the danger zone 103-104 degrees. And, unlike other fever reducing medicines, Savannah actually likes the grape flavor, and it doesn't make her hyper. :-)
Having experienced so many health issues during my life, I try to make a point to not seek out medicine as a fix it or cure all, as many medicines have dangerous and potentially life threatening side effects or can cause other medical conditions like cancer -- not something I ever want to experience again. With that being said, when I feel a cold coming on, or find my girls to not be feeling well, I reach for all-natural medicines. My favorite OTC medicine for the girls is from Little Remedies. With a tag line like ""Everything they need, nothing they don't," you can rest assured that this line of OTC medicine for children doesn't contain artificial flavors, artificial colors or alcohol. As a parent who is not fond of medicating, I love knowing that Little Remedies, which was created by a dad out of necessity of not being able to find all-natural medicines on the market for his own children, is all-natural and safe for my girls. I don't have to worry about it becoming addicting or causing potentially dangerous side effects.
I have personally been using all the different products from the Little Remedies line since my girls were born. With products made for children ages 0-11, all including only a few ingredients for fast, safe and effective relief, parents of little ones can feel good about reaching for Little Remedies for tummy troubles, a cough, stuffy noses, a fever, etc.
My must haves for the cold/flu season...
I could not live without Little Remedies
Saline Spray/Drops and
Honey Cough Syrup, as I find myself always reaching for them when the girls start showing signs of colds. Like me, the girls' colds always end up turning into a head cold or upper respiratory infection. With these illness bring stuffy noses and cough that will keep them up all night. And, if they are up most nights, then they are not getting the necessary sleep to let their bodies rest and get better. Unlike other nose sprays that contain alcohol or a list of ingredients that I have never heard of, Little Remedies
Saline Spray/Drops is
free of alcohol and contains only a few ingredients (all natural). My girls don't fuss or tell me their noses are burning when I use these nose drops.
And, unlike other nose drops, I see results after the first use, and they only get better with continued use, until their noses are unstuffed and they are feeling better.
Prior to sampling the Little Remedies Honey Cough Syrup recently, I always had a hard time getting the girls to take and keep down cough medicine.
Either they would gag and/or vomit from the unpleasant taste, or would just tighten their lips and walk away. They were up for trying this 100% all natural cough syrup from Little Remedies as they liked the little girl on the box dressed like a bee. I told them that this cough medicine had a sweet taste and was really good.
They dipped their finger into and tried it, and then the greatest thing happened...they both smiled and asked for more. I don't know about you, but I love not having to fight with the girls to get them to take medicine to feel better.
In addition to the
Saline Spray/Drops and
Honey Cough Syrup, I am also a fan of Little Remedies gripe water. The gripe water was a life saver when both my girls were little, as they always had tummy trouble and this seemed to calm it down and let them rest easier.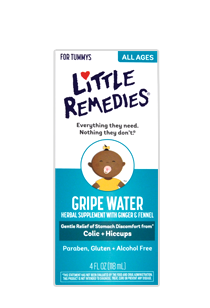 What I love most about this all-natural OTC line for children is that with only a few ingredients, most of which I know, I don't have to worry about watching for side effects like I would with stronger medicines that contain artificial flavors, artificial colors or alcohol. I oftentimes wonder when shopping for OTC medicine who is actually making these products, when I see all the unnecessary ingredients and potentially harmful ones that go into certain OTC products.
Right now my girls are finally feeling better, after having dealt with Savannah's febrile seizure caused by a spiked fever due to hand, foot and mouth she and Bella contracted at Savannah's preschool. I am hoping that we can have relaxed November and December, without frequent trips to the doctors to rule out colds, the flu or viruses. Come on, after the lousy and oh so stressful October we just had, I think our family deserves a break. Don't you?! :-)
While we can never predict when or if a cold or flu will hit our house, you want to make sure you take the necessary steps to help prevent the spread of germs. From washing your hands more, disinfecting the house and toys, coughing into the crook of your elbow, blowing a running nose, and simply getting enough rest and drinking plenty of fluids, you can be proactive when it comes to keeping your family safe this cold and flu season. The last thing you want to deal with is a sick child, especially around the holidays. But, if you find yourself in this boat, know that Little Remedies is there for you with their all-natural OTC line of products, for kids ages 0-11.
To learn more about Little Remedies, including their line of products, store locations, etc., visit
http://www.littleremedies.com
.
Know a new or expectant mom? Why not pick up the Little Remedies Baby Essentials Kit (available at Walmart), which contains an assortment of their popular OTC medicine for newborns and infants. I make a point to include this in all baby shower gifts, so that new moms can be ready if a runny nose, fever or upset tummy presents itself.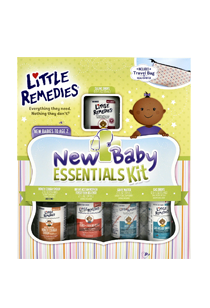 Don't forget to follow Little Remedies to stay up-to-date on new product additions, special money saving offers, promotions, etc...
Disclosure: I participated in an Influencer Activation on behalf of Influence Central for
Little Remedies
. I received product samples to facilitate my review as well as a promotional item to thank me for my participation.