Disclosure: I was sent review copies from the publisher in order to write up an honest review. All views shared are mine and mine alone.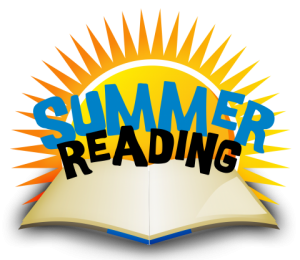 Are your kids finally done with school? The kids in our area wrapped up school last Wednesday, and all you can hear is kids laughing and having fun outdoors, now that the weather is warmer. While spending time outdoors enjoying the pool, time with family and friends, most kids have a summer reading list that they have to complete before the start of school again the fall. Back when I was in school, I dreaded this list, not because I didn't like to read, but that there were never any good books that I actually wanted to read. As I got older, I rewarded myself with a book that I choose as summer reading, after I successfully completed one of the mandatory readings. I found that this helped me get through those darn summer reading lists for school in the fall, while also getting to enjoy genres and authors that I found interesting and enjoyable.
While my girls are too young to have to do summer reading, I have been spending the past few years creating my own summer reading list for them (and I) to enjoy, from some of my favorite children's book publishers. And, over the course of the next month or so, I will share some of my girls favorite books that we have enjoyed together as part of their summer reading, and which have become staples at bedtime, when it comes time for them to choose the 2-3 books they want my husband and I to read to them.
I hope these upcoming posts offer up some wonderful book suggestions for your children, to get them excited about reading, especially during the summer months, when reading is the last thing on their mind. And, be sure to share books your children stumble upon and fall in love with, so that I can share with my girls and readers, too! :-)
First up is a selection of new and recent releases from Little, Brown Books. I have made a point to include books for children of all ages, from birth through teens. Enjoy!
Books for Children Ages 0-3:
Publisher:

Little, Brown Books for Young Readers
Price:

$7.99 US/$8.99 CAN
Pages:

14
Physical Dimensions:

6" x 7-3/4"
ISBN-13:

9780316133579
On Sale Date:

04/08/2014
"With our triangle sails, we'll float with the whales ...
We'll fly to Mars and reach for the stars ...
Little monkey is on a trip, learning about shapes along the way! Each page calls out a common shape, and features more shapes hidden within the illustrations. With sturdy tabs to turn and a die-cut handle built right into the book, this is the perfect story for little ones to read together with parents or flip through on their very own.
This new book in the I Love Learning series teaches simple concepts while reminding little ones how much they are cherished through Sandra's signature heartfelt text and cozy, hand-stitched illustration style. Readers will *love* learning about shapes!"
My Thoughts:
Board books are great for little ones and toddlers who are learning to turn pages. I have had to toss many of Savannah's favorite books, as Bella has gotten a hold of them and torn pages out, or ripped off pop-up pieces. So, when it comes to reading to Bella, or filling the bookcase in her room with books to flip through on her own, we have been going with board books, until she gets a little bigger. This recent release has become one of her favorite books to flip through on her, as she loves monkeys and wants to know just as much as her big sister, Savannah. Savannah has been working on shape names and drawing them, and Bella sees this. As a result, she too wanted to be a big girl and learn her shapes, and this book has helped immensely in introducing her to different shapes, colors, new words and objects that can be drawn with different shapes. From square houses to circle suns and even a rectangle truck, Bella can't get enough of the cute monkeys who fill the pages of this sturdy book book, as she identifies the different shapes, just like her big sister! :-)
Even if your child is too young to start learning shapes, they will love this board book, as the pages are filled with vibrant colors and cute illustrations, that keep even the youngest of listener's attentions.
Books for Kids Ages 3-7 yrs. old:
Publisher:

Little, Brown Books for Young Readers
Price:

$18.00 US/$20.00 CAN
Pages:

32
Physical Dimensions:

9-3/4" x 9-3/4"
ISBN-13:

9780316219600
On Sale Date:

04/08/2014
"The end of the school year is here, and Very Fairy Princess Gerry is getting ready to graduate! She always loves a celebration, but can't help but feel a little sad as she empties her cubby, takes down her art projects, and says goodbye to her class pet, Houdini the hamster. She's also a little nervous about leaving Miss Pym... what if her new teacher doesn't let Gerry wear her wings and crown? Change can be hard, even for a fairy princess! Thankfully, she realizes that new things can bring their own sparkle.
From the mother-daughter team of Julie Andrews and Emma Walton Hamilton comes another delightful story in the #1
New York Times
best-selling Very Fairy Princess series."
My Thoughts:
Both of my girls love the "The Very Fairy Princess" books by Julie Andrews and Emma Walton Hamilton. So, I knew that when I shared this recent release with them, that it, too, would became a favorite of theirs...and, it did! This book is perfect for young children including preschoolers, kindergartners and even 2nd and 3rd graders, as they get ready to wrap up a successful school year, and look forward to moving onto the next grade. Little ones especially are more scared of change and what new grades and teachers mean for them. They just start getting used to the classroom, making new friends and falling in love with their teachers, that they don't want to leave. This is true in this cute story about Fairy Princess Gerry, who is about to graduate. As she starts to pack up her belongings from her cubby and say goodbye to her favorite teacher Miss Pym and the class pet hamster, she can't help but feel sad and nervous. She wonders if she will find a teacher in the next grade that will be just like Miss Pym.
As the story progresses, Fairy Princess Gerry realizes that everyone is afraid of change, but change is what helps us learn and grow. She knows she has to say goodbye to Miss Pym and those things she has come to love and be familiar with, and look forward to new things, including a teacher, friends, etc. Slowly she begins to accept change, and is ready to graduate and sparkle and shine, as only a fairy princess can.
This would be a perfect gift to give a little girl, who loves princesses, and is graduation from Pre-K through I would say grade 3. My girls can't get enough of this book, and love to pull it from the bookshelf and flip through the pages, looking at the pretty Fairy Princess Gerry, while they are wearing their favorite princess costumes. :-)
Publisher:

Little, Brown Books for Young Readers

Price:

$9.99 US/$9.99 CAN

Pages:

32

ISBN-13:

9780316406314

On Sale Date:

05/20/2014
Synopsis:
"Dog and Cat do not get along. But when they're forced to share a room, they agree to be on their best behavior...until Dog won't stop
sniffing
. Cat won't stop
primping
. Dog won't stop
howling
. Cat won't stop
scratching
. And when it comes to the litter-box...sharing is
not
an option!
What will it take to bring Dog and Cat together? Find out in Chris Gall's comic clash that brings out the best (and worst) in two very different pets."
My Thoughts:
You don't have to be a dog and/or cat lover to love this cute recent release from Chris Gall. Once you open up the pages to this hardcover book and flip through and see the amazing colored pencils illustrations done by the author, you will find yourself wanting to read this book.
I first became a fan of Chris Gall's after picking up a copy of "Awesome Dawson" to read to my oldest daughter, I was amazed at the detail and fun playful illustrations that filled the pages and really made the story come to life. And, from that point on, I made a point to pick up other books from Gall including "Dear Fish.and "Dinotrux".
So, when I heard that another book was being released from Gall, I just had to get my hands on it. As you read through the story, you can tell that the author is a pet owner and lover, as he really details life with a pet well. Beginner readers and young listeners will find themselves giggling as they flip through the pages of this book, and see how a dog and cat fight to be the favorite in the when, after being put into a room together. Having difficulties sharing and accepting each other for their differences, Gall does a great job at sharing the ups and down of friendships and getting along with this book. And, just when you think that they are ready to shake paws and be civil to one another, someone else is added to the mix. Don't worry, I will not tell you what it is. You will just have to pick up this book to find out. :-)


Publisher:

Little, Brown Books for Young Readers

Price:

$18.00 US/$20.00 CAN

Pages:

48

Physical Dimensions:

10-3/4" x 9-1/2"

ISBN-13:

9780316213608

On Sale Date:

05/06/2014



MOOSE? Yes, Moose! When a movie director tries to capture the life of a moose on film, he's in for a big surprise. It turns out the moose has a dream bigger then just being a moose--he wants to be an astronaut and go to the moon.
His forest friends step in to help him, and action ensues.

Lots

of action. Like a lacrosse-playing grandma, a gigantic slingshot into space, and a flying, superhero chipmunk.
In this hilarious romp, Richard T. Morris and bestselling illustrator Tom Lichtenheld remind us to dream big and, when we do, to aim for the moon."
Ever wondered what it would be like if a moose was to make a movie about its own life. Well, leave it to his cute children's book to share just that, in a fun way. Full of action and unexpected scenes and countless takes, this book will have you wishing that you could be on set for movie like this. My girls couldn't help but giggle as I read through the pages of this story. They also found themselves thinking about other animals of the wild that they would like to see make a movie. Bella wanted a monkey, while Savannah wanted a giraffe or zebra.
I will definitely be keeping an eye out for more books from Richard T. Morris. You and your little ones will enjoy this book as it is nothing you would expect from a child's book, and it is also perfect for beginner readers, too!
Books for Middle School Ages Children:
Publisher:

Little, Brown Books for Young Readers

Price:

$8.00 US

Pages:

416

Physical Dimensions:

5-1/4" x 7-5/8"

ISBN-13:

9780316244084

On Sale Date:

04/22/2014
"The Dragon Rebellion has begun, bringing the Vikings' darkest hour upon them. Hiccup has become an outcast, but that won't stop him from going on the most harrowing and important quest of his life. He must find the Dragon's Jewel in order to save his people...but where should he begin?
Don't miss Hiccup's most dangerous adventure yet!"
Publisher:

Little, Brown Books for Young Readers
Price:

$15.00 US
Pages:

224
Physical Dimensions:

6" x 8"
ISBN-13:

9780316244107
On Sale Date:

05/20/2014
"This guide is a must-have for fans of the
New York Times
bestselling How to Train Your Dragon series that inspired the hit movie and TV show. This gift book features all of the dragon species from the series plus brand-new ones created just for this book, with color illustrations of each and every one!"
My Thoughts:
With the new release of "How to Train Your Dragon 2," in theaters now, these two books, and others from this popular series would be perfect for middle school aged children, as well as young teens who enjoy this movie and genre. I had only planned to flip through the book to get a gist of how these books were, but found myself reading chapter after chapter, without being able to put it down. :-) That was, until my 10 year niece walked into the room and asked where the "How to Train Your Dragon" books I promised her were. But, I was happy to give them up, as she had a blast reading them, and passing them along to her friends, who are fans of these books from LB Kids. They are eagerly awaiting new titles from this series, which will be available in July and then again in September. So, if you find your child(ren) enjoying the above two books, you will want to make a point to pick up future and past releases for them to enjoy, too! :-)
Stay tuned as I will be sharing more great new children's releases and reviews from LB Kids and other children's book publishers this summer.
Disclosure: I was sent review copies from the publisher in order to write up an honest review. All views shared are mine and mine alone.