Disclosure: I participated in an Influencer Activation on behalf of Mom Central Consulting #MC for Arla Dofino. I received product samples to facilitate my review as well as a promotional item to thank me for my participation.
"Arla Foods is the fifth largest dairy company in the world, and a cooperative owned by dairy farmers. For more than 100 years, Arla has been crafting its cheeses in Kaukauna, Wisconsin, combining traditional craftmanship and world-class technologies to ensure its products remain closer to nature, from farm to fridge."
One of the benefits of getting together with a group of moms with kids the same age as my girls is to talk about things we are struggling with in regards to the kids, and see if others have dealt with similar problems and how they fixed them. We try to plan our play dates around lunch time, so that the kids can all enjoy a nice picnic together, now that the weather is warmer and we can spend more time outdoors. At a recent picnic/play date at the park, I surprised the moms and kids by bringing samples of Arla Dofino Cheeses for everyone to sample.
While I knew the moms would be excited to help me sampling a few different cheeses from Arla Dofino...creamy Havarti, dill Havarti and fontina, I wasn't expecting much from the kids, as they are all picky eaters. This is one issue that all of the moms talk about each and every time we get together --- the kids not wanting to eat or try different foods. So, I thought that a fun cheese tasting party would be fun and maybe get some of the kids to try something new and add a new food to their limited food choices. :-)
When it comes to offering snacks and meal choices to my girls, I make a point to keep the choices healthy ones. I know that the girls would be for junk foods, but I want to start them young on knowing the difference and importance of making healthy food choices, and getting the necessary vitamins and minerals needed through different foods. Having two picky eaters makes this difficult at times, as it is so easy to just drive to a fast food place and pick up food for them to eat. But, I have to stick with it and offer fun tasting experiences to introduce them to new flavors and food choices. Right now, the girls are fans of mac and cheese and all types of cheesy snacks, so I knew that the Arla Dofino cheese tasting party would be fun for them.
In addition to bringing cheese samples, I also stocked up on ciabatta and sourdough breads, crackers and other healthy snacks that pair well with cheese. Oh, yeah, and I can't forget the flavored water and juice boxes that the girls had helped me pick out for our fun tasting event. I also brought a panini machine to the park, as they have an enclosed picnic area with electricity. I was thinking about grilling them on the grills there, but was afraid the little ones would try to grab at the hot coals. So, to play it safe, the panini was the best choice in making the grilled cheese sandwiches...which, were a hit with all the kids.
I don't know about you, but I find that if I let my girls helps me prepare a meal that they are more receptive to trying what they helped me make. Knowing this, I set up the table with fun add-ins for the kids to add to their buttered bread, to make their own unique grilled cheese sandwiches. Add-ins included green and red apple slices, bacon, tomatoes, cold cuts (ham and turkey) and even avocado and peanut butter.
The kids had a blast putting together their grilled cheese sandwiches, and then waited for them to grill up.
They loved seeing how the Arla Dofino fontina cheese melted and got all eewey gooey. :-) Then, came the fun part...sampling their sandwiches. :-)
Both of my girls are huge mac and cheese fans, but haven't taken to the grilled cheese sandwich, until now. It took watching a few of the other kids taking a bite out of their sandwiches for them to get them to take a bite themselves. But, once they did, they couldn't stop, and ended up eating the sandwich and reaching for additional pieces of fontina cheese to snack on with crackers.
As for the Arla Dofino Havarti varieties, these were a hit with the moms. Prior to our little sampling party, I had never used or tried Havarti cheese, so this was a first taste for me as well. I was surprised to hear that most of the other moms had never tried Havarti cheese before, too. I did make a point to do research before and print out some fun recipes that you could use Arla Dofino Havarti cheese in, including mac and cheese, spread on crackers, added to omelets or scrambled eggs. I had made a small batch of mac and cheese with Havarti and crumbled bacon added in, for the moms and I to enjoy. And, just the kids, the moms couldn't get enough of this updated version of everyone's favorite comfort food. The kids, however, were not fans, and only picked the bacon pieces off the pasta.
Arla Dofino cheese spokesperson, Kelsey Banfield (
The Naptime Chef
) believes that being a Mom and a foodie are not mutually exclusive. What do you think? For me, I love re-inventing family favorite recipes and using new flavors and products, like Arla Dofino's Havarti cheese. I had a blast in the kitchen changing out the usual cheddar cheese with Arla Dofino's creamy Havarti when making the mac and cheese for the moms to sample. And, I personally love crunch in my food, so the first thing that came to mind was to add bacon crumbles to it. Family and friends know that I love to mix things up and add new flavors to favorite dishes. So, whenever we have a gathering, they are eager to see what I make and bring. I will definitely be making this version of mac and ch
eese again soon, seeing how much the moms and I enjoyed it, in addition to stocking up on more Arla Dofino fontina cheese for grilled cheese sandwiches. These are so easy to make and don't heat the house up on hot summer days, which is perfect. :-)
Before our cheese tasting/play date/picnic wrapped up, I made a point to share with the moms about the different Arla Dofino cheese varieties available, including their flavor profile, suggested uses, etc., as they were not familiar with this cheese brand.
"With few ingredients and no added hormones, Arla Dofino cheeses bring simple joy to families who want a quick, healthy snack."
Arla Dofino Havarti:
Havarti has a buttery and gentle creamy taste; is semi-soft and has a mellow aroma.

Great for sandwiches, especially when melted.

Flavors Available: Creamy, Light, Dill, Caraway, Jalapeno, Smoked.

Available in various chunk sizes or in slices
Arla Dofino Gouda:
Gouda had a rich, buttery, slightly sweet flavor and a smooth, creamy texture

Great for melting on burgers, stacking with your favorite deli meats, or added into pasta

Flavors Available: Gouda, Chipotle, Smoked, Pesto, Chili Lime, Reserve Gouda, Cracked Peppercorn.

Available in various wheel and chunk sizes, or in slices.
Arla Dofino Edam:
Edam has a subtle nutty flavor and lower fat content

Great melted over pasta and in casseroles, or in a grilled cheese sandwich

Available in a wheel, at the deli or in slices.
Arla Dofino Fontina:
Fontina is semi-soft, with a slighty sharp edge.

Great for making grilled cheese sandwiches, or added to your favorite cold sandwich.

Available in a wheel or cake cut.
I also made a point to share with the moms about the new Arla Dofino Facebook Sweeps, which is happening right now. I told them that they could win 3 months worth of cheese, which they were all excited about. They grabbed their phones and entered the giveaway. Then, we all gathered up the kids and headed home, with full bellies and a new appreciation of Havarti and fontina cheeses thanks to the kind folks at Arla Dofino, who had sent along FREE product coupons for me to make our play date tasting party happen. Arla Dofino now has more mommy fans of their cheeses, and their picky eater children are warming up to trying new things, including their cheeses, too.
Want to enter the Arla Dofino Facebook Sweeps, for a chance to win 3 months worth of cheese this summer? Then, click here now - http://bit.ly/1krFvD1 -- and enter today. Good luck!
To learn more about Arla Dofino and their line of cheeses, including Havarti, Fontina, Edam, and Gouda, visit -- http://www.arla.com/en-us/our-brands/brands/arla-dofino/. Do you love to cook like I do? Do you use Havarti or fontina cheeses in your dishes? I had a blast visiting the

Arla Pinterest page and The Naptime Chef for recipe ideas, and have made a point to print out a handful of recipes to try soon. Hoping that the girls will love what I make, and that their meal options will expand beyond the 4-5 items we currently switch up daily at meal time. I can't wait to hear which recipes from the Arla Dofino Pinterest Page or The naptime Chef page you tried and love, or even a personal recipe that you created using Arla Dofino cheeses, so please share! :-)
Look at this tasty Jalapeno Havarti Queso Dip for Summer that the Naptime Chef recently shared on her blog -- I will definitely be trying this out for my upcoming 4th of July cookout with family and friends...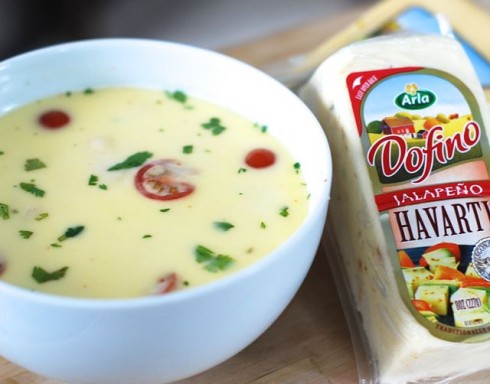 Don't forget to follow Arla Dofino on their social media channels to stay up-to-date on new product additions, coupons and special offers, giveaways and more:
Disclosure: I participated in an Influencer Activation on behalf of Mom Central Consulting #MC for Arla Dofino. I received product samples to facilitate my review as well as a promotional item to thank me for my participation.