Disclosure: I participated in a campaign on behalf of Mom Central Consulting (#MC) for Reebok. I received a product sample to facilitate my review and a promotional item as a thank you for participating.
When was the last time you bought yourself a good pair of walking shoes? I can't remember the last time I went shopping for shoes, but know it has been awhile. I remember having to go up a size in shoes when pregnant with Savannah back in 2009/2010, and have stayed with those shoes through Bella's pregnancy. So, when I was asked to review the new Reebok Skyscape runaround shoes, available at Kohl's, I jumped at the opportunity. Not only was I need a new pair of shoes, but after reading about them online, I was eager to try them out and see how they felt, compared to the sneakers I have been using for quite some time.
This past weekend, I took Savannah shopping with me at Kohl's. I would have taken Bella, but she doesn't like to shop. My husband didn't mind, as he was able to spend time with Bella, while Savannah and I had Mommy-Daughter time. Upon arriving at our local Kohl's, I made a b-line for the shoe department, as I knew if I walked through the girl's aisles, Savannah would want to get a few outfits.
When I first saw the new Reebok Skyscape runaround shoes, I was a little hesitant on buying them.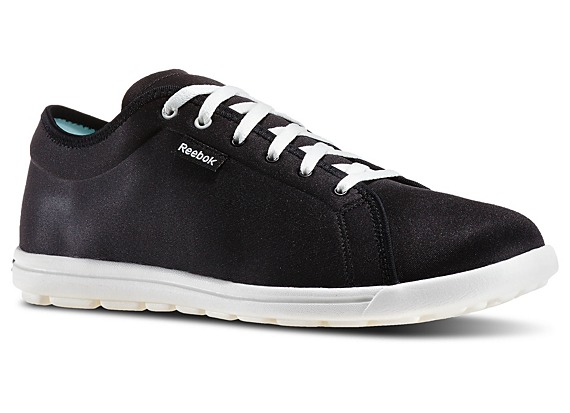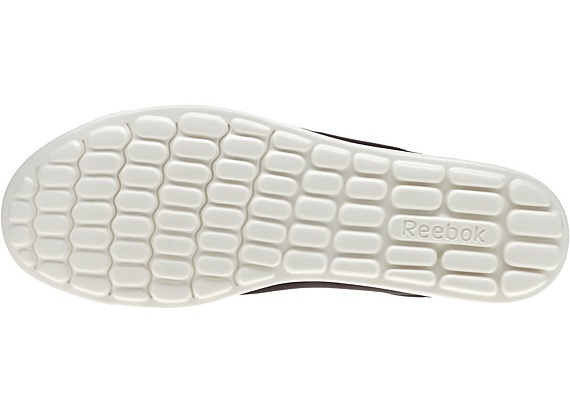 Featuring a unique molded upper with foam to maintain softness, the Skyscape women's walking shoe is a stylish option for everyday escapes.
Foam material in the upper for softness and flexibility

Low-cut design for added mobility

Seamless construction for minimized rub and irritation

Unique architecture designed to support the foot and provide all-day comfort

Minimal rubber accents only where needed for traction

Skyspring technology - features a unique design architecture designed to help support the foot and provide all day comfort

5.0 ounces
At first glance they looked like basic canvas type shoes. But, then when I took them on the shelf and started to fill and look at them further, I was surprised to see that they were made with a foam upper, and had a sturdy sole.
While Savannah wanted me to pick the hot pink Reebok Skyscape shoes, I opted for the black ones, as I knew that they would go with different outfits in my wardrobe.

You can also find and order Reebok Skyscape Runaround shoes online at Kohl's in grey or blue (shown below):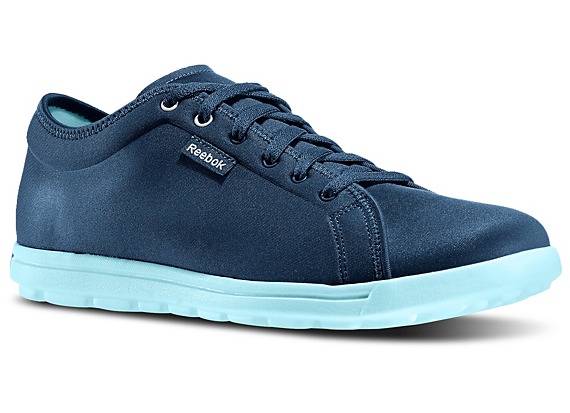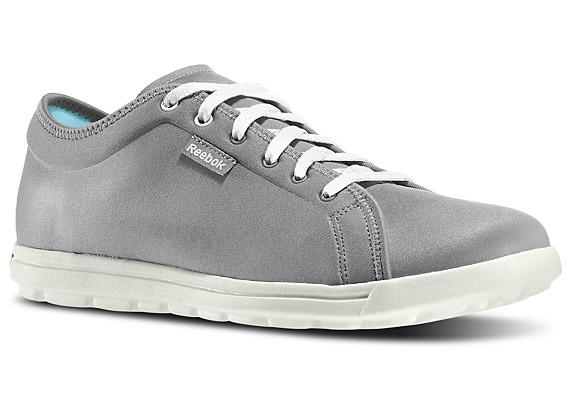 In addition to the above four colors available in store and online at Kohl's, you can also shop the Reebok website with these two additional color choices...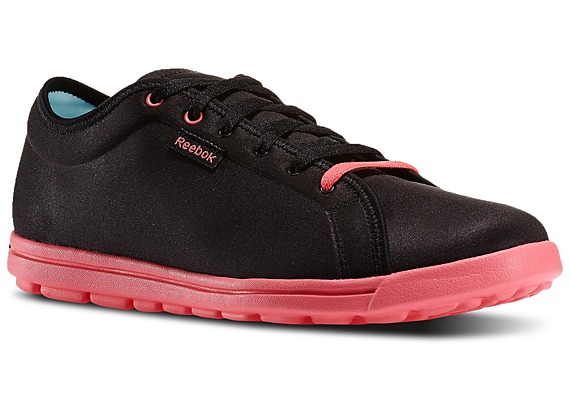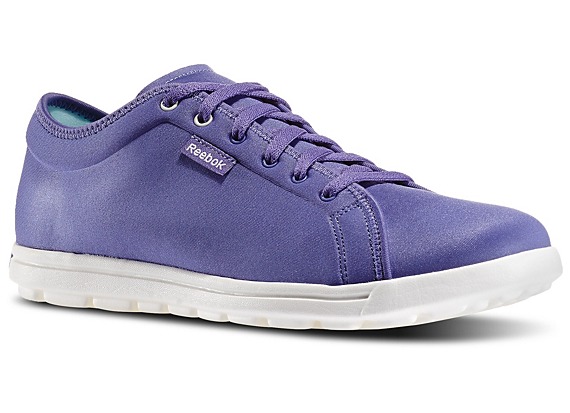 Seeing that I haven't bought shoes in awhile I wanted to go the store and physically try on the shoes to make sure I bought the right size. I am so glad that I did this, as I found these shoes ran a little small and that I had to buy a size up. As I did the walk up and down the shoe aisle, I couldn't believe how comfortable these shoes were.
It felt like a pillow with every step I made. And, because I have a wide foot, I made a point to move my foot all around in the shoe to make sure I had room. Having never seen shoes made with a foam midsole and a carbon rubber outsole, nor them, I was pleasantly surprised at how well they hugged my feet and were super comfy...oh yeah...and stylish. The black shoe against the white bottom was a nice combination.
The price wasn't bad either. They originally go for $64.99, but were on sale for $58.99. Then, when I got to the register, they were giving customers 20% off, so my order ended up costing $50.14 (with tax). Not bad for a new pair of shoes, from a popular name brand like Reebok. :-) I can always count of Kohl's for offering current trends and styles, at affordable prices.
With the gift card I was sent to purchase these shoes, I had enough money left over to buy a couple outfits for the girls, too. As soon as I got home, I said goodbye to my old sneakers and started breaking in my new black Reebok Skyscape shoes. I couldn't wait for the next day to come, so that I could wear the shoes out and really put them to the test.
Running around doing my errands, I totally forgot that I was wearing new shoes. Unlike other new shoes, I didn't have to really break them in, as they fit perfectly, and felt so comfortable. By the time I arrived home Sunday evening and took off the shoes, my feet weren't tired they they usually are, and I didn't notice any swelling, as I have in the past with other new shoes either being too tight, or not hugging or providing proper support when walking. Also, my legs didn't feel stiff or sore, like I have been noticing with my also shoes, when I have been walking around for a long period of time.
I am so glad I had the opportunity to purchase the new Reebok Skyscape shoes. And, while I was hesitant to purchase them, as they didn't look like they would be comfortable...like they say...looks can be deceiving. And, in the case, I would have missed out on a great pair of shoes that are not only comfortable to wear as a busy mom on the go, but are also stylish and dress up a weekend outfit, a pair of yoga pants when lounging around or home with the kids, or go great with jeans and a t-shirt. This summer, they will also go well with shorts, skirts and Capri pants.

And, I am not alone when it comes to loving these new Skyscape Runaround shoes from Reebok. Miranda Kerr, model and mom to a little boy, not only is the spokesperson for this new line of flirty walking shoes for women, but love showing off the shoes, as seen in this video...
When the time comes to wash them, I simply have to throw them in the wash, as they are machine washable.
So, if you are in need of a new pair of walking shoes, why not consider checking out the new Reebok Skyscape shoes today. And, right now, they are only sale at Kohl's for only $58.99, making them a steal, for a name brand like Reebok. Once you slip these shoes on, you will feel like you walking on clouds, they are that comfortable and light.

To learn more about these comfortable, lightweight shoes, you will forget you have on from Reebok, visit the Kohl's website now -- http://www.kohls.com/product/prd-1625598/reebok-skyscape-runaround-walking-shoes-women.jsp

Or, you can learn more about the Skyscrape Runaround by stopping by the Reebok website here -- http://shop.reebok.com/us/product/women-skyscape-runaround-shoes/IPO95?cid=M42890
Disclosure: I participated in a campaign on behalf of Mom Central Consulting (#MC) for Reebok. I received a product sample to facilitate my review and a promotional item as a thank you for participating.