Disclosure: I participated in this Litfuse Publicity Group Book Blog Hop, and was sent a copy of this book by the publisher in order to write up an honest review. However, all views shared are mine and mine alone.
"Improve Your Mornings, Rethink Family Dinner, Fight Smarter, Go Out and Play, and Much More"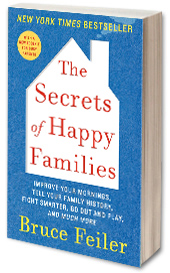 About the book
:
"The book that revolutionized our view of what makes families happy . . .
Determined to find the smartest solutions and the most cutting-edge research about families, bestselling author and New York Times family columnist Bruce Feiler gathered team-building exercises and problem-solving techniques from the most creative minds---from Silicon Valley to the Green Berets---and tested these ideas with his wife and kids. The result is a lively, original look at how we can create stronger parent/child relationships, manage the chaos of our lives, teach our kids values and grit, and have more fun together.
The Secrets of Happy Families
includes more than two hundred unique practices that will help your family draw closer and make everyone in your home happier. It has already changed the lives of millions of families, and it can do the same for yours."
Purchase a copy and download the Happy Families Toolkit:
http://ow.ly/sSUq6
Usually when it comes to parenting books, I am one who reads them in our house. My husband always tells me to give him a summary after I am done, or share things that I feel would work with our family. Do you feel as a parent that are you screwing up all the time with parenting your kids? Ever try to compare yourselves to other families, or even the families you grew up watching on television like the Brady Bunch? Does such a family exist, where everyone is happy all the time, and there are no conflicts? I highly doubt it. But, that doesn't mean we can't be a happy family most of the time. And, thanks to a new book by Bruce Feiler, my husband and I are taking the necessary steps in order to make our family more cohesive and happier. Yes, you read that right. My husband is helping me. Instead of letting me enforce the parenting rules in the house and waiting for a cue to step in and agree with me, we are working together as a team, along with our two girls, to make our family run more smoothly -- just like you would want to see from a business perspective.
Run your family like a business? How do you do this and what does it entail? Bruce Feiler says to hold weekly meetings with everyone, to see how things went for the week. Talk about what worked and what didn't, and see how we as a "team" change things to make "us" work better? Look to your children for input and make them feel included and part of this whole group dynamic. When everyone is on the same page and communication concerns and how things can be changed, the family as a whole can function much better. When it comes to looking at ways to make changes in order for things to run more smoothly, let the kids choose their own rewards and punishments for their consequences and actions.
Do you give your children allowances? If so, what do they have to do to get an allowance? Bruce Feiler says not to give your child an allowance for chores. Why? Because chores are a way to help out the family and others and you shouldn't be rewarded them with a payment. You don't get paid to clean up, so why should they? Right? This is one thing my husband and had to adjust as we were offering up a weekly allowance for cleaning up.
Bruce Feiler's parenting book is unlike other parenting books that I have read. While other seem to be talking down to parents and giving you a step by step must follow guide for success,

"The Secrets of Happy Families"

book is the complete opposite. This book is filled with 200 tips/ideas to help you achieve a happier family. Don't worry, you are not expected to make changes in order to apply all 200 ideas. Instead, choose 7-8 ideas/tips and apply them to your family. Try them out, and if needed, switch some out of with others. But, Bruce Feiler guarantees that in no time you (the kids included) will see the change in overall family dynamic. Instead of stressed out parents, and kids not being help accountable for their actions, or knowing what their purpose in the whole family spectrum, these tips will help bring families together, open up lines of communication and have everyone working together as part of a cohesive team in order to reach the same goal -- being a more happier family. Yes, this goal can be accomplished, and with the help of Bruce Feiler and his amazing new best selling book, you will have the tools needed to bring your family together, to start working to improve the core family values.
One of the things that surprised me most when reading this book was when Bruce Feiler talked about rethinking the family dinner. We go crazy trying to get everyone together at the dinner table each night, only to find ourselves stressing more or rushing to get the meal done with so that we can tackle other items on our busy to-do lists. The main reason we want the family to sit down together is so that you can talk about the day and fill each other in on the happenings in your own worlds. But, in all actuality, you really only need a good 10 minutes of productive and meaningful conversation time with your family each -- and, it doesn't have to be around the dinner table. It can take place in the car on the way to a sports practice, to drop the kids off as school, or even before bed. So, stop stressing over missing family dinners here and there. Instead, just make a point to get those critical10 minutes in daily, to connect with your kids and build that strong family unit/team.
Bruce Feiler also spoke of how high functioning families adapt better to the every changing needs of each family member. He also brought up something called agile development that is known by most in Silicone Valley and in the business world. The gist of agile development is simple...divide people into small teams and assign them smaller tasks before coming back to talk about them. You adapt better and get more accomplished when you implement this practice. In the family's instance, a weekly meeting works best. Most meetings need only last 20 minutes or less. At each weekly family meeting, Bruce Feiler says to ask the following of each member of the family:
1. What worked well this week?
2. What didn't work well and why?
3. What will we all agree to work on in the week ago to make things run more smoothly and prevent the same things that didn't work happen again? Take the time to vote and choose 2 things to work on. Give a reward and punishment for each action and consequence, and hold everyone accountable, not just the kids...
The bottom line...You all have to make changes and adjust, in order to be the happy family you all wish for.
A few other takeaways from the book that I noted included:
You don't have to fight every battle or yell all the time. Use weekly meetings to talk about how the family functions, and come up with ways to improve on things that are working.

Empower your kids -- Let your kids build the skills they will need down the road by letting them take agency over themselves. By doing this you are setting them up to be able to better handle obstacles that are put in front of them, give them a better self esteem, and really motivate them to strive and accomplish anything they set forth for themselves..

Let kids use their thought process by bringing them into the conversation and letting them give ideas to make the family better. During weekly meetings, let them choose the rewards and punishments.

Parents don't know everything -- and, don't act like you do. You are learning and adjusting, and need to make this known to your children. They need to see that you are not perfect, but that are willing and open to working to change things about your parenting style that are not working, thus, making them see that they need to adapt and change in order to work better in a team (at home and in the workplace).

Prepare kids for the future by talking a lot. Include kids in conversations so that they feel apart of the family.

Morning checklist works! Adults like to see things being accomplished, and kids do, too!
So, as you can see, this new book by Bruce Feiler really is a must read for parents. I have since thrown out the other parenting books I would find myself going back to for advice, as this is truly the only book I need. Even though the girls are still young and aren't really grasping the need and importance of weekly meetings, in time they will, and this will make for a stronger family unit and happier family as a whole.
Why not check out this best selling book now, and start working with your family as a team to become a happier family -- just like the ones you always secretly wished to be like. It can be done, but it will take a willing and able team (both parents and children) to make this positive change.
Enter the

Bruce Feiler's "The Secrets of Happy Families" Kindle HDX Giveaway Now!
Enter Today | 1/28 - 2/15!
In The Secrets of Happy Families, New York Times bestselling author Bruce Feiler has drawn up a blueprint for modern families — a new approach to family dynamics, inspired by cutting-edge techniques gathered from experts in the disciplines of science, business, sports, and the military. Written in a charming, accessible style, The Secrets of Happy Families is smart, funny, and fresh, and will forever change how your family lives every day.
Bruce is celebrating the release of his book with a family fun "Happy Family" Kindle HDX giveaway.
One winner will receive:
A brand new Kindle Fire HDX

The Secrets of Happy Families by Bruce Feiler
Enter today by clicking one of the icons below. But hurry, the giveaway ends on February 15th. Winner will be announced February 17th on the Litfuse blog.
Don't miss a moment of the fun; enter today and be sure to stop by the Litfuse blog on the 17th to see if you won.
-----
Meet the Author: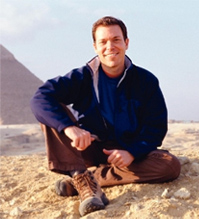 Bruce Feiler writes a column in contemporary families for the New York Times and is the author of six consecutive New York Times bestsellers, including
The Council of Dads
. He is the host of several series on PBS, a popular lecturer, and a frequent commentator on radio and television. He lives in Brooklyn with his wife and twin daughters.
Learn more about Bruce at:
http://brucefeiler.com
Disclosure: I participated in this Litfuse Publicity Group Book Blog Hop, and was sent a copy of this book by the publisher in order to write up an honest review. However, all views shared are mine and mine alone.